Another San Diego Comic-Con has come and gone, and even though we're still climbing out of the Comic-Con Hangover, we put together our list of the BEST and the WORST of this year's event — from the Cosplay, to the Panels, to the Offsites, to the Exclusives. Watch our latest CON GUY SHOW here for a complete wrap-up, then check out below for more articles, videos and links to round it out. It was a great year… except for…… (ha ha, gotta watch!)
---
1. MARVEL and WARNER BROS. IN HALL H
There's no getting around the fact that Marvel and Warner Bros RULED the convention this year — from their TV shows to their collectibles to their offsites. But nothing even came close to their HALL H PANELS. Warners pulled the curtains waaaaaay back and unleashed a torrent of trailers, secret footage, film directors and actors. Conan did hosting duties as the casts of Suicide Squad, Wonder Woman, Aquaman, Kong: Skull Island, and Fantastic Beasts took the stage. It was insane. Not to be outdone, Marvel brought EVERYTHING in the pipeline, including the cast and directors from Guardians of the Galaxy Vol. 2, Black Panther, Doctor Strange, and Captain Marvel (yay Brie Larson!!!). Chris Hemsworth and Mark Ruffalo even "called in" a special video (super funny).
2. OFFSITES! THEY REALLY STEPPED UP THEIR GAME
Wow, what a difference a year makes! Offsites sprung up like mushrooms this year, giving everyone (including non-badge-holders) an entire Happy Hour Menu of choices. Here's just a short list: Nerd HQ brought the party, with a roster of guests and events that can almost be called "Comic-Con 2." Nerdist/Geek & Sundry's Camp Conival took over Petco's inside, while MTV and Impractical Jokers took over Petco's field. And new this year were the Comic-Con HQ stage and the Entertainment Weekly Con-X — both events had panels and celebrity guests all weekend. And that's just the start! Lines circled the block for the Game of Thrones offsite, and then there were the beer events….sooo many to choose from.
3. PARTIES! THERE WERE SOME COOL PARTIES — FOR EVERYONE!
We gotta give a shout-out to Tony Kim of Crazy4ComicCon for his awesome Game of Bloggers party on preview night. The party was free and open to the public, although the main guests of the night were Comic-Con bloggers and website managers. We had a blast! And we met so many folks who are as passionate about talking Comic-Con as we are. Heck, we even met a great "fan" of our show who came up from Mexico…. nice! But other than Game of Bloggers, folks could find TONS of parties, the biggest of which was Nerd HQ's open-to-anyone parties on Thursday and Saturday nights. Talk about epic! We had some friends drive down from L.A. just to go to Zach Levi's Saturday night shindig at the Children's Museum. And Nerdist/Conival threw a great party too, rocking til the week hours. And, of course, we can't forget our own AfterBuzz TV–PopcornTalk Network meetup on Thursday night. Glad to see some of you there!
Joss Whedon and Zachary Levi tearing up the Nerd HQ dance floor @nerdhqllc @ZacharyLevi #JossWhedon #zacharylevi pic.twitter.com/k05uXreNO3

— The Con Guy (@TheConGuyDotCom) July 24, 2016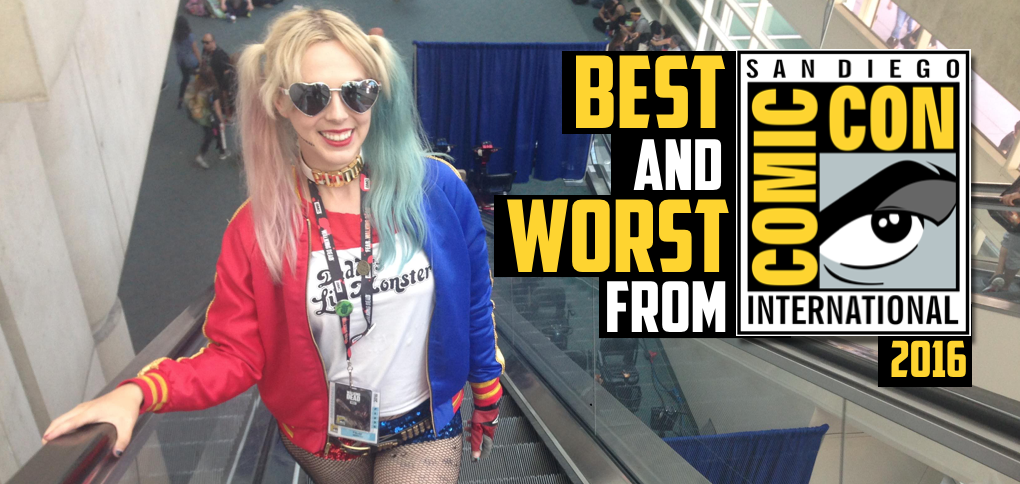 4. NETFLIX-MARVEL FINALLY SHOWS UP AT COMIC-CON!
Seems like there's been some bad blood somewhere, because Marvel's Netflix shows have never made an appearance in San Diego….. until this year. Yup, whatever feud brewed between the two seems to be done, and Luke Cage stormed Comic-Con this year, and brought with him clips from Iron Fist and the exciting upcoming event series, The Defenders. These trailers — and this panel — literally gave me chills. And John Bernthal "just so happened" to be in the neighborhood, so he stopped by to talk about the upcoming Punisher. Perfect panel.
5. STAR TREK, STAR TREK EVERYWHERE! CELEBRATING 50 YEARS
This definitely WAS the year of Star Trek at Comic-Con. Everyone — and I mean EVERYONE — was on-hand to celebrate, from William Shatner, to Brian Fuller (new Star Trek Series this fall), Jeri Ryan, Scott Bakula, Michael Dorn, Brent Spiner, writers, producers, fan film makers, and so much more. They even had the premier of Star Trek Beyond, the brand-new film staring Chris Pine, outside the convention center. It was the place to be this year!
6. OH, ON A PERSONAL NOTE — WE GOT TO MEET CHRIS PRATT
Yeah, yeah, this is kinda self-serving, kinda douche-baggy, kinda….whatever. We don't care. Because it was pretty awesome!
#ChrisPratt was super cool at #SDCC2016 #cosplay https://t.co/hdtYbFi8K8 @prattprattpratt #GuardiansOfTheGalaxyVol2 pic.twitter.com/OYqDx97UYi

— The Con Guy (@TheConGuyDotCom) August 4, 2016
7. THE SYFY NETWORK'S LIVE BROADCAST SHOW WAS SO GREAT!
Friday was almost a complete bust for us until we got to the Syfy Network's live broadcast show. Thanks for our friend Craig, we were able to walk into — perhaps — one of the best things at the convention. Host Will Arnett kept things hopping, and guess what? Daryl and Glen (Norman Reedus and Steven Yeun) were guests, along with Will Forte and others. It was a GREAT way to end a hot, sticky, frustrating Friday!

1. THE COMIC-CON HEAT WAVE
Believe it or not, San Diego's weather isn't always perfect, as evidenced by this year's stifling heat wave that seemed to drive everyone inside. Yes, it could have been much worse — it could have stormed all weekend. But the California sunshine was joined by uncharacteristically THICK humidity to produce some of the most uncomfortable (and somewhat dangerous) heat in years. To their credit, many venues quickly responded with water…. lots and lots of water! We actually gave up waiting in line for the Indigo Ballroom on Friday because of the heat. The convention center was blasting arctic cool air like it was going out of style — AND WE LOVED IT! But speaking of Indigo…
2. THE INDIGO BALLROOM LINE FOR ADULT SWIM WAS RIDICULOUS
A few years ago, we (like everyone else, it seems) discovered that the adult swim panels inside the Indigo Ballroom were probably the most fun a person could have at Comic-Con (if you're into irreverent, subversive humor — YES!). Well, the cat's out of the bag, and now the line to get into Indigo is almost unmanageable. We gave up (that heat!), which meant no Rick and Morty and no Robot Chicken. Sadly, unless the adult swim panels move into a larger space, I'm afraid this might be the way it is for years to come. Yeah, I know, I know…."welcome to Comic-Con." I get it, there are lines, get used to it. I'm just pointing out that THIS particular set of panels used to be easier to get into, and it used to be a chill, fun day. Now it's just another Hall H or Ballroom 20 line. Another one bites the dust.
#RickandMorty fans might be left outside. Too many fans in line. #SDCC2016 #ComicCon2016 #indigoballroom pic.twitter.com/d2QR884J0Z

— The Con Guy (@TheConGuyDotCom) July 22, 2016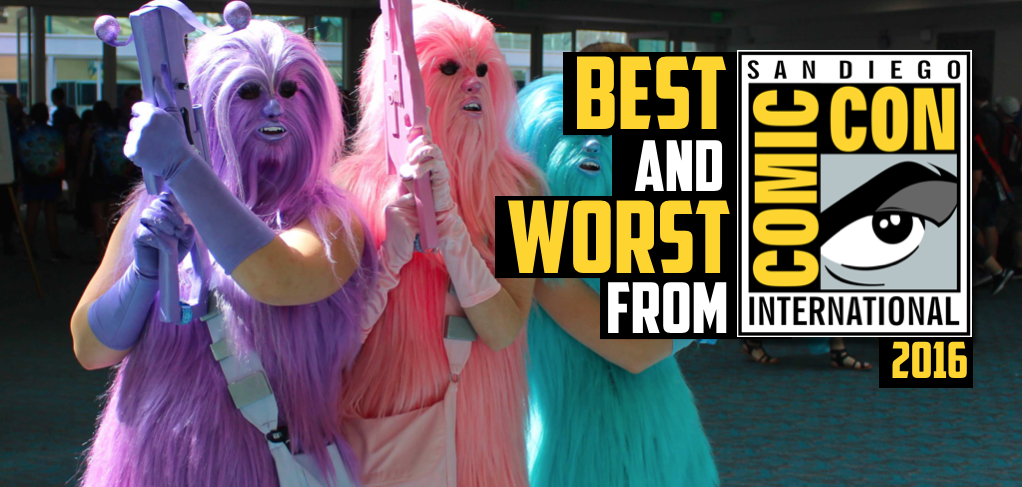 3. MOST OF THE FILM STUDIOS BAILED ON COMIC-CON THIS YEAR
Sure, the two biggest panels of the weekend came from two movie studios: Marvel and Warner Bros. But for the most part, those were the ONLY two movie studios to show up. Overall, most people we talked to felt as if the panel offerings were a bit "light" this year, and they attributed that mostly to the lack of studios. Paramount, Universal, Fox, Sony — they all sat this one out. Yeah, yeah, Fox said it was because of "pirating" from last year. We're not sure that's the whole story. We think that maybe — just maaaaaybe — the studios didn't have much to show this year. But that's not completely true either. We reeeeally wanted to see something from Sony (Passengers), and Fox (Deadpool 2 and Alien Covenant), and Universal (The Mummy with Tom Cruise!). But oh well….we'll see if they come back next year, or if this is real trend. Speaking of which…
4. NO STAR WARS AT COMIC-CON!!! 
Yeah, we know…because of London's Star Wars Celebration happening the prior week (with some super cool stuff being shared), it was a long shot, at best, that Lucasfilm would bring any of its films to San Diego this year. But c'mon — there's a Star Wars film coming out this year! You'd think they'd "take that long shot" and show up. The convention floor had a MASSIVE Star Wars section, which was cool, but in all honesty, the fact that no one showed up to work the crowd into a Star Wars frenzy this year was definitely a huge disappointment. Mark Hamill called into the Killing Joke panel, but that's as close as this year's convention got to any of the Star Power in Star Wars. The Force was not with us this year. Hopefully next year it will Awaken again!
5. SECURITY AND LINE STAFF WERE KINDA JACKED THIS YEAR
Not sure what was going on inside a lot of the big panels this year, but I was told multiple times "no pictures." You may think that's normal, but they were saying I couldn't take pictures of ANYTHING. The rule is that you can't take photos/video of any of the exclusive footage onscreen. We get it….but this year the staff seemed to be extremely misinformed by trying to prevent ALL photos and video. DUMB. But that's not the only place that staff were kinda "jacked" this year. Everywhere you turned, staff seemed to be really out-of-line. Our friends over the SDCC Unofficial Blog really cast a spotlight on this problem, saying the following: "We need to have a serious discussion about what in the world happened at San Diego Comic-Con this year. It was like processes which have been in place for years were suddenly forgotten and/or abandoned in favor of general mass chaos." They pointed out that a lot of the staff were rude, unprofessional, and just plain mean. You can read their whole story here >>>
---
RELATED ARTICLES
Our Haul of Comic-Con Exclusives, THE CON GUY
COMIC-CON: Scenes from Thursday and Friday, THE CON GUY
Ranking the Comic-Con Trailers, Best to Worst, ROLLING STONE
25 Best Things We Saw at Comic-Con, ROLLING STONE
Best and Worst of SDCC, IGN
5 Winners and 5 Losers from Comic-Con, SDCC UNOFFICIAL BLOG
San Diego Comic-Con 2016 Recap, CRAZY 4 COMICCON
---

For all your news, updates and opinions from the Comic-Con universe, follow The Con Guy!
Facebook/TheConGuyDotCom
Youtube channel
Instagram.com/theconguy/
On Twitter @TheConGuyDotCom