San Diego Comic-Con is so much bigger than just the convention center. The entire downtown San Diego Gaslamp District becomes a 15-square-block Comic-Con campus, complete with film screenings, festivals, beer parties, and all sorts of offsites. Don't have a badge? No problem! Watch this episode of The Con Guy show for a rundown of the best events and offsites, as chosen by the Con Guy Team!
---
Here's our Master List of offsites. Check back regularly for updates.
The first section of events/offsites occur on multiple days of Comic-Con:
GAMERCON
Gam3rCon celebrates the world of interactive entertainment from the earliest traditions of dice and cards, to the latest innovations in digital interactive experiences.  FAQ 
NERD HQ (download HERD HQ app)
Zach Levi is a self-professed nerd and lover of all things geek. Come hang with Zach and his friends at this super-popular event held at the Children's Discovery Museum. Check out this schedule. Tickets available through Brown Paper Tickets ($22) — BUY NOW. Proceeds got to Operation Smile.
NERDIST and GEEK & SUNDRY CAMP CONIVAL
Chris Hardwick and Felicia Day have announced the schedule for their super-cool offsite CAMP CONIVAL, which runs from Thursday, July 21st through Sunday, July 24th on the second floor concourse of Petco Park in San Diego, CA. Perhaps two of the hardest working people in Geek-dom (at least at San Diego Comic-Con), the Nerdist/Geek & Sundry empire seems to just grow and grow and grow…. anyway, definitely check out this offsite.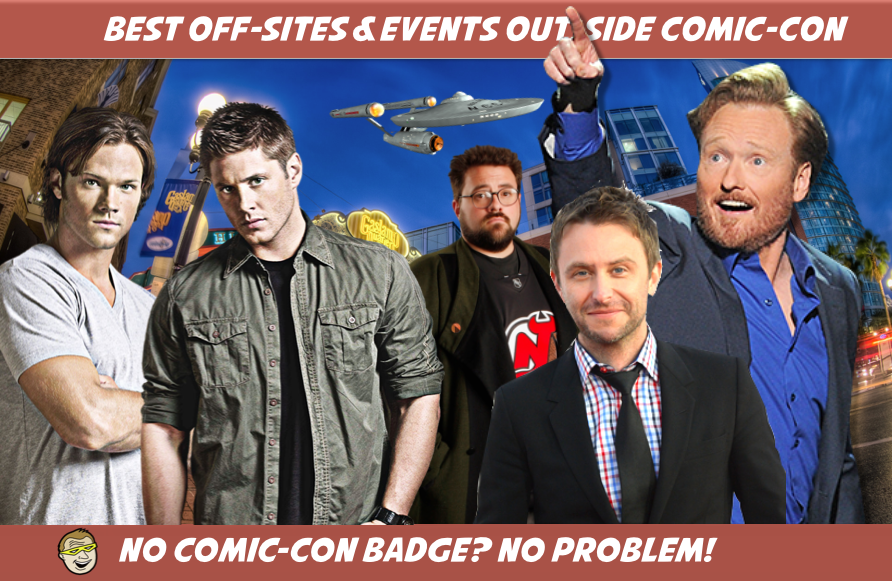 Entertainment Weekly Con-X
Con-X welcomes fans to create (custom, limited edition t-shirts and photo opportunities), participate in trivia events, compare and repair costumes, relax in shaded green outdoor areas, refresh with food and beverage and recharge with the hundreds of available device charging terminals. In addition, a full concert production stage will feature spectacular nightly entertainment. Reinforcing its position as the ultimate authority at Comic-Con, Entertainment Weekly's Con-X will provide badge holders access to an engaging, customized experience designed on a large scale exclusively for the passionate fandom that descends on San Diego for Comic-Con International. Con-X will consist of a multi-function stage surrounded by an activation environment featuring a wide variety of fan-focused activities. A badge is required, and entry will be on a first-come, first-served basis.
FXHIBITION (the FX Exhibition)
Hilton Bayfront Park
Juy 21 – 24
FOX TV – Son of Zorn and Rocky Horror
Visit the FOX Experience with Son of Zorn and Rocky Horror Picture Show! Don't miss the FOX experience—fans will get to enter the world of Son of Zorn, climb a giant rock wall, dive into a huge stunt bag and then see Rocky Horror Picture Show through an immersive virtual reality experience.
AMAZON (from Toucan Blog)
Come and immerse yourself in Amazon's Original Series: The Man in the High Castle and Thunderbirds Are Go.  Step into the alternate reality of the Amazon Original Series, The Man in the High Castle. Walk amongst authentic costumes, props and set pieces; then go on a mission as one of the main characters in an exclusive 4D virtual reality experience. Experience the magic behind Amazon's original series Thunderbirds Are Go, including model sets, life size characters, and behind-the-scenes footage. Take part in International Rescue's mission and help the Tracy Brothers, Kayo, Brains and Lady Penelope keep San Diego safe!
ADULT SWIM ON THE GREEN (Toucan Blog)
Behind the Convention Center (Next to the 5th Ave. Pier and Ferry Landing)
Featuring an Adult Swim Carnival Midway, the Meatwad Full Dome.
Experience, and Nighttime Events.
Thursday, July 21 through Sunday, July 24: 11:00 AM–6:00 PM
Nighttime on the Green (with nightly screenings)
Thursday through Saturday: 8:00–10:00 PM.
Apparently, info will soon be available here: http://www.adultswim.com/presents/
WARNER BROS: BATMAN v SUPERMAN EXPERIENCE (Toucan)
Visit Heroes Park at the Omni for the ultimate Batman v Superman fan experience. See the Batmobile along with exclusive giveaways and a daily scavenger hunt.
NBC OFFSITE – Gaslamp Square, Fifth and Harbor Drive (Toucan)
NBC's bigger than ever at Comic-Con with three new series! Experience the thrill of time travel with Timelessand take a ride on the time-bending adventure. Discover Emerald City as a new OZ arises and takes over the Tin Fish Restaurant. Don't forget to get a taste of The Good Place with free frozen yogurt! Rides, photo opportunities, dessert, giveaways, exclusive content and more.
Thursday, July 21 & Friday, July 22: 11:00 AM–7:00 PM
Saturday, July 23 & Sunday, July 24: 10:00 AM–6:00 PM
CONAN
Conan O'Brien brings his show back to Comic-Con for a week of shows. Watch team Coco's Twitter feeds for Ticket avails, probably any day now. And there will be new Conan Funko Pops this year too!
SUICIDE SQUAD AT THE HARD ROCK HOTEL
Every day during Comic-Con, San Diego's Hard Rock Hotel will be transformed into the infamous Belle Reve penitentiary, there will be a live-action virtual reality experience that will let fans fight alongside Squad members in a scene from the film, and Harley Quinn's tattoo parlor will let fans get some ink.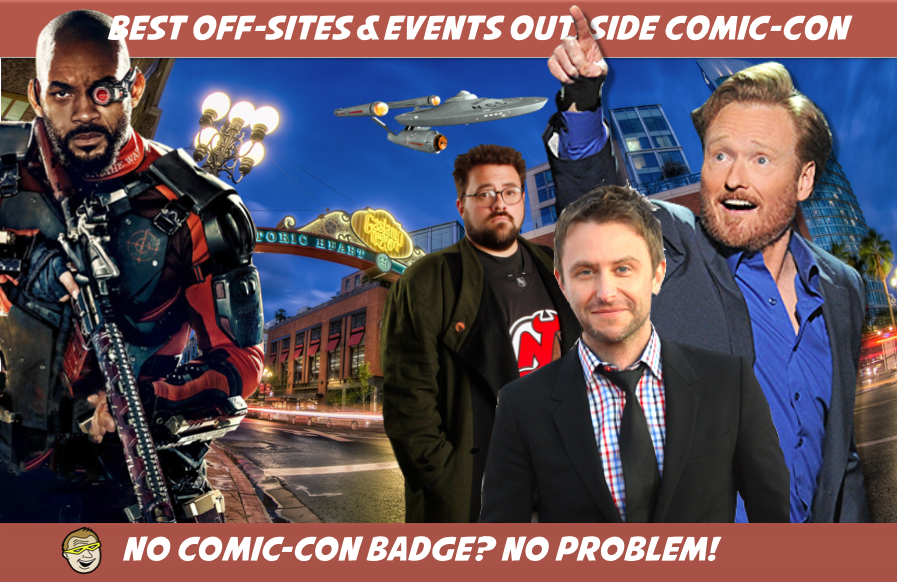 STAR TREK 50th Anniversary Art Exhibition
Commemorating Star Trek's 50th anniversary, 50 artists from 10 countries around the globe. The global art exhibition will debut at Michael J. Wolf Fine Arts in San Diego's historic Gaslight Quarter during Comic-Con, from July 21-24. Among those contributing to the collection are digital artists Joshua Budich, Rocco Malatesta, Tom Whalen, sculptor Calvin Ma, the United States Postal Service, and Leonard Nimoy.
SOUTH PARK 20
Visit South Park 20 sculpture garden at the Martin Luther King Jr., Promenade on Thursday, July 21 – Sunday, July 24 from 9:30AM-7PM.
SYFY PRESENTS LIVE FROM COMIC-CON
Syfy will invade the world's largest pop culture convention this summer with a three-night telecast directly from the heart of San Diego Comic-Con. The special – Syfy's first-ever live broadcast from Comic-Con – will air on the network Thursday, July 21 through Saturday, July 23 at 8/7c. Tickets are FREE, but space is limited. Sign up now for a chance to get tickets.
Comic-Con HQ Live Stage: (Toucan)
COMIC-CON HQ is producing up to 20 hours of live coverage from the Hilton Bayfront promenade on Comic-Con HQ and Facebook Live. The show will broadcast daily 12pm- 5pm, with a variety of TV personalities. They'll also be streaming from the Eisner Awards. Panels will be recorded, but not streamed live.
IMPRACTICAL JOKERS will take over Dick's Last Resort restaurant, just a few blocks from the convention center, from Thursday – Saturday from noon – to 10 p.m. It will become the Hall of Impractical Jokers with lots of games and mayhem — which fits perfectly with Dick's usual playful mood. From the press release: Calling all Jokers fans: get an up close and personal look at some the most iconic artifacts and memorabilia from the show's illustrious history! The Hall of Impractical Jokers will take over Dick's Last Resort in San Diego's Gaslamp District from Thursday, July 21 through Saturday, July 23. There fans can immerse themselves in all things Impractical Jokers, plus play custom games like "Pin the Tail on the Ferret with Blackout Glasses" and "Pinball Punishment." Themed food and drinks will also be served during select hours including a "Scoopski Mashed Potato Bar."
Plus, on Thursday, July 21 at 6:30 p.m. PT, join Sal, Joe, Murr and Q for a special live-streamed Q&A on truTV.com and screening of the new episode of Impractical Jokers airing on truTV that night. Once the episode ends, all are encouraged to stick around for a fan-tastic karaoke party!
THEN check out their Saturday Block Party (more below).

SATURDAY, JULY 16
VillainFest
Villain Fest will take place on July 16th, from 12-5 pm at the newly developed Mercado Del Barrio in Barrio Logan. Comic fans have the chance to play comic themed games, enter cosplay contests, create free arts and crafts, visiting our numerous vendor and artist booths, see a Lowrider Police car provided by SDPD, enjoy villains tunes, those 17& under will receive free comic books(while supplies last), craft beer by Iron Fist Brewing for 21+ and so much more.
TUESDAY, JULY 19
Third annual first generation comic-con peeps meet-up! Spaghetti factory.
1970's San Diego Comic Cons! Greatest Era in American Art! Many VIP PEEPS, Artists, Writers, Editors, Publishers, Convention Producers, Actors, Models and Cosplayers too! Early gathering if your in town and available! Love to see you all! Spaghetti Factory has great food and good prices for Downtown San Diego! Very affordable for everyone!

WEDNESDAY, JULY 20 (PREVIEW NIGHT)
30th Anniversary Screening of Aliens
Balboa Theatre, 868 Fourth Avenue @ E Street, Gaslamp
7pm. Advance Order Concessions Packages Available, Pick up at specially-marked table in lobby (avoid the wait in line). "4 FRIENDS PACKAGE:" 2 Special Themed Cups*, 2 Popcorns, 2 Cookies & 4 Waters."RIPLEY PACKAGE:" 2 Special Themed Cups*, 2 Popcorns & 2 Beer/Wine (for patrons 21+)
Purchase tickets and concession tickets here.
Babes of the Force Photoshoot
10 a.m. – 2 p.m.
Cocktails, CosPlay & Con!
6 – 9 p.m.
Please come join friends of the Kevin Workman Foundation @ Comickaze Liberty Station to kick-off ComicCon 2016 in style with a "Preview Night" Happy Hour Fundraiser! We will have award-winning Sci-Fi/Fantasy authors doing book signings, amazing silent auction items, great raffle prizes, a DJ, Cosplay Artists, Photo Ops and more, making this a night to remember!
Tickets: $30
Enchantment Under the Sea Dance
From our friends over at the San Diego Comic-Con Unofficial Blog, their annual preview night party. This year it's at the Analogue Bar. Sadly, it's completely sold out. Maybe next year!
Forbidden Panel's Annual Comic Con Dinner, 7:30 pm
Come meet our writers, artists and staff while enjoying dinner and great conversation. Be ready for any topic of conversation, with this group it can go anywhere.
Remember the restaurant is 21 and over.
Gaslamp Strip Club. 340 5th Ave, San Diego, California 92101
Doug Loves the Movies Live, 8 pm
818 B 6th Ave (Gaslamp Quarter)
San Diego, CA 92101
Hop-Con 4.0, 8 – 11 pm
The annual celebration of beer geekery is back for a fourth round, this time all 66,000 square feet are dedicated to the convergence of geek culture and beer culture. More retro arcade games, more casks and more bars add up to the release party large enough to match the formidable Stone Farking Wheaton Wootstout. Hosts: Drew Curtis, Jonah Ray, Bobak "Mohawk Guy" Ferdowsk, Alison Haislip, Alex Albrecht, Rileah Vanderbilt, Aisha Tyler, Will Gustwiller, Paul and Storm, and more. In addition to all the w00tstouts and collaboration beers we'll be serving, there will be bars throughout the event serving up year-round, special release, barrel aged and one-off creations by our brewers. Let the good times flow! Facebook
Game of Bloggers Meetup, 9 – midnight
Game of Bloggers Season 2 returns to San Diego Comic-Con 2016! Once again, web royalty will gather to tell tales of victory, loss, and glory- at the Dragon's Den (next to Petco Park) on Preview Night! Will this be the first step of a unifying the realm or the setting for the next Battle of the Bastards? Come find out!
J!NX PRESENTS Gabe Eltaebs Third Annual Comic Kickoff  Fundraiser, 9 pm – 1 am
This event is held at Basic Pizza at 410 10th Ave for pizza, drinks and music. Artists taking commissions to raise money. Items from Darkhorse, Funko and Blizzard as prizes.

THURSDAY, JULY 21
SLAYER at the House of Blues
CARRY ON MY WAYWARD COCKTAILS
JOIN US IN AT WAYWARD COCKTAILS AND ROCK OUT WITH YOUR…COCKTAILS OUT!
The Supernatural Wiki, as well as Wattpad are bringing Carry On My Wayward Cocktails, a celebration of all things Supernatural, to San Diego Comic-Con 2016. On Thursday July 21, join us at the Analog Bar at 7:30PM in the Gaslamp for a Bunker Banquet, drinks including purple nurples, and a Hunter's swag bag full of exclusive custom goodies. BUY TICKETS NOW.
WOOTSTOCK 8.0, 7pm
For decades, geeks were ostracized, picked on, laughed at & punished by the sun's harmful UV rays. But there is only so long a people can be kept down before they rise up against their oppressors; & indeed, the dawn of the 21st century has seen the ascendancy of geeks & geek culture. TV host & special effects artist ADAM SAVAGE (Mythbusters) & music comedy duo PAUL and STORM (The Internet, Da Vinci's Notebook) present a high-energy night of musical acts, readings, comedy, demonstrations, short films, special guests & other clever widgets born from & dedicated to the enthusiasms, obsessions, trials & joys of geek pride.
National Geographic Channel's Nerd Nite
Hotel Solamar, 435 6th Avenue
NatGeo and Nerd Nite return to Comic-Con, this year at the Hotel Solamar's rooftop bar on Thursday, July 21, from 7 to 11PM. The event is free and will feature trivia, prizes, free food and drink, and presentations sponsored by the network's new six-hour documentary-scripted hybrid miniseries, MARS. More information at:  sandiego.nerdnite.com
Official Annual Boom! Drink Up Invite.
9pm-close. Grab a drink and hang out with the BOOM! folks on Thursday night at the Hilton Bay Front Odysea Bar! No RSVP needed — just show up!
Fleet Night of Science: Comic-Con After Party! , 6:30 – 9:30pm
No kids. All fun. Fleet Night of Science is a quarterly after-hours event for chic geeks 21+. You get the science center all to yourself (no kids allowed!) to explore exhibits, sip cocktails, enjoy edibles, listen to music and get your geek on with science experiments, clever chats and delightfully nerdy experiences. Food and beverages are available for purchase, and proceeds support the Fleet's nonprofit mission of inspiring science learning. BUY TICKETS HERE, $20-$25
Weird Al Yankavic: The Return of the Mandatory Fun Tour
Cal Coast Credit Union Open Air Theatre
Tickets
Final Symphony, 8pm – Concert
Final Symphony, the award-winning, officially licensed concert tour featuring the music of FINAL FANTASY VI, VII and X, will make its North American debut this summer, including this Comic-Con week performance by the San Diego Symphony Orchestra inside the Jacobs Music Center's Copley Symphony Hall. (NE Corner of 7th & B, Downtown San Diego). BUY TICKETS
Fatman on Batman, 8pm 
Marc Bernardin and Kevin Smith talk about all the news in movie make believe, terrific TV and anything that squeaks in Geek! Tickets: $30
Jay & Silent Bob Get Old, 10pm
The hilarious duo Jay & Silent Bob are back. 
$30
MTV Fandom Awards/Festival
The MTV Fandom Awards return to San Diego Comic-Con this year on Thursday, July 21 at Petco Park beginning at 6:30PM – and attendees can stop by for a night of food, drinks, games, giveaways, and more. The event is only open to those with Comic-Con badges.
DEADLINE: TEEN WOLF RETURNING TO FANDOM AWARDS>>>
The erstwhile music channel also will be at SDCC with its MTV Fandom Fest and MTV Fandom Awards, which honor the fans who push movies, TV, music, theater and video games from subculture to mainstream success. All Comic-Con badge holders are welcome to the event at 6:30 PM on July 21 at Petco Park with Fandom Awards to follow. MTV will air the awards show July 24.
GAME OF THRONES Experience the Realm
The L Street Fine Art gallery at 628 L Street in San Diego will host this year's Game of Thrones Hall of Faces. Fans will have a chance to step into the world of Westeros, and HBO NOW subscribers can win early VIP access. For more information go to

FRIDAY, JULY 22
Cute, Cute Kawaii After Party! 7 – 11 pm
Keep the party going with us after Comic Con by lounging, indulging in cocktails and hors d' oeuveres, listening to live performances by Mochi Maid Cafe, singer Stephanie Yanez and dancers from the Ally Vega Project, and checking out a cute baking demonstration by Kawaii Sweet World!  The Cute, Cute Kawaii After Party will also have a purikura (Japanese style photobooth), meet n'greets, balloons, J-Pop music videos, a cosplay contest, prizes, party favors and kawaii make up artists! TICKETS HERE.
Screening: Raiders! The Story of the Greatest Fan Film Ever Made
Childhood friends Chris Strompolos, Eric Zala and Jayson Lamb reunite 25 years later to shoot the final scene of their shot-for-shot remake of Steven Spielberg's classic film "Raiders of the Lost Ark."
Digital Gym Cinema at 2921 El Cajon Blvd
Tickets
Showtimes on July 22 – 28.
501st Legion Bash at Maz's Place, 7pm – midnight
Come party with the Dark Side! SD Central Library Outdoor Atrium, 330 Park Blvd.
Includes full sit-down buffet with dessert, and FREE bar service (21+). Contact Lesley Farquhar at briekalan@gmail.com for tickets.
Ghostbusters Mass Hysteria Party
FIRST COME, FIRST SERVED. NO RSVP
We will be Celebrating the past, the present, and future of Ghostbusters. No mater who you are, Ghostbusters belongs to us all! Apparently, there is something very very strange in the neighborhood… again, so we're back! This is our 3rd year of Mass Hysteria, and we decided to turn the proton charging up this year because we have so much to celebrate! Mass Hysteria will be a all day event! So everyone can get a chance to enjoy the Paranormal Excitement! More info on their Facebook Event Page.
San Diego Brews Cruise – Comic-Con Edition, 6:30 – 10pm,
Hornblower Advernture Yacht, 1800 N Harbor Drive
Set sail with us as we embark on our bi-annual Stone and Friends Brews Cruise during Comic-Con Weekend. This special edition cruise featured limited release beers from Stone Brewing Co, Great Divide, Belching Beaver, and Revenrend Nats Cider. There will also be a special tasting of the Game of Thrones Beers from Ommegang Brewery as well as the launch of the rockstarbeer/belching beaver collaboration vanilla macadamia nut milk stout "Deez Mac Nuts." We sail the San Diego Bay and experience one of a kind views. There will be two floors of live entertainment featuring Sega Genecide, Nerds playing Party Music from the 90's and Today. The rooftop dance deck will feature special guest DJ, Buddy Nielsen of Senses Fail, spining a 2 hour Emo Set. DJ ParaDice of Las Vegas will also be spinning a 2 hour dance set. 5 Star quality food will be available. Now who is ready to cruise with some brews? Costumes are optional but we will be giving away prizes and food for the top costumes from a girl, guy, duo, and group. TICKETS $49
FCW presents The Pow! Boom! Smack! Wrestling Show Night 1, 7 – 11 pm
Doors will open at 6pm for M&G with the Wrestlers & Melissa Santos. No, this event is NOT at Comic-Con San Diego! It will be held at the Boys & Girls Club as always, which is 20 mins away from SDCC. Please plan ahead! TICKETS HERE.
Sonic the Hedgehog 25th Anniversary Party, 6 – 10 pm
Celebrate 25 years of Sonic the Hedgehog at our official party at the House of Blues, during San Diego Comic-con! Special guests, musical performances by Crush 40 and Hyper Potions, exclusive 25th Anniversary merchandise and more await!
SOLD OUT
Space Time, 8 pm – Variety Show
The incomparable variety show Space Time! returns to 98 Bottles! Songwriter Marian Call hosts her annual extravaganza of science and art for the sixth year in a row, featuring special guests to entertain and inspire. This year will feature historical comic artist & man-about-the-internet David Malki of Wondermark — also dramatic readings by writers Kayla Cagan and Josh A. Cagan — new original songs about Space/Time by songwriter Seth Boyer — and a discussion of life on Mars, for real, by emeritus Mars rover driver Scott Maxwell and Mars rover instrument technician Kim Maxwell!  TICKETS HERE.
Signing: Gail Carriger, 7 pm
New York Times-bestselling author Gail Carriger is back with Imprudence, the second installment in the Custard Protocol Series starring Rue and her marauding crew of miscreants in an alternate 1890s London. This is a numbered event – numbers for the signing line are free with the purchase of Imprudence from Mysterious Galaxy. Books and tickets will be available for pick-up on Tuesday, July 19, starting at 10 AM!
Comedy Bang! Bang! Live!, 7 – 10 pm
Scott Aukerman's Comedy Bang! Bang! is a popular podcast and television show. This special LIVE performance features Scott and very special guests doing a totally improvised program, with plenty of character drop-ins. TICKETS HERE.
Chris Hardwick: ID10T Tour, 7 pm
Chris Hardwick, star of the hit "Nerdist" Podcast and Talking Dead, returns to the Balboa ComicCon weekend for a night of stand up comedy. For tickets, call 619-570-1100. Recommended for Mature Audiences.
SherlockeDCC, Jul 22, 7:30 – 10:30 pm
San Diego Central Library. The Sherlock Holmes party of San Diego Comic Con! Hosted by The Baker Street Babes, Nerd Out, SherlockDC, & more. Mingle with your fellow Sherlockians in the main room and gush over 221B in all its incarnations. Grab a themed drink at our bar, eat your heart out, shop to your fandom heart's delight with vendors, win amazing prices, and enjoy a great evening of sleuthing and SDCC goodness.
TICKETS HERE. (almost sold out — hurry!)
Women in Comics Collective 1st Annual SDCC Cocktails & Comics Meet & Greet, 7:30pm, Monello – 750 West Fir Street
We're hosting several events during SDCC 2016 including a Cocktail Party Meet & Greet! Seating is limited but feel free to grab a drink at the bar and chill with us! The Women in Comics Collective NYC is an Artistic and Informative Initiative that began in May of 2012. It serves to educate communities about the role and merit of Women working in the Comic Book/Multimedia industries as well as highlight their artistic endeavors.

The Legend of Zelda: Symphony of the Goddess: Master Quest, 8 pm
Journey back to the land of Hyrule with Master Quest, the next chapter in the acclaimed world tour, The Legend of Zelda: Symphony of the Goddesses. Master Quest is a never-before seen or heard multimedia concert experience that celebrates the beloved 29-year-old The Legend of Zelda franchise. It's not to be missed!  TICKETS HERE.
Funko Fundays, 8 pm; doors open at 6 pm – SOLD OUT (Waitlist being assembled) Doors will open at 6pm and the evening's entertainment starts at 8pm. In an effort to allow as many different people to attend as possible, there is a limit of TWO (2) tickets per customer. You must register the names for each ticket holder. Only ONE "Box O' Fun" will be given to each attendee. One ticket, one attendee, one box! Repeated for emphasis: one person cannot redeem multiple tickets for multiple boxes of fun!
HARMONTOWN LIVE with Dan Harmon, 10 pm
Comedian Dan Harmon brings his famous podcast live to the Balboa Theatre!  This near-weekly podcast created by Dan Harmon himself (Community, Rick & Morty, Channel 101) and Jeff Davis (Whose Line is it Anyway) amounts to a "live therapy session" for Harmon.  Jeff and Dan go over all the important stuff, like achieving world piece and living in a utopic society. Join us LIVE at the Balboa Theatre, where everyone is a citizen of Harmontown!
NERDS LIKE US / MISSION BREWERY FREE SDCC After-Party
Free? Yeah, we like the sounds of that…here's ANOTHER beer-centric party. Nerds Like Us has teamed up w/ That Hashtag Show and Wyrd Con – Convention to bring you MISSION: COMIC CON! A FREE San Diego Comic Con after-party for a great cause (JK Rowling's Lumos)! Dance, drink, and meet fellow geeks!
Featuring:
DJs! (DJ Galactic Ray and Dj Javi of iHeartRadio)
Cosplay Contest and Giveaways!
Raffle with all proceeds going to JK Rowling's Lumos charity.
AMAZING PRIZES!!!
Geek Fashion Showcase sponsored by TeeFury
Geek Dating Mixer brought to you by Cuddli
And More!!!! All taking place right behind Petco Park at the MSSION BREWERY
Please spread the word!!!

SATURDAY, JULY 23
IMPRACTICAL JOKERS block party,
On Saturday, July 23, join truTV and thousands of fans at the one-of-a-kind Block Party extravaganza celebrating all things Impractical Jokers. Unlike anything you've ever seen – unless, of course, you're a New Yorker who grew up going to neighborhood block parties and street fairs – this massive block party will give fans a chance to get up close and personal with some of the show's most exciting and iconic dares and punishments. Things like:
Pseudo Sumo: Trying their hand at sumo wrestling (Season 4; Episode 11)
Rodeo Clown: Riding a mechanical bull (Season 3; Episode 9)
Field of Screams: Navigating a corn maze with Benjamin the Cat (Season 3; Episode 3)
High Wire Hijinks: Walking a 20-foot tightrope (100th Episode Live Special)
There will be lots to do, including music from DJ Sid Vicious, food, an autograph signing with the Jokers from 4:00-5:00 p.m. and an exclusive sneak peek of a never-before-seen episode of Impractical Jokers starting at 8:00 p.m.
The Final Girls movie screening w/ writers Joshua John Miller, M. A. Fortin – Midnight
Co-writers Joshua John Miller & M. A. Fortin will appear in person to introduce the show! Tickets are now on sale! When Max (Taissa Farmiga) and her friends reluctantly attend an anniversary screening of Camp Bloodbath, the infamous '80s horror film that starred Max's late mother (Malin Akerman), they are mysteriously sucked into the silver screen. They soon realize they are trapped inside the cult classic movie and must team up with the fictional and ill-fated camp counselors, including Max's mom as the scream queen, to battle the film's machete-wielding killer. With the body count rising in scene after iconic scene, who will be the final girls left standing and live to escape this film? The Final Girls is a genre-blending horror comedy also starring Adam DeVine, Thomas Middleditch, Alia Shawkat with Alexander Ludwig and Nina Dobrev. BUY TICKETS.
Heroes Brew Fest: Craft Beer Tasting & Comic Cosplay
The awesome power of craft brews and comic-book cosplay join forces at San Diego's Waterfront Park for a beer-tasting festival unlike any in the known universe. Don a costume and defeat thirst by sampling upwards of 100 core, specialty and seasonal beers from more than 40 breweries. You can also compete in the Caped Crusader Costume Contest, indulge in a variety of specials from food vendors and get your groove on to beats provided by DJ G-Roy and friends. Plus, there'll be a raffle with proceeds set to benefit some real superheroes, the veterans of the Warrior Foundation. TICKETS HERE.
Nuke the Fridge
Join us on Saturday 7/23 for a special super hero costume themed costume party as Bassmnt proudly presents the one and only PARTY FAVOR!! His edgy and exhilarating festival trap has been steady turing heads around the globe! Grab your tickets now and get ready for an epic night or get here early!! First 100 people who show up in their best super hero costume get in FREE!
Rise of the ZombieWalk!
Tenth annual walk during Comic-Con week! No pre-party, no afterparty… just shuffling through our beloved America's Finest City with America's Finest Zombies, during Comic-Con, for the tenth year in a row. Exact details will be announced soon. Time may change. Exact meetup location will be added closer to the date. Rumor has it that the Reel Guise Cosplay Walking Dead group will be at the front of the walk this year 😉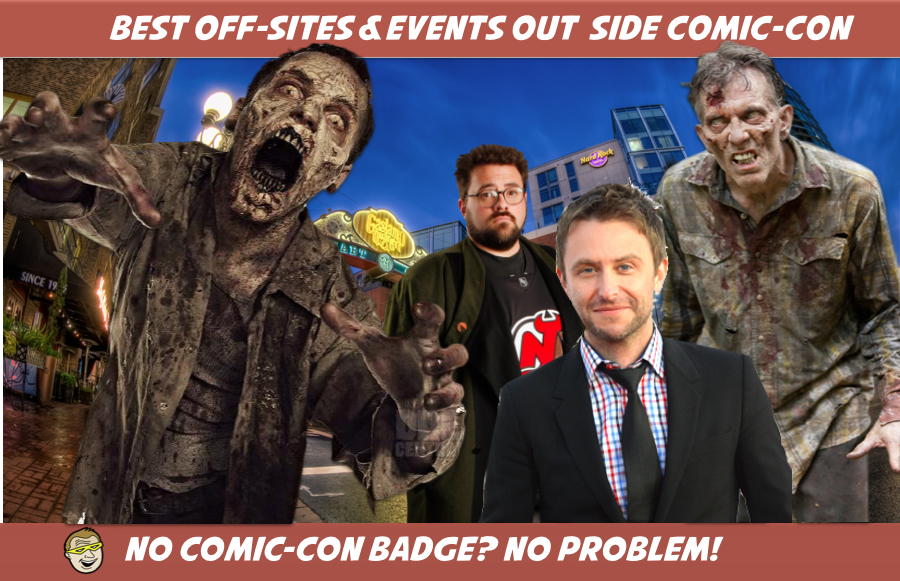 6th Annual Harleypalooza, 11 am – Cosplay Photo Shoot
This is a gathering for all fans and cosplayers of Harley Quinn, as well as their Puddins and Reds. ♥ We welcome any DC costumers who want to play before the DC shoot as well. Every Harley cosplayer is gorgeous (or handsome!) and we'll have no nitpicking or bullying, kapeesh? 😉 Location: Rear amphitheatre staircase, 11 – 11:45 am.
The Aquabats with Nerf Herder, 11 am
House of Blues, 1056 6th Ave.
TICKETS HERE.
Game of Thrones Photo Shoot, 3 pm
The Place: Same as always – at the semi-circle steps on the back side of the convention center. If this location is ticketed, we'll make it down a level closer to the water. The Time: 3PM. This time may be subject to change based on coordination with other events and photoshoots. The People: All Game of Thrones cosplayers and photographers!
Heroes Brew Fest, 3:30 – 6:30 pm, 2:30 pm start with VIP tickets
The San Diego beer fest you do not want to miss is Heroes Brew Fest! 100+ craft beers from over 40 breweries, the Caped Crusader Costume Contest, music, dancing and craft beer fest vendors combine powers to form an unrivaled San Diego beer fest experience!  Heroes Brew Fest is also the only San Diego beer fest that benefits the 100% volunteer organization the Warrior Foundation – Freedom Station! San Diego's Waterfront Park transforms into a Craft Beer Comic Book July 23rd. Have No Fear, BEER IS HERE!
Reception for Heroes vs Villains Art Exhibition, 11 pm
La Bodega Gallery presents HEROES -vs- VILLAINS Art Exhibition.
COMIC-CON Weekend!! Join us for a family fun filled evening.
Featuring more than 80+ pieces of Art that interpret heroes and villains. From X-Men, Marvel, DC, Star Wars, G.I.-JOE, Ninja Turtles, Transformers, He-Man and a numerous other themes influencing the Artists masterpieces.
Earper Meetup, 5:30 pm – Fans of Syfy show Wynonna Earp
Are you a fan of the hit Syfy show "Wynonna Earp"? Join us for the first official Earper Fan Meetup. At the Embarcadero Marina Park South. Cosplay welcome and encouraged! @earpermeetup
Once Upon A Time The Rock Opera, Sing-a-long Screening 6 pm VIP, 7 pm regular
Film starts 9 pmSPECIAL COMIC-CON  *SING-A-LONG SCREENING AND CONCERT OF ONCE UPON A TIME: THE ROCK OPERA featuring that little bouncing ball and Rocky-horror style LIVE performances from the cast. Several cast members will be performing including: Erin Stegeman, Amiee Conn, Katie Cofield, Ace Marrero, Mark Whitten, Vivian Lamolli, Jeremiah Peisert and MORE!!
REGULAR TICKETS HERE.
EARLY BIRD VIP TICKETS.
Super Video Game Land Reception, 6 pm)
Super Video Game Land returns to Mission Brewery for an art show like no other. Once a year artist Anthony Bulcao brings his creations to downtown San Diego during the #SDCC to celebrate our nostalgia for retro video games. Stop by for this free event, taste some of Mission Brewery's delicious craft beers, and meet one of the most unique and prolific artists working today. Anthony's retro video game paintings have been featured on websites and magazines such as IGN, Pure Nintendo, RetroMag, and Zelda Universe. This year there will be a special collection of paintings in honor of the 30th anniversary of The Legend of Zelda. Don't miss out!

Chris Hardwick: ID10T Tour, 7 pm
Chris Hardwick, star of the hit "Nerdist" Podcast and Talking Dead, returns to the Balboa ComicCon weekend for a night of stand up comedy. For tickets, call 619-570-1100. Recommended for Mature Audiences.
FCW presents The Pow! Boom! Smack! Wrestling Show Night 2, 7 – 11 pm
Doors will open at 6pm for M&G with the Wrestlers & Melissa Santos. No, this event is NOT at Comic-Con San Diego! It will be held at the Boys & Girls Club as always, which is 20 mins away from SDCC. Please plan ahead! TICKETS HERE.
Underground Lightsaber Fighters Battle, 8 pm
The Underground Lightsaber fighters are having a special battle in July for Comic-Con Weekend! After spending all day at the con, take a quick ride to Balboa park which is only a few miles away from the convention center to join hundreds of Lightsaber Fighters! MORE INFO here.
Hollywood Babble On, 10 pm – SOLD OUT
Kevin Smith and Ralph Garman take a twisted look at showbiz news and bite the Hollywood hand that feeds them. Sometimes, they feel bad and give Hollywood a tetanus shot and some Neosporin, but, even then, they usually just turn around and bite Hollywood's other hand. They can't help it. It's their nature. It's like that "scorpion and frog" story. But, deep down, they're just two nice East Coast boys… who happen to have a heavy dependence on drugs and alcohol, respectively.
Assassin's Cred – SDCC 2016 Cosplay Gathering
Calling all cosplay Assassins! We will be hosting a meetup for anyone in Assassin's Creed cosplay from any of our games, and for Assassin's Creed fans. Community Manager Andrien Gbinigie will be on hand to chat, and we'll have a photographer so you can have your pictures taken, and possibly some video. There may even be some prizes as well. The meetup will take place on Saturday 23rd of July, 3:15pm PST at the Children's Park (between 1st Avenue and Front Street) right next to the Convention Center Light Rail station (Green Line).
Red Guerrilla Comic-Comedy Con, 11 pm
When the comedy is done, the FUN continues with Red Guerrilla's first SDCC After Party, featuring a live DJ and costume contest!  All this fun for only $20 makes this the must see event of the entire weekend!! TICKETS HERE.
PawMicon – cosplay for dogs!
Bring your pup to this dog-friendly celebration of heroes big and small!
Event features:
Costume contest for dogs and dog-and-owner pairs. Meet adoptable pups dressed in costume. Music. Games. Opportunity Drawing. And MORE. All at convenient Hazard Center. MORE INFO HERE.
MAD MAX RUN
Join the San Diego Moto Girls on an epic ride through downtown San Diego into Comic Con for the Mad Max Run on Saturday, July 23rd. Meeting at Kindred anytime for food and/or drinks. Kickstands up and engines started at 3p sharp. Post apocalyptic gear, clothing, style is mandatory. Have fun with it!! Make it your own and original. Everyone is invited; bikes & cars and all ages are welcome. Even bring your fur child, if you'd like. But you and your wheels must be in Mad Max style. Where: Kindred. 1503 30th St.
SUNDAY, JULY 24
SAILER MOON COSPLAY GATHERING
Sailor Moon characters meet-up and photoshoot. All characters from Sailor Moon and Sailor V are welcome! We're meeting half an hour after the Con closes so it doesn't interfere with anyone's panel schedules and there's time to touch-up makeup. Meeting place: the planters outside of Hall H- this is a non-badged area so everyone can join.
Women in Comics 2: The Comic Book Spectrum: Discovering Careers that help to Shape the Industry, 12:15 – 1:45 pm
We're hosting a panel discussion titled 'The Comic Book Spectrum: Discovering Careers that help to Shape the Industry at the Barrio Logan Branch of the SDPL! There will be giveaways, a freebie table and much more for audience participants! This event is open to the public! SDPL Logan Heights Library – 567 S 28th St.
San Diego Comic-Con J-Fashion Walk, 3 pm
The walk takes place OUTSIDE the convention, so you are welcome to attend even if you do not have a Comic-Con badge. This is a Fashion Walk for Japanese Street Fashion–focusing on Lolita, but also including gyaru, decora/fairy kei, mori, and v-kei. Come dressed in your finest: themed outfits are encouraged! (People in cosplay and normal clothes are of course welcome to attend, but they will not be included in group photos.)
S.H.I.E.L.D. TV / Agent Carter News Meet-Up, 5 – 8 pm
Wrap your San Diego Comic Con 2016 weekend by joining us for our third annual Agents of S.H.I.E.L.D. Fan Party on Sunday July 24th from 5pm. It will be a great way to unwind, reconnect with fans and friends you have met over the weekend and meet some new people too.
What: 2016 Agents Wrap Party an Agents of S.H.I.E.L.D. & Agent Carter Fan Event
Where: Henry's Pub (All ages till 9pm), 618 5th Ave, San Diego, CA 92101
When: Sunday, July 24th
Time: 5pm-8pm
Capacity: Swag bags limited to the first 200 tickets
Please note, this is a fan event and claims no association with ABC or Marvel. SDCC badge is not required to attend.
COOL BLUE COMIC CON – PBR!
Presented by Brick By Brick and Pabst Blue Ribbon

MONDAY, JULY 25
Batman: The Killing Joke (Fathom Events) (July 25, 7:30 pm & 10 pm) – Movie — BUY TICKETS
Special Fathom Feature: Experience a special introduction from Mark Hamill plus a never-before-seen documentary about how Hamill was cast in this project and what the role means to him as an actor and a fan. The event will conclude with a special behind-the-scenes look at how the Joker's memorable, yet disturbing song and dance number was recreated for the film. Fathom Events, Warner Bros. and DC Comics invite you to a premiere event when Batman: The Killing Joke comes to select cinemas nationwide for a special one-night event on Monday, July 25. Batman: The Killing Joke reunites the foundation of Batman: The Animated Series with Bruce Timm returning as executive producer, and actors Kevin Conroy and Mark Hamill reprising their seminal roles as Batman and the Joker, respectively. BUY TICKETS.
---
SOURCES: We've pulled this information from a variety of sources, including the following fantastic sites…if, for any reason, you would like us to remove any of this information, please let us know.
Outside Comic-Con
SansFis.org
Facebook>>>San Diego Comic Con Offsite Events
Facebook>>>San Diego Comic Con, the offsite events tab
San Diego Comic Con Unofficial Blog
---

For all your news, updates and opinions from the Comic-Con universe, follow The Con Guy!
Facebook/TheConGuyDotCom
Youtube channel
Instagram.com/theconguy/
On Twitter @TheConGuyDotCom