Today we got confirmation from inside sources what we all suspected – Lucasfilm and Star Wars are skipping San Diego Comic-Con. Star Wars celebration is in London July 15 – 17, so it was always kinda iffy if they'd make it back stateside for the San Diego mothership convention, but many of us still held out hope. But alas, sources confirmed the obvious, which is sad considering the long history of Star Wars at Comic-Con. But don't fret – the new trailer for Rogue One should be debuting in London and online just nanoseconds afterward. Woo hoo!
But now that we've got that out of the way, here are our favorite panels for Friday. And yes, we're listing Hall H panels even though we have no plans for waiting overnight in line to get in (especially since Star Wars won't be there). Just because we're not going doesn't mean the Hall H panels aren't worth trying to get into. That said, if you plan to wait in Hall H, bring your pillow and your blanket.
---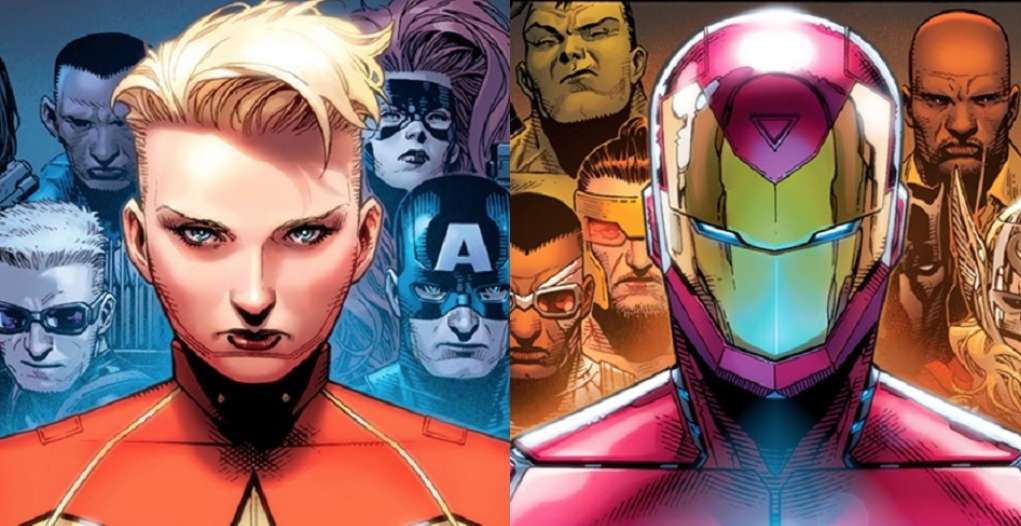 MARVEL: CIVIL WAR II
Room 6DE
10 – 11 a.m.
If you're not reading Civil War II, we're not gonna ruin it for you here, but suffice it to say that it's a GIANT story told on a grand scale. And, yes, people die. Big deal, it's Marvel. They'll be back. DESCRIPTION: The biggest event of the year, Civil War II, is under way and the Marvel Universe is reeling from the shocking events! Learn more about what's to come with editor-in-chief Axel Alonso, director of content & character development Sana Amanat, and Marvel talent scout Rickey Purdin, as well as Sanford Greene (Power Man and Iron Fist), Matthew Rosenberg (Civil War II: Kingpin), David Walker (Power Man and Iron Fist), and G. Willow Wilson (Ms. Marvel).
ALAN TUDKY AND NATHAN FILLION'S CON MAN PANEL
Hall H
10:30 a.m. – 11:30 a.m.
Good luck with this one. The only way to get here to the Hall H panel is to camp out the previous night. That's not for us, but it's definitely something we'd love to see. This is gonna be bust-a-gut funny, to be sure. DESCRIPTION: Alan Tudyk (Firefly, Powerless, Star Wars: Rogue One) and Nathan Fillion (Firefly, Castle, Dr. Horrible's Sing-Along Blog), along with P. J. Haarsma, Felicia Day, Nolan North, Mindy Sterling, and many more, discuss their wild ride with Comic-Con HQ on season 2 and the amazing friends and unforgettable fans who made season one possible. You can expect plenty of surprise guests, giveaways, and one very special sneak peek! Moderated by Nathan Fillion.
HOW TO BUILD A GEEK BRAND
Pacific 24, North Tower, Marriott Marquis & Marina
Hmm, I've never been to this location…and to be honest, it might be too much of a walk to get there in time after the Civil War II panel, but I'm gonna keep it on my radar. DESCRIPTION: Do you dream of converting your nerd passion into a full-time career but feel overwhelmed with the next steps? Whether writing your first book, becoming a YouTube personality or creating an innovative product, the road to success can be filled with many obstacles and pitfalls. Join geek pros as they help you get started, discover some shortcuts, and inspire you to make an impact in pop culture. Panelists include Tony B. Kim (founder of Hero Within and Crazy4ComicCon.com), Sam Maggs (author,The Fangirl's Guide to the Galaxy and Wonder Women), and Andre Meadows (comedian on Black Comedy Nerd).
[ADULT SWIM]: ROBOT CHICKEN
Indigo Ballroom, Hilton Bayfront
12:15 – 1 p.m.
This is a TOP CHOICE and MUST ATTEND of the day. I don't religiously watch the show, but Seth Green (who is not on the panel list…strange) and Breckin Meyer, together mixed with strong drinks from the hotel lobby or the FOX Sports lounge, make for an ENORMOUSLY entertaining 45 minutes. I just wish it could be longer!!! DESCRIPTION: Perk up your feathers and lube your gears; the poultry posse's back to show exclusive, never-before-seen, behind-the-scenes footage of their Emmy Award-winning series! Co-creator/EP Matthew Senreich, EP/co-head writer Tom Root, EP/co-head writer Doug Goldstein, actor/writer Breckin Meyer, and writer/director Tom Sheppard are joined by a very special guest: voice actor Donald Faison (Scrubs). Moderated by Keith Crofford, SVP of production for Adult Swim.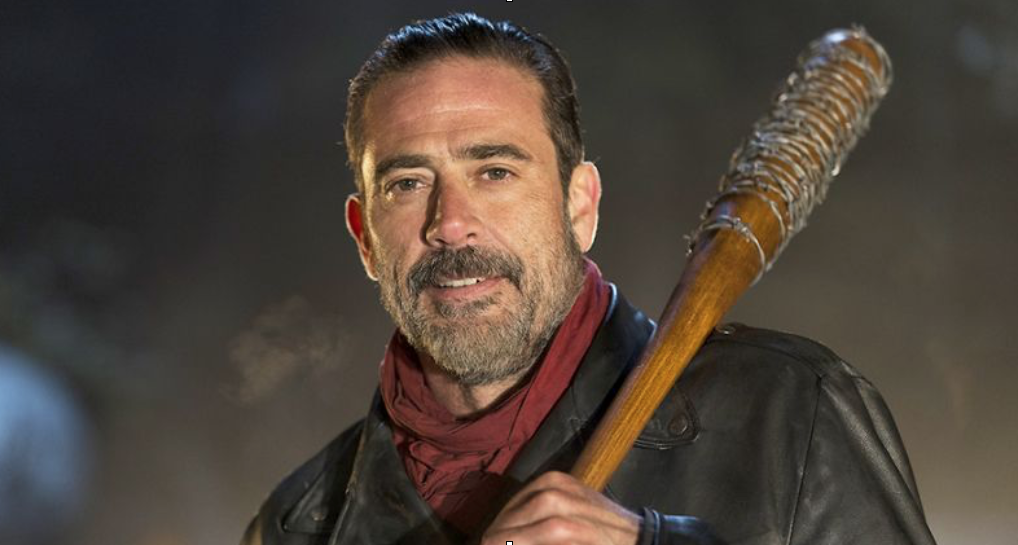 AMC's THE WALKING DEAD
Hall H
1 – 2 p.m.
It's perhaps the best show on TV (even if it DID have a maddening finale) Chris Hardwick is the best host at Comic-Con. And a million cranky geeks will become a zombie herd trying to get into this panel. I won't be there, because – again – I don't do campouts, and I'll be drinking it up inside the Hilton Bayfront for Adult Swim's panels. But if you want to campout, have at it. DESCRIPTION: Andrew Lincoln, Norman Reedus, Steven Yeun, Lauren Cohan, Danai Gurira, Chandler Riggs, Sonequa Martin-Green, Michael Cudlitz, Josh McDermitt, Ross Marquand, Christian Serratos, and Jeffrey Dean Morgan join executive producer and showrunner Scott M. Gimple, executive producer Robert Kirkman, executive producer Gale Anne Hurd, executive producer Dave Alpert, and special effects makeup supervisor and executive producer Greg Nicotero in a panel moderated by Chris Hardwick (The Nerdist,Talking Dead). The panelists will discuss the shocking finale of season 6 and a sneak peek into season 7, debuting in October on AMC.
POP CULTURE SHARK TANK
Room 32AB
1 – 2 p.m.
Here's something completely different: a Shark Tank for the next-big-thing. Might be cool. Might be poke-my-eyes-out boring. DESCRIPTION: Do you have what it takes to be the next pop culture startup success? Pitch your best 90-second business plan and you might spark the interest you need from investors, media, and fans to take your idea to the next level. Or come to watch aspiring entrepreneurs learn from the best. Judges Ted Adams (founder/CEO, IDW Entertainment), Suzy Ryoo (venture partner/VP technology, Atom Factory), David Steinberger (co-founder, comiXology), and Maureen Fan (founder/CEO, Baobab Studios VR) will offer feedback, coaching, and special prizes. Rob Salkowitz (Forbes) moderates.
[ADULT SWIM]: BRAD NEELY'S HARD NALLIN SCLOPIO PEEPIO
Indigo Ballroom
1:15 – 2 p.m
I have NO IDEA what the hell this is, but it's part of the ADULT SWIM block of chaos, so I'm in! And besides, if it sucks, I'm heading out with my ticket to get back in (before 2!), down to the lobby for another drink, and maybe some of the offsite stuff on the lawn.
ENTERTAINMENT WEEKLY: BRAVE NEW WARRIORS
Ballroom 20
1:45 – 2:45
Might be cool. Celebs talking. I won't be there, but if it's your thing, have at it. DESCRIPTION: A laugh-filled discussion among several of today's male heroes, including Josh Holloway (Colony), Dominic Cooper (Preacher), Theo Rossi (Luke Cage), Clive Standen (Taken, Vikings), Eric Dane (The Last Ship), and Corey Hawkins (24: Legacy), and others, who will discuss the thrill of playing iconic TV characters, their sometimes awkward encounters with fans, and highs (and lows!) of a career in Hollywood.
PEOPLE OF EARTH & POWERLESS
Room 6BCF
2 – 3 p.m.
If I wasn't already drinking-it-up in the Adult Swim panels, this would be my second choice. Both of these series seem pretty cool. DESCRIPTION: Join series star Wyatt Cenac (The Daily Show), co-executive producer David Jenkins and executive producer Greg Daniels for a screening of the pilot episode followed by a Q&A. People of Earth centers on skeptical journalist Ozzie Graham (Cenac) who investigates a support group to write about the member's supposed alien encounters. Next up it's a superhero's world. Cast members Vanessa Hudgens (High School Musical), Danny Pudi (Community), and Alan Tudyk (Suburgatory) along with executive producer Ben Queen (A to Z), and executive producer/director Michael Patrick Jann (Reno 911) present a screening of the pilot episode and Q&A covering the first comedy series set in the DC universe.
[ADULT SWIM]: RICK AND MORTY
Indigo Ballroom
2:15 – 3 p.m.
Yes! Yes! And another big YES! This show is warped in all the right ways. By this time of the day, I'll be "feeling real happy" thanks to the lobby bar, and this irreverent, weird cartoon is gonna keep the party going. PLUS, have you seen the guest lineup? This is PERHAPS my CANNOT-MISS event of the day. DESCRIPTION: Executive producers Dan Harmon (Community) and Justin Roiland (Adventure Time), writer/producer Ryan Ridley (Community), and voice talent Spencer Grammer (Greek), Sarah Chalke (Scrubs) and Chris Parnell (Archer, The Mr. Peabody and Sherman Show) invite fans for a sneak peek at the highly anticipated third season. Moderated by Brian Q. Quinn (Impractical Jokers).
GAME OF THRONES
Hall H
2:15 – 3:15
Whatever. I've never seen an episode.
STARZ ORIGINAL SERIES AMERICAN GODS
Room 6BCF
3:15 – 4:15
Bryan Fuller is one busy guy these days (Star Trek!). But this series is tops on my list to see. DESCRIPTION: Bryan Fuller (executive producer), Michael Green (executive producer), Ricky Whittle (Shadow Moon), Ian McShane (Mr. Wednesday), Pablo Schreiber (Mad Sweeney), Yetide Badaki (Bilquis), and Bruce Langley (Technical Boy) discuss the highly anticipated series and preview what's to come in the premiere season. Moderated by Yvette Nicole Brown (The Odd Couple).
BATES MOTEL ON A&E
Room 6A
3:30 – 4:30 p.m.
The SECOND best show on TV. And the final season is about to begin. It's not a big space, so you'd better get here early. DESCRIPTION: A&E's hit drama series Bates Motel returns to SDCC on the heels of the pivotal season 4. Cast members Vera Famiga (Norma), Freddie Highmore (Norman), Max Thieriot (Dylan Massett), and Nestor Carbonell (Sheriff Alex Romero), along with creators and executive producers Kerry Ehrin and Carlton Cuse, reveal exclusive content from the new season.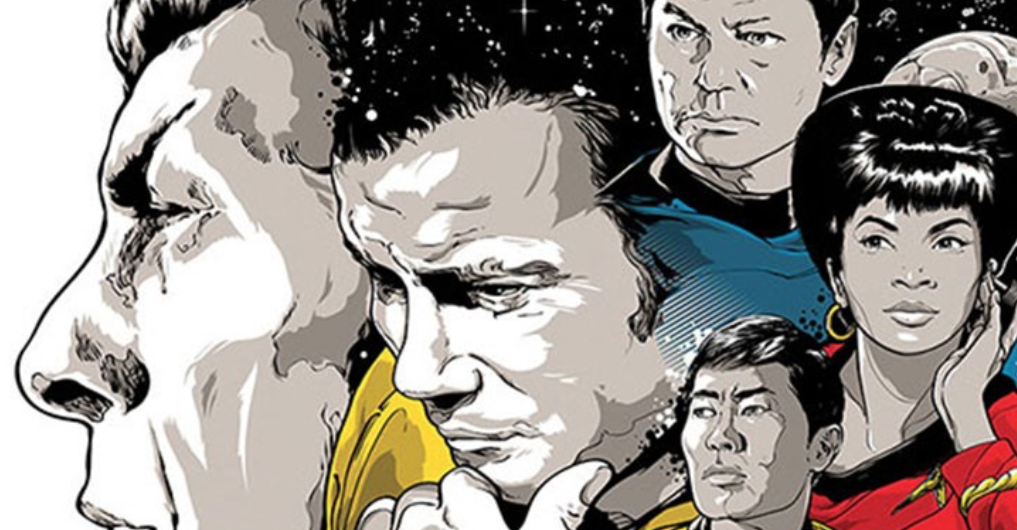 INSIDE THE WRITERS' ROOM: WRITING AND PRODUCING FOR STAR TREK
Room 7AB
5 – 6 p.m.
Ron Moore of Battlestar Galactica is on hand. Nuff said! But this gang of Trek writers is gonna serve up some great Trek news and views celebrating 50 years of this beloved franchise. DESCRIPTION: Boldly go inside the writers' room with legendary showrunner Ronald D. Moore (TNG, Deep Space Nine, Battlestar Galactica, Outlander), Naren Shankar (The Next Generation, The Expanse, CSI), Fred Dekker (Enterprise, The Monster Squad, Predator), Michael Sussman (Voyager, Enterprise, Perception), Robert Hewitt Wolfe (Deep Space Nine, Elementary), and David Weddle (Deep Space Nine, The Strain, Battlestar Galactica). Moderated by Mark A. Altman (The Fifty-Year Mission: The First 25 Years, The Fifty-Year Mission: The Next 25 Years)
[ADULT SWIM]: ARCHER SCREENING AND Q&A
Indigo Ballroom
5 – 6 p.m.
Archer is fun. I like the show. Adult Swim always has the best and "funnest" panels. If nothing else pans out, I'm staying for this. And, of course, one more beer. DESCRIPTION: Archer is an animated half-hour comedy that revolves around a former spy agency turned private investigation firm and its employees, who use every seedy surveillance of a suspected adulterer or investigation into insurance fraud as another excuse to undermine, sabotage, and betray each other for personal gain. See an exclusive new video and then join the voice cast of H. Jon Benjamin (Sterling Archer), Aisha Tyler (Lana Kane), Jessica Walter (Malory Archer), Chris Parnell (Cyril Figgis), Judy Greer (Cheryl/Carol Tunt), Amber Nash (Pam Poovey), and Lucky Yates (Dr. Algernop Krieger), plus creator/executive producer/writer Adam Reed (Ray Gillette), executive producer Matt Thompson and co-executive producer Casey Willis as they discuss bringing this animated series to life. Moderated by Leanne Aguilera (ET Online).
THE EXORCIST
Room 6A
6 – 7 p.m.
The first full episode of the TV adaptation of one of the greatest and scariest films of all time. I'm super excited about this! DESCRIPTION: See a special preview screening of the full first episode with stars Alfonso Herrera (Sense8, The Chosen), Ben Daniels (Flesh and Bone, House of Cards), and Academy Award and Golden Globe winner Geena Davis (Commander in Chief, Beetlejuice, The Fly) and writer/producer Jeremy Slater (Fantastic Four). Widely regarded as the greatest horror movie ever made, Academy Award-nominated The Exorcist terrified audiences around the world. Now, more than four decades later, The Exorcist returns as a contemporary psychological TV thriller on FOX this fall, following the story of two very different priests tackling one family's case of terrifying demonic possession.
DESTINATION AMERICA'S SUPERNATURAL SUPER PANEL
Room 7AB
7 – 8 p.m.
This stuff freaks me out—that's why I love it. DESCRIPTION: Join paranormal superstars Nick Groff, Katrina Weidman, Adam Berry, Amy Bruni and more as ghost-hunting's elite unite for one night only, presented by Destination America.
WILL EISNER COMIC INDUSTRY AWARDS
Indigo Ballroom
8 – 11 p.m.
Don't forget what started it all, people! COMICS! This is the Academy Awards for the Comics Industry, and a pretty cool way to stoke your love for the art form. DESCRIPTION: The 28th annual Will Eisner Comic Industry Awards (the "Oscars" of the comics industry) honor comics creators and works from 2015 in 30 categories. Other prestigious awards to be given out include the Russ Manning Promising Newcomer Award, the Bob Clampett Humanitarian Award, the Bill Finger Award for Excellence in Comics Writing, and the Will Eisner Spirit of Comics Retailer Award.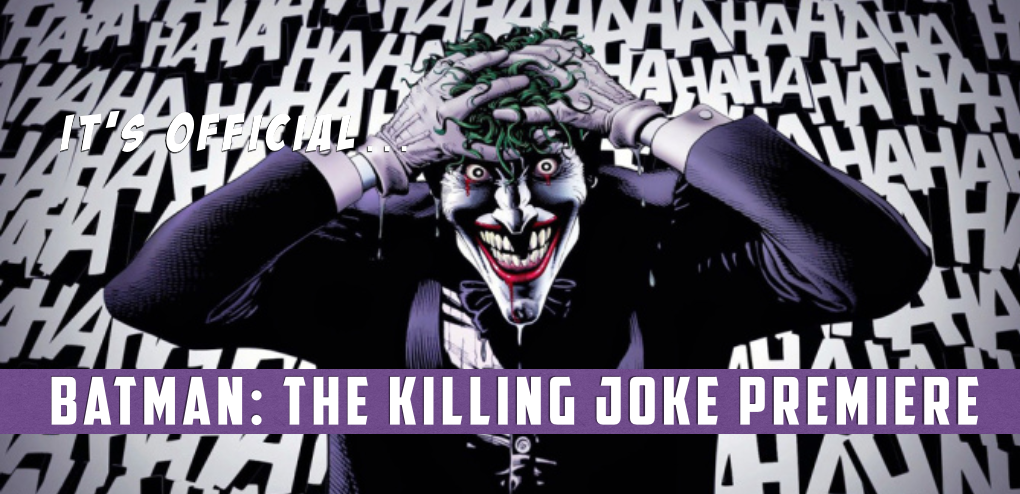 WORLD PREMIERE OF BATMAN: THE KILLING JOKE
Ballroom 20
9 – midnight
Skip the after-parites….this is the place to be on Friday night! DESCRIPTION: Delve into the demented history of the Dark Knight's arch nemesis, The Joker, as he sets out to prove insanity is only a horrifying moment away for anyone in the latest DC Universe Original Movie, Batman: The Killing Joke. Based on one of the bestselling graphic novels of all time, this R-rated, feature-length animated film brings together some of the key creative team behind Batman: The Animated Series with executive producer Bruce Timm (Justice League: Gods & Monsters) at the helm and Kevin Conroy (Justice League), and Mark Hamill (Star Wars) returning to their seminal roles as Batman and The Joker, respectively.
SCREEN-JUNKIES: HONEST TRAILERS AND MOVIE FIGHTS LIVE
Room 6DE
9:15 – 10:45 p.m.
If you decide not to do the Batman film, then come laugh you butts off at this high-energy throw-down form the guys at Screen Junkies. DESCRIPTION: The entire ScreenJunkies team is on hand with exclusive video content, including a never-before-seen Honest Trailers, as ScreenJunkies' own Andy Signore (creator, Honest Trailers), Dan Murrell (editor, Honest Trailers). Spencer Gilbert (writer, Honest Trailers), and Jon Bailey (voice, Honest Trailers) take you behind the scenes of your favorite Honest Trailers, hosted by Hal Rudnick (ScreenJunkies Show). Followed by their biggest Movie Fights yet, featuring eight all-star, fighters, including Doug Benson (Doug Loves Movies), Max Landis (writer, Dirk Gently), Nick Mundy (Mundy Night Raw), and many more surprise guests!
---
For news on all the cool offsites happening in San Diego, check out last week's Con Guy Comic Con Prep Show:
---

For all your news, updates and opinions from the Comic-Con universe, follow The Con Guy!
Facebook/TheConGuyDotCom
Youtube channel
Instagram.com/theconguy/
On Twitter @TheConGuyDotCom