Fifty years of sexual harassment, and not a single HR complaint. Ah, Captain Kirk, you da' man–how the heck you haven't shriveled up from a galaxy of STDs, we'll never know. But regardless, half a century ago Kirk, Spock, Bones, Uhura and the crew of the U.S.S. Enterprise began a five-year mission to boldly go where no man has gone before—but a strange thing happened on the way to cancellation: they become a pop-culture phenomenon, and Captain Kirk was free to ogle every soft-focus girl to hit the airwaves (of course, let's be fair – he lived in a soft-focus world himself).
[Special thanks to dave-daring.deviantart.com for the awesome 50th Anniversary graphic!]
This is the year of Star Trek, chock full of new films, TV shows, fan conventions, Trek Talks, concerts, and—of course—William Shatner being himself. Here's what we have to look forward to:
STAR TREK 3, the newest film
Unlike the last two J.J. Abrams-directed Star Trek films – which spent quite a bit of time on Earth – the upcoming Star Trek 3 will find the crew of the Enterprise finally on their five year mission through space. Because of the alternate timeline nature of the rebooted series, it would be rather easy for the production to just borrow from one of the franchise's classic stories, so it's refreshing that the film won't be going in that direction again. Read full article at Cinemblend.com>>>
STAR TREK TV SERIES
Star Trek belongs on the small screen. It's not necessarily a massive, sweeping epic, but rather a weekly cognitive exercise. In other words, it flexes the brain, not just the biceps. Den of Geek has this to say about the proposed new series, hitting screens in January: "The show will be set some time after the events of Star Trek: The Undiscovered Country, so between the original series and The Next Generation" says the report, concluding "It won't be set in the JJ Abrams reboot universe." Read full article at Den of Geek here>>>
STAR TREK CONCERT TOUR
Then, there's the 100-city concert tour featuring the music of Star Trek. According to the official site: "Star Trek: The Ultimate Voyage brings 50 years of Star Trek to concert halls for the first time ever. The live concert tour launches in Florida in January 2016 and plays in more than 100 North American cities through April 2016." Read full article at Star Trek Ultimate Voyage here>>>

STAR TREK 50TH ANNIVERSARY CONVENTION, LAS VEGAS
SOLD OUT! Yup, that's right. No chumps allowed at this event. It sold out fast. Which sucks, because this is one of the big fan events. But you lucky rascals who got tix, congrats. More info at the Star Trek Convention site here>>>
STAR TREK AT SAN DIEGO COMIC-CON 2016
Of course, one of the biggest Star Trek splashes this year (and no, we're not talking about the ridiculous Enterprise splash in San Francisco harbor in Star Trek 2: Into Darkness) will be in San Diego. Our friends over at the San Diego Comic-Con Unofficial Blog have the scoop on multiple events there:
SHATNER APPEARANCE (hide your daughters): Fan favorite William Shatner will be heading back to San Diego Comic-Con this summer. His website lists that he'll be appearing on Saturday, and while details are scarce, we have confirmed with his representatives that that appearance will include an as-yet-unannounced-panel. Read here>>>
---
THE CON GUY STAR TREK GALLERY from WONDERCON
---
ART SHOW: The upcoming Star Trek: 50 Artists, 50 Years touring art exhibit that will be landing at San Diego Comic-Con this summer. Read here>>>
TREK TALKS at COMIC-CON and ELSEWHERE: According to Mashable: Trek Talks will begin as early as June of this year and will continue until July of 2017. San Diego Comic-Con will host one of the talks this summer, and more are planned for the upcoming Star Trek: Mission New York event in August. Read full article here>>>
SHATNER AT DRAGON CON: On William Shatner's website, it says: Mr. Shatner will be at Dragon Con on Monday September 5, 2016. We think he'll be doing a Trek Talk. But more information can be found on his website. The Dragon Con site will have more info as the event approaches. Dragon Con site here>>>
STAR TREK 50TH ANNIVERSARY STAMPS
And as if that weren't enough, prepare to lick the backside of your favorite Star Trek character. The U.S. Post Office has issued Star Trek stamps to celebrate the enduring series' big 5-0. Read full article here>>>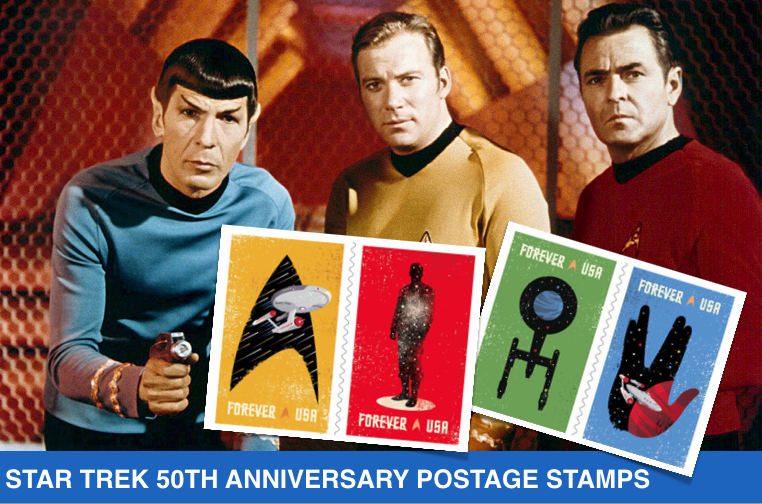 ORIGINAL CAST: THEN AND NOW
NEXT GENERATION CAST: THEN AND NOW
Wow, that's a lot of Trek…and this list is IN NO WAY complete. Events and appearances are being added by the minute. Which one are you going to get to? Who's going to the Los Vegas Celebration? Comic-Con? Which ones are we missing?
---

For all your news, updates and opinions from the Comic-Con universe, follow The Con Guy!
Facebook/TheConGuyDotCom
Youtube channel
Instagram.com/theconguy/
On Twitter @TheConGuyDotCom