Remember back when Alan Tudyk and Nathan Fillion decided to make their own web comedy show and they launched an IndieGogo campain to raise $425,000, but they instead got over $3 million from nearly 50,000 fans???? Well, that show is now ONLINE and ready to view.
They've been making the round at the Cons this year to promote their new show all about the Cons….it's called, appropriately enough, CON MAN….and no, it's in no way associated with us here at The CON GUY….although we're big fans.
But read the synopsis of the series, and you'll believe that Firefly can live again! Check this out: "Con Man centers on the post-show life of Wray Nerely (Alan Tudyk) the co-star of "Spectrum," a sci-fi series, which was canceled before its time and went on to become a cult classic beloved by fans. Wray's good friend, Jack Moore (Nathan Fillion) starred as the series Captain and has gone on to become a major celebrity, while Wray (Tudyk) hasn't found his desired level of stardom."
Anyway, it's packed chock-full of more sci-fi and geekdom stars than you can shake a light sabre at….Amy Acker, Feliica Day, Seth Green, James Gunn, Sean Astin, Tricia Hefler, and on and on and on.
WE LOVE THIS SERIES! To watch the Indie Gogo campaign trailer, and see their page, click below.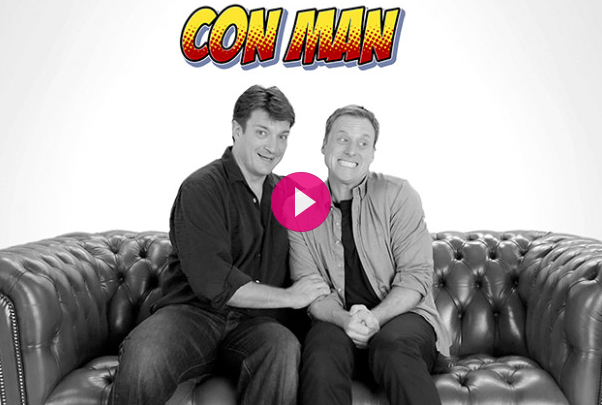 ---
News about CON MAN
CBS News, Alan and Nathan Can't Wait To Get Started
---
Follow us @TheConGuyDotCom
And like us on Facebook! We like likes.