In honor of the return of the X-Files, we decided to throw some love on some of our favorite TV shows, both past and present, that had to do with monsters! We LOVE the X-Files. I mean, we REALLY love the X-Files. And we can hardly wait for The X-Files to return this January on Fox.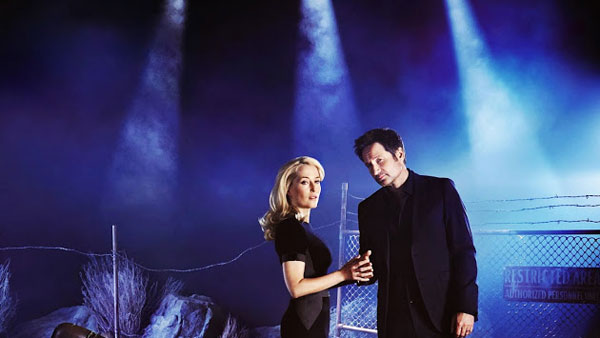 ---
X-Files Returns, Comic Book Resources
New X-Files Trailer, The Hollywood Reporter
---
That said, we were wondering: What's the best monster-of-the-week TV show of all time? Chris Carter is very open about saying that The X-Files owes a huge debt to the 70s TV series Kolchak: The Night Stalker, a show I remember sending chills up my spine as a kid.
In recent years, most of these shows have generated huge fanbases that show up in force at the comic-cons and fan conventions across the country. I waited for four hours to get into The X-Files 20th reunion panel in San Diego — that's the longest I've ever waited.
There's been a lot of fly-by-night rip-offs, but of the iconic shows, which one stands out? Here's our favorites.
SUPERNATURAL
Sam. Dean. Castiel. And that '67 Chevy Impala. Now going on 11 years, it's hard not to love these brothers-turned-monster-ball-busters. They've come up against everything from killer scarecrows, to demons, to fallen angels with daddy issues. No one really expected this many years of success, but it's the monster-killer that keeps on going. And going. And going….to the tune of "Carry on my wayward son…."
BUFFY THE VAMPIRE SLAYER
Although Buffy, Willow and Zander face off most weeks against a different monster or demon, this is the show that popularized the term "the big bad," referring to the season-long story-arc struggle against some sort of super-powerful evil force that was usually defeated in the last episode of the season. This is Joss Whedon's first and possibly finest TV creation.
GRIMM
Police detective Nick Burkhardt fights against monsters inspired by Grimm's Fairy Tales, among others. Full disclosure, we never expected this show to survive, but now in its fifth season, I guess our doubts were wrong. When it comes to monsters-of-the-week, fans just can't get enough.
THE X-FILES
We want to believe that this is the best of the genre, running for nine seasons (most of them pretty good), and two films. Fox is brining the further adventures of agents Mulder and Scully back to the small screen for a limited-run series (and hopefully more!) this January.
KOLCHAK: THE NIGHT STALKER
The mid-70s saw one of the original monster-of-the-week shows, The Night Stalker, about fictional newspaper reporter Karl Kolchak, who sought out and killed monsters each week. The vampire episode is still an all-time classic. This is the series that started many people's love affair with mysterious monster-stalker TV shows, mine included.
What's your favorite? Is yours listed here? Feel free to join the conversation as we count down to Mulder and Scully's triumphant return in January.
---
Leaving so soon? Here are some other things we think you'd probably like on The Con Guy:
Are There Too Many Comic Cons?
How Big Will Star Wars: The Force Awakens Really Be?
The Best Galleries From Stan Lee's Comikaze
Party with Supernatural at Comic-Con
---
And follow us on Twitter @TheConGuyDotCom
Supernatural panel done. Get your Cas love at http://t.co/qrY1sDhPwJ #supernatural #SDCC #HallH #castiel #CW #cosplay pic.twitter.com/QjLd2q23Xi

— The Con Guy (@TheConGuyDotCom) July 12, 2015
Will #StarWarsTheForceAwakens be biggest ever? See https://t.co/skdXNhVgqD #comiccon #C3PO #Xwing #AdamDriver #ep7 pic.twitter.com/9NZ9grFgVz

— The Con Guy (@TheConGuyDotCom) November 11, 2015
And like us on Facebook. We like likes!