Here's the latest preview clip of DC and Warner Bros. big summer blockbuster-in-the-making BATMAN v SUPERMAN: DAWN OF JUSTICE. It's short. Under a minute. But it promises the full trailer is coming Wednesday night on Jimmy Kimmel live! Watch the clip here:
Whadaya think? It definitely seems kinda dark — in a cartoonish type of way. But what's got Superman all riled up? Although it doesn't really show much, we do we both of the main stars/characters: Ben Affleck as Batman, and Henry Cavill as Superman.
THE FULL TRAILER will be shown Wednesday night on Jimmy Kimmel's show…. which begs to question: has anyone noticed how Jimmy Kimmel's getting all the big stuff these days: Star Wars; Captain America; and now Batman v Superman. Seems the big studios have decided that Kimmel's late-night show is the best platform for serving up the newest and best trailers. Wonder why?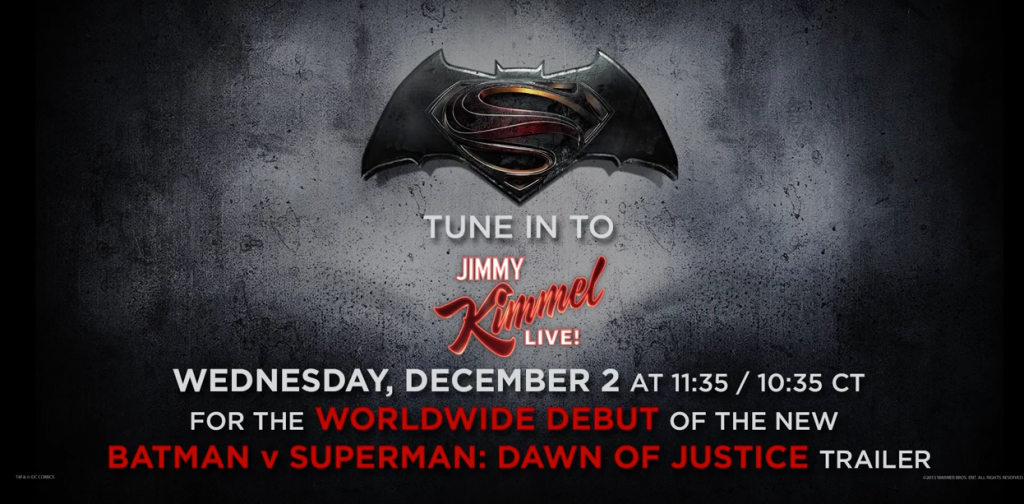 We'll post it here, so you can watch. But in the meantime, here are some other Jimmy Kimmel exclusives that have everyone buzzing.
And in case you missed it, here's the extended trailer that was shown at San Diego Comic-Con this past summer.
---
YOU MIGHT ALSO LIKE:
COMICBOOK.COM, Detailed Analysis of Batman v Superman clip
MOVIEPILOT.COM, Batman v Superman, A Recipe for Disappointment?
THE CON GUY, How Big Will Star Wars: The Force Awakens Really Be?
THE CON GUY, Are There Too Many Comic-Cons?
---
We're your source for all the news of the Con universe in one spot — conventions, fandom, movies, TV, comics; anything that stokes your passion and your comic-con experience.
Follow us on Twitter @TheConGuyDotCom
Watch https://t.co/QOQ2oWzLzs #harrisonford on #JimmyKimmelLive #StarWars #hansolo #StarWarsTheForceAwakens #Kimmel pic.twitter.com/YOK2ORdIRw

— The Con Guy (@TheConGuyDotCom) October 31, 2015
And like us on Facebook….we like likes!