Does the T-1000 Terminator watch porn? We'll tell ya what the actor Robert Patrick told us, plus more from this weekend's Terminator 2 panel, the marquee event at the Son of Monsterpalooza Convention… many of the stars and creators discussed James Cameron's classic thriller masterpiece. Plus, we've got news about Halloween Horror Nights and the final Supernatural Day. This week on the Scare Guy Show.
Watch BELOW live tonight:
We'd love to have you watch live and comment during the show, which begins at 10:10 PST on Monday nights…. OR, if you prefer to just listen, you can download anytime at any of these locations…. we're all over the place!
.
And if you're in the Burbank, Ca, area this weekend, come find us! Hang out and celebrate Batman Day at Black Cat Comics with us!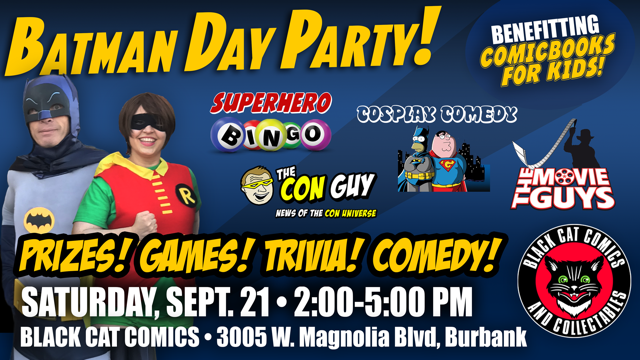 Hosts:
Jim Frye @JimFryeLA
Derek Samms @conguyderek
Luke Cheeseman @CheeseOnCouch
Ben Kliewer@BenKliewer
Katie Kawamoto @kt_christine