A Walking Dead SHOCKER. An Ash vs. Evil Dead Party. Ghost hunting at Stan Lee's Comikaze. And San Diego Comic-Con job opportunities. The Con Guy brings you all the top Comic-Con and Geek news of the week, including Eli Roth's newest gore-adventure that YOU can take part in. All the news of the Con universe in one place.
A WALKING DEAD SHOCKER
Massive spoiler warning. Warning. Warning. The Twitterverse literally exploded in rage and sorrow Sunday night as fans watched in horror as Glen apparently got the heave-ho, eaten alive by a horde of hungry zombies. My group of Dead Heads were STUNNED, some in the group openly weeping for Glen. But did he REALLY die? There's a controversy raging across the internet. Was it Glen's guts being pulled out, or did those entrails belong to Nicholaus, who had just blown his brains out and fallen ON TOP of Glen as they both tumbled to the ground? These articles give a good back-and-forth on the topic. Our opinion: We're holding out hope.
Five Fan Theories, The Wrap
Did They Just Kill a Fan Favorite? EW online
What We Thought About That Moment, BLASTR
---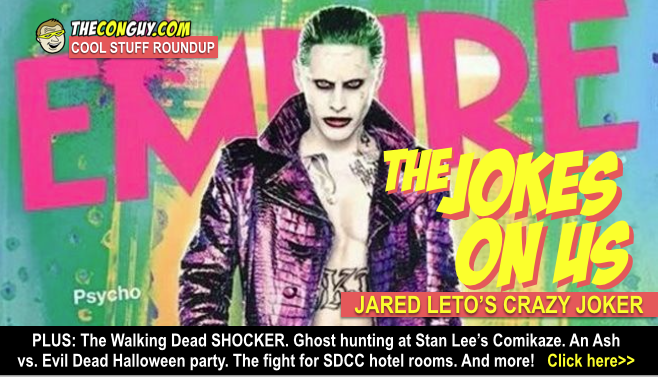 EMPIRE MAGAZINE FEATURE'S JARED LETO'S JOKER — HE'S PURE NUTS
This ain't your momma' joker–although it's a bit closer to Heath Ledger's maniacal mad-man. Throw in a bit of sex-appeal, and you've got the latest Joker, via The Suicide Squad. Check out Leto's madman below, along with other shots from the set.
The Wrap
Photos from the set, ComingSoon.Net
Photos of Jared Leto's Joker, BLASTR
---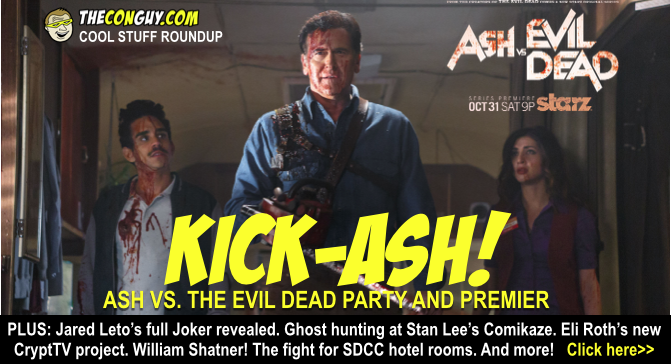 OCTOBER 29 ASH VS. EVIL DEAD HALLOWEEN PARTY IN NEW YORK
The epic return of Ash is truly a thing to celebrate, so get your self to Den of Geek's Halloween party featuring Army of Darkness and the first episode of Starz's new Ash vs. Evil Dead. Seating is limited. Check out these sites for complete info.
Den of Geek's Ash vs. Evil Dead Halloween Party in NYC
Facebook Invite
Watch the first four minutes of Ash vs. Evil Dead right here:
---
SAN DIEGO COMIC-CON JOBS AVAILABLE; HOTEL WARS FOR SDCC ROOMS
As of right now, the folks who run San Diego Comic-Con are only looking for a senior accountant, but keep this link handy if you think you might want to work for the most influential comics and popular arts festival in the country (New York is close on your tail, though). There's also an interesting article about how SDCC is trying to hold down hotel costs while many locals are renting out their rooms at super-high rates (gouging us).
San Diego Comic-Con Jobs Link
Hotel Wars in San Diego
---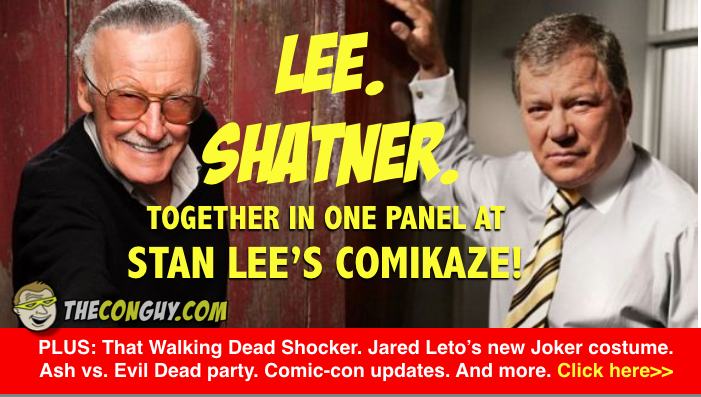 GHOST-HUNTING AND WILLIAM SHATNER AT STAN LEE'S COMIKAZE THIS WEEKEND!
Los Angeles hosts the fifth Stan Lee's Comikaze this coming weekend, promising over 60,000 attendees and a stellar lineup of special guests. There's too much to review everything, but suffice it to say that Stan Lee and William Shatner are sharing the stage Sunday (if both their egos can fit). 'Nuff said! Also, check out the chance to do some real ghost-hunting with celebrity ghost hunters (it is Halloween week, after all). Pretty cool stuff. Check it all out below.
Shatner and Lee working together on Motion Graphic Novels, DEADLINE
Actually go ghost-hunting at Stan Lee's Comikaze
---
AND A FEW OTHER SUNDRY ITEMS
Captain Jack could return if the story was right….for all you John Barrowman fans out there, this is sure to make you pop.
ICYMI Steven Moffat at #ComicCon confirmed Captain Jack COULD return – if the story was right.
What are your views? pic.twitter.com/sdnS7mtT2Q

— Doctor Who Official (@bbcdoctorwho) October 26, 2015
Eli Roth's CryptTV: A brand new way for fans and amateur filmmakers to splatter fans with blood!
GEEKFESTLA NOW accepting submissions. The world's first film festival dedicated to all things geek, nerd, sci-fi and fantasy. You can find them next at Stan Lee's Comikaze.
Stanley Hotel Opening a Horror Museum. The classic hotel that was the inspiration for The Shining, Steven King's classic tale of madness in an old, empty hotel is opening a horror museum. Yeah, it's a real head-scratcher, but who knows.
And finally, WonderCon is now taking applications for exhibitors–but act quickly! You know these spots will go FAST!
---
OTHER STORIES YOU MIGHT LIKE FROM THE CON GUY:
WATCH all the best TV panels from New York Comic Con RIGHT HERE.
Firefly Lives! (Kinda) Alan Tudyk and Nathan Fillion's new show
The Best COSPLAY from New York Comic Con
---
Follow us at @TheConGuyDotCom
https://t.co/R3IEAg3YPw Time's almost up. Pro reg for #SDCC #comiccon #comics #comicbooks #Marvel #DC #hallh #sdcc16 pic.twitter.com/tHbN9xCUEF

— The Con Guy (@TheConGuyDotCom) October 24, 2015
And like us on Facebook! We like likes.