If ever there was a year that comics reached the zenith of the culture, it was 2017. From the conventions (every weekend), to the films (billions), to the TV shows (everywhere), to the comic books (rebounding)…. this year saw comic-book culture everywhere.
FORBES magazine recently detailed this success. Here are some samples:
FILM AND TV
"Three of the top 5, and 7 of the top 15 domestic grossing releases of 2017 were superhero movies according to Box Office Mojo, and the top two (Disney's Beauty and the Beast and Star Wars: The Last Jedi) are comics-adjacent." — FORBES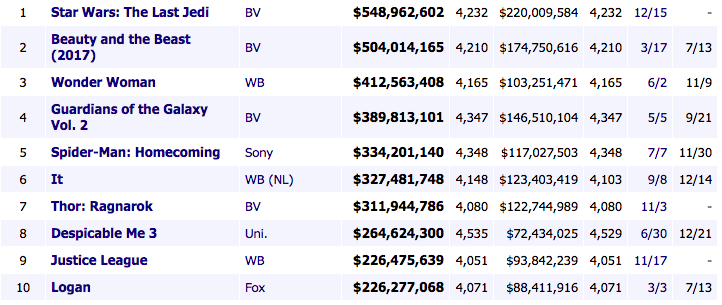 Wonder Woman saved the DC Universe! Gal Gadot and director Patty Jenkins showed the world that a good script and skilled directing CAN give us a great DC/Warner Bros film! Wonder Woman's popularity followed her straight into JUSTICE LEAGUE, where she was joined by two popular additions to the DC Universe: Flash and Aquaman. But the film split their fanbase. Even though WB brought in Geek Extraordinaire Joss Whedon, the long-awaited Justice League matchup disappointed many fans. For a fun discussion on Justice League, check out our show where we discussed both sides:
On TV (including streaming), we had all kinds of successful and popular comics-based shows. The included Arrow, Flash, Supergirl, Legends of Tomorrow, Gotham, Lucifer, Preacher, iZombie, The Walking Dead, Marvel's Runaways, Defenders, Iron Fist, Punisher, Agents of S.H.I.E.L.D., Legion (yes!!!!), The Gifted, The Tick….Woo hoo! It's a blessing of riches.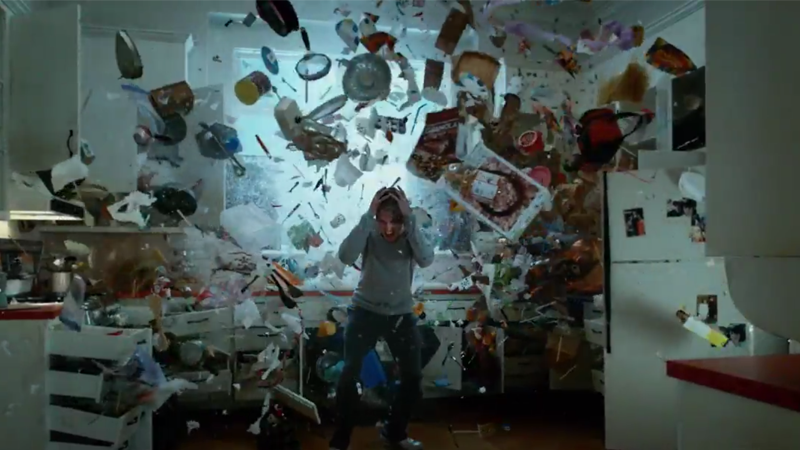 And although some may have pointed to the fact that THE WALKING DEAD came back with lower numbers than last year (we discussed this after the premier), it's still worth noting that it's the most-watched show on TV. And in a TV landscape that last year saw nearly 500 original television programs, that's saying a lot. Of course, this year saw the departure of one of the few remaining original characters, so we'll see how that affects viewership, although in our estimation, we doubt it will have much of an affect.
Of course, we couldn't discuss a year-end review of 2017's TV without mentioning the return of STAR TREK! The newest outting from the Federation is Star Trek: Discovery. And although you have to buy CBS All Access to buy it, our own Derek had some great insight into the premiere. (and all the hub-bub and perceived controversy). Check out his great article here >>>
CONVENTIONS
Ah, yes… conventions. It seemed like everywhere you turned, someone was throwing a convention. According to FORBES:
"The fan event market continued to boom this year with new players, new events and more consolidation. ReedPOP, a division of RELX, sold a record 200,000 tickets to its flagship New York Comic Con event in October and announced a new show in Philadelphia for fall of 2018. The company also won a bidding war to acquire MCM Entertainment, the UK's largest organizer of fan conventions." — FORBES
San Diego Comic-Con celebrated 47 years and also won its legal case against Salt Lake Comic Con, thus trademarking the term "Comic-Con." Although some contraction seemed to take place (Amazing Cons canceled some events, for example), others sprang up to take their place (ACE is one of the new big kids on the block). And even though the huge regional events seem to be bigger and better than ever, the middle-sized conventions have started to see some trouble.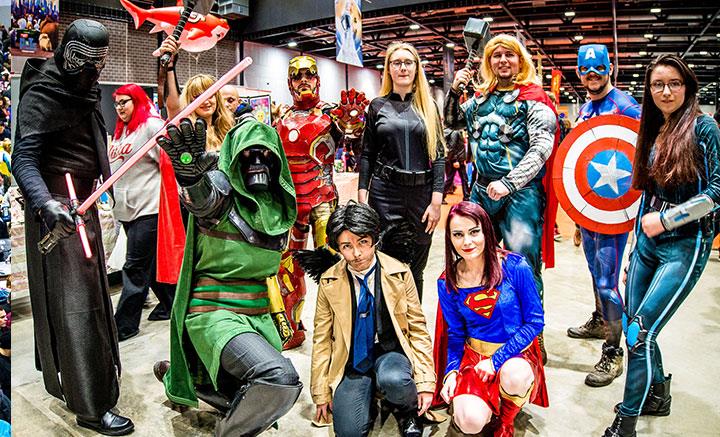 According to FORBES, "The vast middle layer of shows serving second- and third-tier markets with celebrity-driven events seems on thinner ice. Wizard World, the publicly-traded firm specializing in these sorts of shows, has seen its business decline precipitously in the past two years, though that may not be entirely due to fundamentals in the market. The whole model seems primed for disruption and continued consolidation, whether by the rise of new players, the expansion of existing leaders, or by a completely new kind of fan experience."
Here on the West Coast, Stan Lee's LA Comic Con hit all time records — almost 100,000! — and doesn't show any signs of slowing down. It is now one of the largest conventions in the country, and we couldn't be happier. Because it's awesome! Except for that darn parking, but hey, if that's the worst of its problems, then we're fine with that.
Click below for our gallery from Star Lord's exploits at the convention >>>
PUBLISHING
Graphic Novels seemed to be the strength of the market, selling through the roof, whereas direct-to-consumer shops (comic books stores) definitely saw some difficulties. One of the reasons is that MARVEL suffered this year. "Marvel replaced longtime editor-in-chief Axel Alonso last month with C.B. Cebulski. The company is now apparently cancelling a long list of poorly-performing titles and gearing up for a change in direction in 2018." Let's hope that Marvel brings things back around — last year they dominated the year-end charts.
Amazon's ComiXology launched a line of digital-original titles and expanded its comiXology Unlimited flat-fee sampling service. Madefire announced new digital distribution agreements with DC, Marvel and Dark Horse. Comics also found their way onto Apple TV, Oculus, Gear VR and Magic Leap.
Regardless of whether you like it or not, you couldn't escape comic-book culture this past year. And to tell you the truth, although there may be a few week spots in this gigantic comics world, 2018 looks like more of the same.
You can read the entire FORBES article right here.
Also, if you get a chance, check out our special year-end CON GUY show where we give our picks for the best of 2017!