BY LUKE CHEESEMAN
The Long Beach Convention Center has one of those picturesque locations that most convention centers only dream of, which is one of the reasons that the Long Beach Comic Expo is such a cool spot to get your geek on. In just two weeks, if you're in Southern California, you should check it out over Presidents Day weekend.
Here's what we got from the organizers of the event:
Tony Harris, Dean Haspiel, George Perez, Humberto Ramos, Amy Reeder,
 Mark Waid, Mike Zeck and More to Appear on February 18 and 19!
With just over two weeks left before the doors open to the seventh annual spring counterpart to Long Beach Comic Con, MAD Event Management announces the first wave of all-star guests for this year's Long Beach Comic Expo!
Joining this year's Long Beach Comic Expo are Tony Harris (co-creator of Starman, Ex Machina, and Obergeist), Dean Haspiel (Billy Dogma, The Red Hook), George Perez (Avengers, Crisis on Infinite Earth, Justice League of America, Teen Titans, Wonder Woman), Humberto Ramos (Civil War: Wolverine, Spider-Man), Amy Reeder (Fool's Gold, Madame Xanadu, Supergirl, Batwoman), Mark Waid (Superman, Justice League, Spider-Man, Archie, Kingdom Come), and Mike Zeck (The Punisher, Captain America, Master of Kung Fu, G.I. Joe: A Real American Hero, Deathstroke the Terminator, Marvel Superheroes Secret War)!
---
RELATED COSPLAY STORIES FROM LAST YEAR'S LONG BEACH COMIC EXPO
Some of the BEST COSPLAY from the 2016 Long Beach Comic Expo
Our Jurassic Cosplay Adventure at Long Beach Comic Expo
The Cosplay Competition on Saturday Night at LBCE
---
The show will also host numerous entertainment guests, including the recently announced star of DC Entertainment's Aquaman, Jason Momoa, the complete cast of Supernatural's "Ghost Facers," including Austin Basis, A.J. Buckley, Brittany Ishibashi, Dustin Milligan, Mircea Monroe, and Travis Wester, and many more to be announced!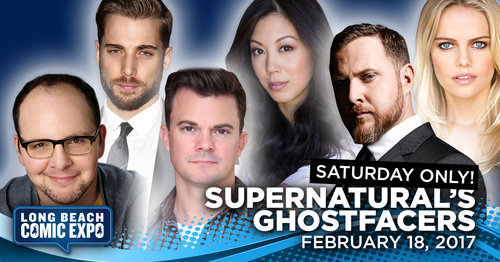 "Our Spring Expo show has become the official start to the convention season, and really grown into an event that captures the attention of the comic book industry at large" says Martha Donato, President and founder of Long Beach Comic Expo. "As we head into our eighth year in Long Beach, both our guest list and programming slate are shaping up to be one of our best yet! We can't wait to see everyone next month at our seventh annual Long Beach Comic Expo!"
These guests are the first of many to be announced in an ever-growing lineup of top tier comic talent, celebrities from film and television, as well as cosplay all-stars, all scheduled to appear at the Long Beach Convention Center on February 18 and 19. Look for announcements on additional guests, programming and more in the next month leading up to this year's show.
Enjoy an exciting weekend full of exceptional guests, exhibitors, and engaging panels, at Long Beach Comic Expo, Saturday, February 18, from 10 a.m. – 7 p.m. and Sunday, February 19, from 10 a.m. – 5 p.m. at the Long Beach Convention Center. Tickets are available now at www.longbeachcomicexpo.com.
Follow Long Beach Comic Expo on Facebook and Twitter for the latest news and information.
---

For all your news, updates and opinions from the Comic-Con universe, including your favorite films, TV shows and comics, follow The Con Guy!
Facebook/TheConGuyDotCom
Youtube channel
Instagram.com/theconguy/
On Twitter @TheConGuyDotCom