Our fellow Con Guys in Ohio, Jake and Joel, unbox one of the coolest new Star Wars toys inspired by the new ROGUE ONE: A STAR WARS STORY, the Star Wars Rogue One Rapid Fire Imperial AT-ACT. And we gotta say…. this is one of the coolest Star Wars collectibles out there.
Re-create the biggest battles and missions in the Star Wars saga with the Star Wars Rogue One Rapid Fire Imperial AT-ACT! This towering, movie-inspired, and remote-controlled vehicle converts into an action-packed playset so that kids can imagine their own Star Wars battles! Also included are 3 iconic 3.75-inch figures from the Rogue One movie, so kids can imagine sending their favorite heroes and villains into the intergalactic fray!
---
RELATED ARTICLES:
First Look At the New Han Solo Standalone Movie >>>
Unboxing Droids: The Con Guy Unboxes New Star Wars Black Series Action Figures >>>
First Look At The New Han Solo Standalone Film >>>

---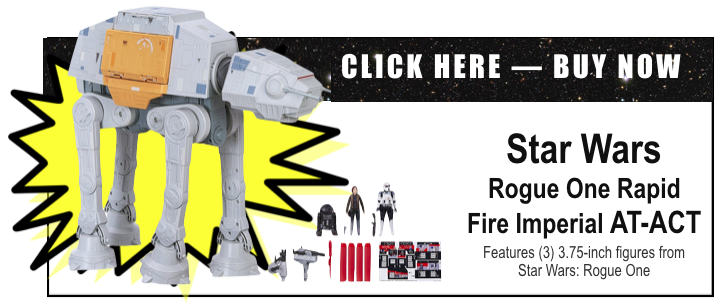 We snagged the Star Wars Black Series Kylo Ren (SDCC 2016 Exclusive) for Jake this summer at San Diego Comic Con. You heard him mention it at the end of the unboxing video above. If you want to further bulk up your Dark Side, the Black Series Kylo Ren is just the way to do it. Check it out right here:
And while you're at it, might as well pick up the Jyn Erso Funko Pop figurine. Why? Because it's just cool.

Of course, for the purists out there (like us!), it's hard to beat the original Star Wars 174 AT-AT. At 2 feet tall, it's the largest AT-AT there is. It's modeled after the Imperial Walkers from The Empire Strikes Back.

---
Note: These items are sold through affiliate links.

For all your news, updates and opinions from the Comic-Con universe, including your favorite films, TV shows and comics, follow The Con Guy!
Facebook/TheConGuyDotCom
Youtube channel
Instagram.com/theconguy/
On Twitter @TheConGuyDotCom
---
BEFORE YOU take off into 2017, check out our last fandom and comic-con show of last year — loaded with the best and the worst of 2016, and proof that nerds can have a blast at a Vegas bachelor party. Enjoy!
SUBSCRIBE! Our next show is coming out in two weeks.