DRAGON CON NEWS ROUND-UP
It starts next week! The Southeast's biggest and best fan convention takes a bite out of Peach Tree City – ATLANTA! – as the world-famous Dragon Con celebrates its 30th year! Last year the event drew over 65,000 attendees who enjoyed more than 5,000 hours of scheduled panels and programming.
Join the fun by watching our DRAGON CON episode, right here!
---
Here we've put together all the information you might need for the weekend. Have a blast! And send us photos and stories.
BIG NAMES SHOWING UP FOR THE 30TH ANNIVERSARY
To help celebrate 30 years of Dragon Con, the big names are coming out in force. Among them, Star Trek's Captain Kirk himself, William Shatner, and Karl Urban, the new Scotty, continuing Star Trek's 50th Anniversary. Also scheduled to attend are Alan Tudyk, Gillian Anderson (Scully!), Alex Kingston, Jack Gleeson, and Charlie Cox. Additionally, guests will be able to see Brian Hesnon, puppeteer and son of the late Jim Henson, talking about the 30th anniversary Labyrinth. Brett Dalton, from Marvel's Agents of S.H.I.E.L.D. will also be on hand.
LIST OF SPECIAL FEATURED GUESTS
From the Atlanta Business Chronicle >>>
"We are delighted to have so many guests from so many of today's most popular or, in the case of classic science fiction, best loved shows and movies to join us for our 30th Anniversary celebration," convention co-chair Rachel Reeves said. "Overall, we will have some 400 guests – actors, authors, artists and other creators and experts – from across science, science fiction, and fantasy worlds, in whatever medium." Read more.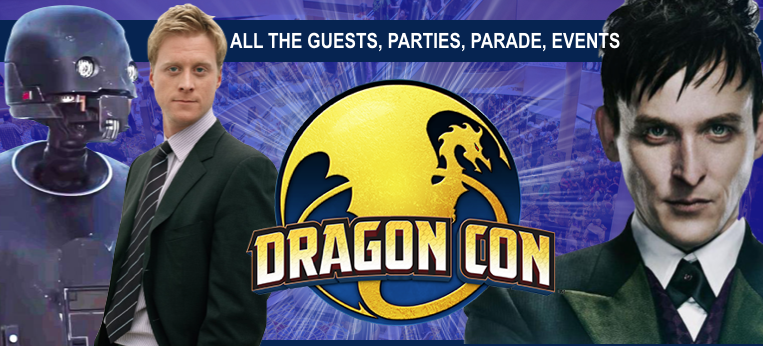 MOST COMPLETE LIST OF DRAGON CON PARTIES
It's not a fan convention if there ain't parties (that you can't get into!). Actually, most of these parties look pretty open to the general public – but get your tickets now, because these things sell out. Here's your complete party list, as compiled by #dconparties. See complete list here.
VOTE FOR DRAGON CON'S FIRST DRAGON AWARDS THRU AUG. 28
For the first time ever, Dragon Con is presenting awards in recognition of all things scifi/fantasy. Although voting has been going on for a while, if you hurry you may be able to still squeeze your vote in there (voting ends August 28). The winners will be announced at Dragon Con.

Here are the categories:
Best Science Fiction Novel
Best Fantasy Novel (Including Paranormal)
Best Young Adult/Middle Grade Novel
Best Military Science Fiction or Fantasy Novel
Best Alternate History Novel
Best Apocalyptic Novel
Best Horror Novel
Best Comic Book
Best Graphic Novel
Best Science Fiction or Fantasy TV Series
Best Science Fiction or Fantasy Movie
Best Science Fiction or Fantasy PC / Console Game
Best Science Fiction or Fantasy Mobile Game
Best Science Fiction or Fantasy Board Game
Best Science Fiction or Fantasy Miniatures / Collectible Card / Role-Playing Game
For a complete list of all nominations (and also a discussion about the controversy regarding the Hugo Awards) read the complete article here. For a complete list of rules, read the official Awards Page Information here.

GET THE OFFICIAL DRAGON CON 2016 WINDOWS APP
The official Dragon Con app for Windows Phone 8.1 and Windows 10 Mobile is ready to download, and promises to make your weekend a breeze.
From WindowsCentral.com: >>>
The Windows Phone/Windows 10 Mobile DragonCon app (via Reddit) will allow attendees to get quick access to the daily schedule of events, along with what special celebrity guests will be attending. It also offers a map to quickly find panels and programming (DragonCon actually takes over several downtown Atlanta hotels, so the map feature will be handy). There's also a listing of all the various dealers and exhibitors at the show. Read more.

COMPLETE PROGRAM LIST — THE POCKET GUIDE
With four days of programming, Dragon Con's Pocket Guide is essential, so you don't miss a beat. Check it out here:
DRAGON CON TV IS STREAMING THIS YEAR FOR ALL DRAGON CON GUESTS
One of the coolest things about Dragon Con is its DRAGON CON TV, a service that streams panels and events into the official hotel rooms of Dragon Con. Well, this year, guests will be able to pay $10 for an all-weekend streaming service of Dragon Con TV. See Dragon Con TV hosts Crispy and Brian talk about this year's Dragon Con TV right here:
DRAGON CON PARADE TO BE TELEVISED
Another unique feature about Dragon Con is the cosplay parade. Each year, cosplayers wend their way through downtown in what has been called Atlanta's biggest parade. And although all spaces are already reserved for this year's parade, you can keep up with all the parade information on their Facebook page. 
From the Atlanta Journal Constitution >>>
The parade, which draws thousands of costumed superheroes, sci-fi villains and cosplay characters onto the streets of Peacthree downtown, will be aired live on the CW starting at 10 a.m. September 3. The telecast will be rebroadcast that night at 8. Organizers say the parade draws about 80,000 visitors. It's free to the public and tens of thousands of photos and videos are taken and posted during the hour-long event.
---

For all your news, updates and opinions from the Comic-Con universe, follow The Con Guy!
Facebook/TheConGuyDotCom
Youtube channel
Instagram.com/theconguy/
On Twitter @TheConGuyDotCom