Full disclosure: We love Children's Hosptial. A wet, hot, juicy kind of love. It is the wackiest, most fun series on TV, and Rob Corddry is all-kinds-of-wrong, which makes him the best kind of comedian. That guy has no shame, which is why it's so much fun to watch him. Add in Rob Huebel and the beautiful but nutty Erinn Hayes, and you've got the making of perhaps the funniest panel at New York Comic Con. They definitely brought the house down in San Diego in what we think was the funniest panel at SDCC.
Then there's Seth Green and the gang at Robot Chicken who are going to give us a sneak peek at Robot Chicken Star Wars Episode III. We can only imagine. And don't miss out on the Robot Chicken party. RSVP here.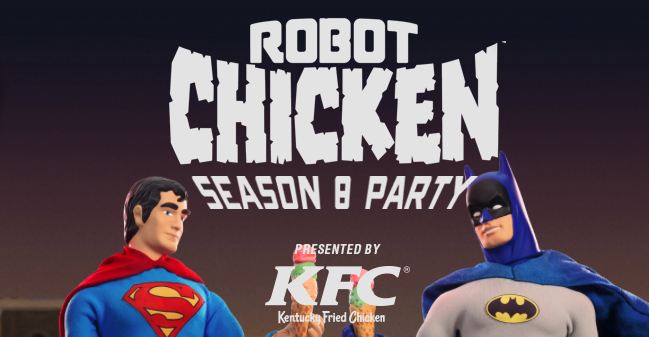 The Adult Swim invasion continues with Venture Bros. and Delocated! (we didn't add the exclamation point, it's part of their name).
In San Diego, Adult Swim brings a carnival. In New York, they go on a cruise. They're calling it their second maiden voyage, and it heads up the Hudson, takes a peak at Lady Liberty, and features your favorite friends and family form Adult Swim. You do have to RSVP though, which you can do here.
Here's a round-up of everything you need to know to get the full Adult Swim Experience while you're at New York Comic Con. Don't say we didn't warn ya.
ADULT SWIM Traveling Drive-In Movie Theater
---
Do you like this article? Then check these out from The Con Guy:
Warner Bros Rules New York Comic Con
Bugs Bunny Is Back, and He's Coming to New York Comic Con
Seth Green and Breckin Meyer Pick the Best Batman at Comic Con Panel
---
ROBOT CHICKEN
CHILDREN'S HOSPITAL
VENTURE BROS.
DELOCATED!
---
Let's get social. Please stalk and follow us. We don't bite.
Check out http://t.co/ssZjvlAM54 #warnerbros is bringing everyone to #NYCC2015 #Supergirl #Blindspot #wabbit #CW2015 pic.twitter.com/76E6CJap14

— The Con Guy (@TheConGuyDotCom) September 29, 2015
And like us on Facebook…we like likes!