We caught up with Elijah Wood at the late-night screening of his new film, the Sundance favorite COOTIES. We were able to score INVITE ONLY passes to the packed-out theater by stalking around the Lionsgate booth on the convention floor. This is the cool stuff that makes Comic-Con such a pop-culture must-do: the opportunity to see new genre films and products and maybe hang with some of your favorite actors….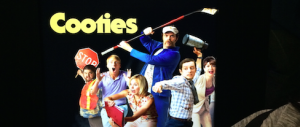 For the record, the film was CRAZY FUNNY, super gross, and full of perfect, spot-on scares. In a nutshell, it's about a virus that turns bratty school kids into flesh-eating zombies. And if you've got an irreverent sense of humor, you'll LOVE seeing these put-upon teachers getting revenge on these little brats who've made their lives miserable. SCORE ONE FOR THE TEACHERS! I have to give this film credit for breaking the "don't-kill-kids" taboo that most current films have.
Elijah was there to talk us through it and thank everyone involved. Pretty cool event. You should definitely check it out. Here's the trailer.
Follow us on Twitter @TheConGuyDotCom