If you're anywhere in the L.A. region this weekend, make sure to head on over to the Los Angeles Convention Center for one of the largest Fan Conventions in West, if not the country. Apparently, according to their press releases, they're expecting upwards of 140,000 guests over the course of the 3 days, beginning today!

DOWNLOAD APP FOR FULL SCHEDULE:
The full schedule for Los Angeles Comic Con is now available on the mobile app. Download the app here to view the full Programming Schedule, Autograph and Photo Op Schedules & more.
Guests can choose from over 200 panels and programming moments happening all weekend long, including a jam-packed Main Stage and Gaming Stage panels featuring your favorite celebrity guests from The Boys, The Umbrella Academy, SpongeBob SquarePants, Dragon Ball Z, Lord of the Rings and so much more — There's something for every fan!
Download our app to see the full schedule today.

AUTOGRAPHS & PHOTO OPS
If you pre-purchase autographs and/or photo ops, bring the QR code in your confirmation e-mail directly to to the table or photo booth to redeem your purchase.
HEALTH & SAFETY
Per current L.A. County Dept. of Public Health guidelines, we recommend that guests and exhibitors wear masks to attend L.A. Comic Con, but it is not required. Should the County revise its guidelines prior to our Dec. 2-4 event, we will revise these standards accordingly.
REFUND POLICY
Any tickets purchased for the 2022 Los Angeles Comic Con are subject to normal, non-refundable ticket provisions unless the event is postponed or rescheduled.
BRAND NEW GAMING & ANIME HALL
L.A. Comic-Con has teamed up with Subnation to produce an expansive and exciting gaming, esports and anime experience in the West Hall! Your ticket will get you access to the new Gaming Hall to experience 4 main zones – the Gaming Stage, the Stream Studio, the Freeplay Zone, and the Nerdbot Anime Zone.
Cosplay Meetups
Horror – Saturday @ 10:00 AM | South Hall Lobby
DC Comics – Saturday @ 12:00 PM | South Hall Lobby
Marvel – Saturday @ 2:00 PM | South Hall Lobby
Star Wars – Saturday @ 2:30 PM | South Hall Lobby
Pokémon – Saturday @ 3:00 PM | South Hall Lobby
Star Trek – Sunday @ 10:00 AM | South Hall Lobby
Power Rangers – Sunday @ 11:00 AM | South Hall Lobby
Disney/Pixar – Sunday @ 12:00 PM | South Hall Lobby
Naruto – Sunday @ 1:00 PM | South Hall Lobby
You can also watch finalists compete for over $30K in prizes in the Cosplay National Championships — the largest cosplay contest in the US!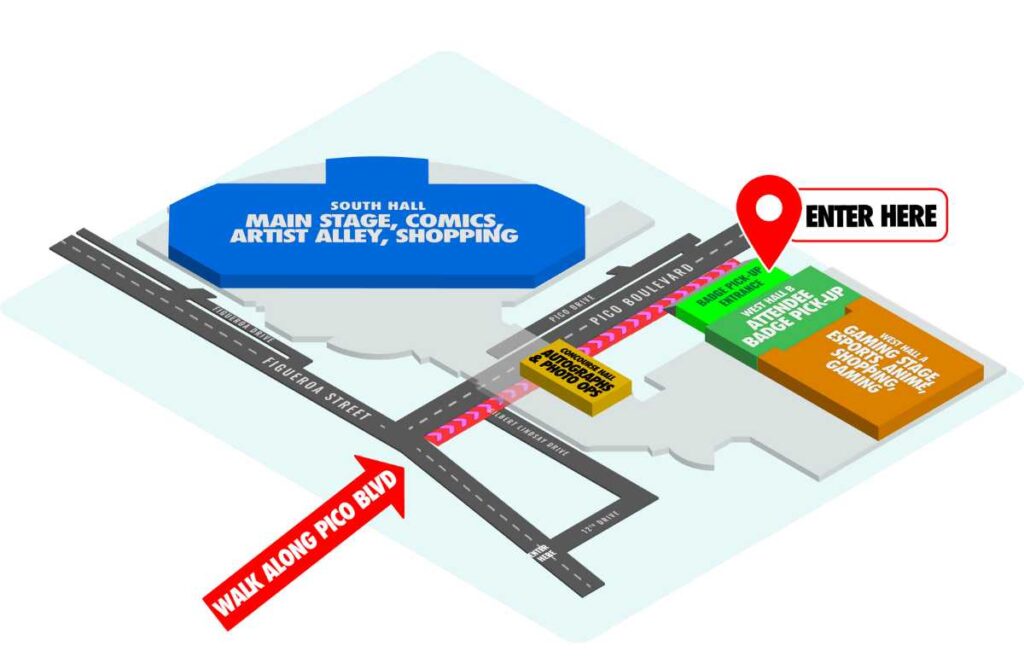 Follow the signs that say "Badge Pick-Up" which is located in West Hall B – Look for the stairs that run up to the west hall between the convention center on Pico Blvd.
Badge Pick-Up Hours:
Fri: 12:30pm – 9:00pm
Sat: 7:30am – 7:00pm
Sun: 8:00am – 5:00pm
Lobby will open for queuing:
Fri: 2:00pm
Sat: 7:30am
Sun: 8:00am
Show Hours:
Fri: 4:00pm – 9:00pm
Sat: 9:30am – 7:00pm
Sun: 9:30am – 5:00pm
Please note: ADA badge pickup will be in the South Hall Lobby.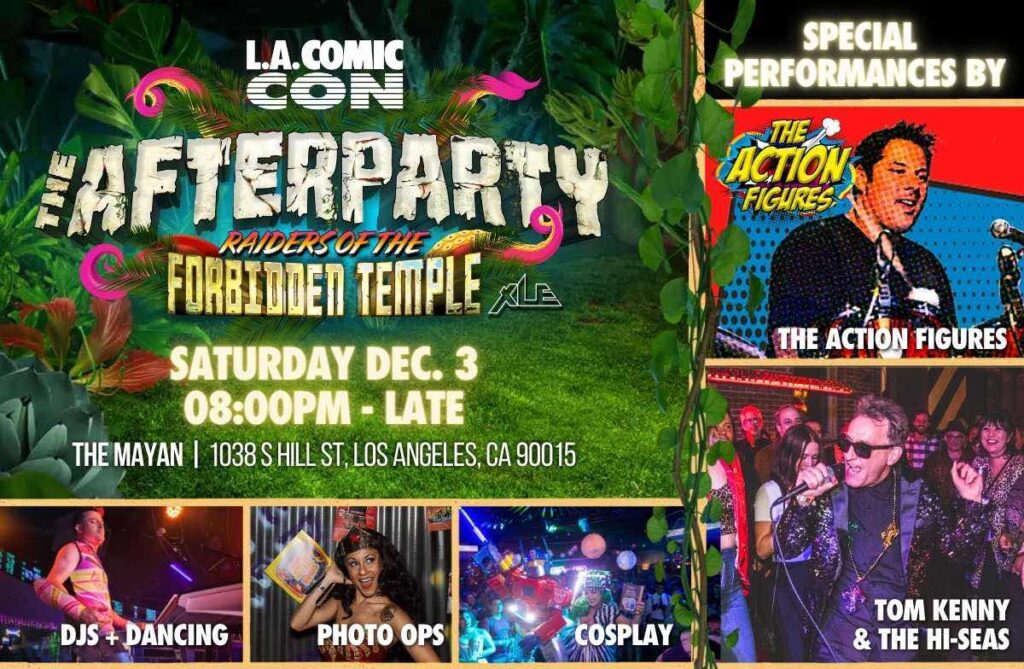 Party  ALL NIGHT on Saturday at the epic Afterparty at The Mayan, starting at 8 PM! Performances by The Action Figures (Scott Grimes, Amy Jo Johnson, Greg Grunberg) and Tom Kenny & The Hi-Seas & more! Get your tickets now!