Megacon Orlando, part of the Fan Expo family of conventions, is celebrating Star Wars with special guests, meet-ups, clubs, and more! You can buy your tickets here. Here's a taste of what you can expect: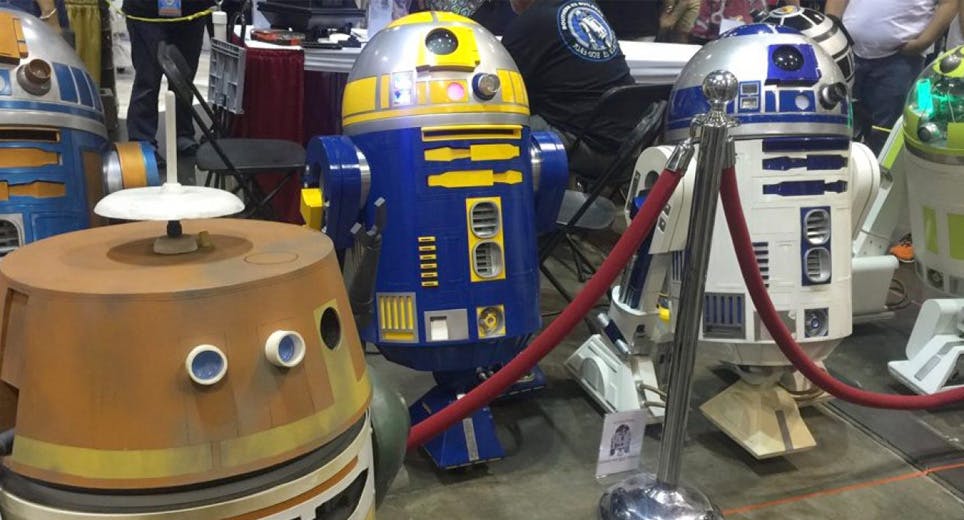 R2 BUILDERS CLUB
Founded in 1999 by Dave Everett, the R2 Builders Club has continually striven to develop an accurate resource for reproducing the lovable Star Wars Astromech designated Artoo Detoo. The current membership stands at over 7,100 and continues to grow with members from all over the world – maybe you'll be the next member?.
A COMPLETE STAR WARS EXPERIENCE
With something for every level of interest, young or old, you will be sure to enjoy our multi-faceted Star Wars Experience! Hear from the celebrities, get an autograph, see and touch the many props and displays, and even shoot a Stormtrooper! Photo Ops are plentiful with Star Wars themed backdrops, Droids and literally thousands of retail items and rare collectables available.
ASHLEY ECKSTEIN
Her Universe Founder; The Clone Wars
Ashley Eckstein is an American actress and fashion designer. She is the founder of the fashion label Her Universe. She is best known for voicing the role of Ahsoka Tano throughout the Star Wars franchise, beginning with Star Wars: The Clone Wars in 2008.
GINA CARANO
THE MANDALORIAN, DEADPOOL
From pioneering women's MMA to blazing a trail in movies, GINA CARANO is one of Hollywood's most unique rising stars. She was cast in the role of 'Angel Dust' in the smash hit MARVEL/FOX film DEADPOOL opposite Ryan Reynolds based on the popular comic book. The film grossed over $870 Million dollars at the Box Office. After starring in the independent films DAUGHTER OF THE WOLF opposite Richard Dreyfuss and the dark comedy MADNESS IN THE METHOD with Jason Mewes and Kevin Smith, Gina secured a lead role in Jon Favreau's highly reviewed Star Wars TV show THE MANDALORIAN for Disney+.
GIANCARLO ESPOSITO
THE MANDALORIAN, BREAKING BAD
Giancarlo Esposito is a celebrated film, television and stage actor, director and producer with a career spanning nearly five decades. Esposito is well known by television audiences for his iconic portrayal of drug kingpin Gustavo "Gus" Fring in AMC's critically acclaimed award-winning series Breaking Bad, for which he won the 2012 Critics Choice Award and earned a 2012 Emmy® nomination. He can currently be seen reprising his role in AMC's critically acclaimed prequel, Better Call Saul, and as the villainous Moff Gideon in THE MANDALORIAN for Disney+.