Halloween 2020 was pretty much a bust, but there's one cool thing that came out of the whole pandemic chaos — drive-through haunt events… and there's one in particular that sprang up and is still going strong… at least for a couple more weeks. It's the STRANGER THINGS DRIVE-THRU EXPERIENCE in downtown Los Angeles…. and it's AWESOME! If you're in the Southern California area, make sure to not miss out:
WHERE?
Stranger Things: The Drive-Into Experience
777 Alameda St, Los Angeles, CA 90021, 90021
THE UPSIDE DOWN — AND THE 80S
The year is 1985 and a world of bitchin' tunes, mullets and monster hunts awaits. Hop into your car, drive to the Starcourt Mall and find yourself at the heart of the action. In a town built on secrets, you may be surprised to discover a more sinister truth than you had ever imagined. Expect real-life locations from the series and mind-blowing audio and visual effects. This adventure is Eleven out of 10! But beware, things can quickly turn uʍop ǝpᴉsdn.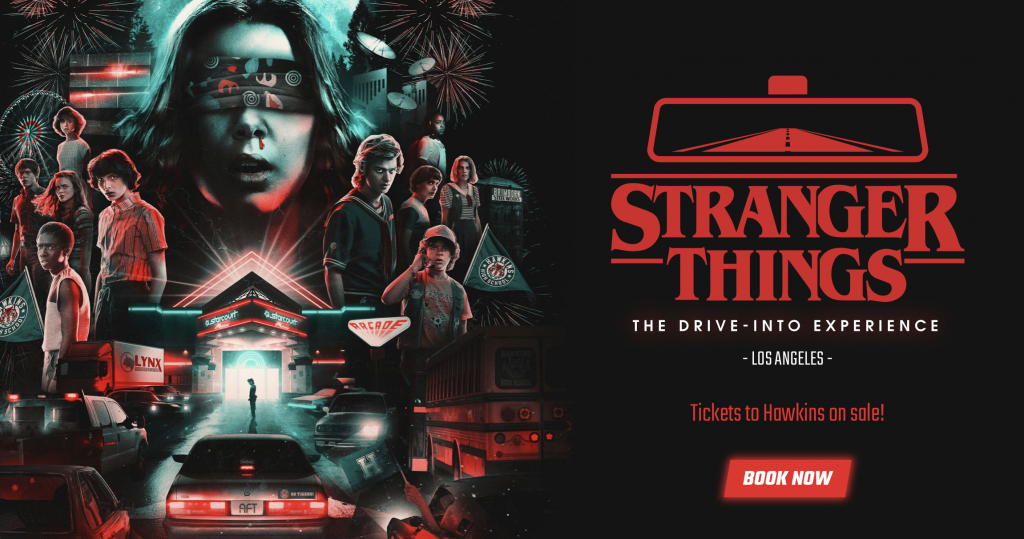 .
GENERAL INFO
📍 Location: Skylight ROW DTLA
👤 Age: Recommended for ages 13+. Younger children may come at their parents' discretion and will be charged as passengers.
👗 Dress code: Dressing for the occasion is highly encouraged. Ticket holders will be given exclusive access to the Hawkins Online Portal preparing you for the evening.
🔊 Audio requirements: A car with a radio that has the ability to tune into FM.
🍽️ Snacks and soft drinks will be available to buy via an online system at the start of the event.
👕 Access to exclusive merch at the Souvenir Shop.
🚗 Enjoy the experience from the safety of your own car. No extraordinary driving skills required! Cars will drive through an immersive environment and park while scenes play out. So you can sit back and enjoy the action (all vehicles must be under 7′ in height).
🔗 This experience was designed with measures in place to mitigate the risk of spreading COVID-19.