By Ben Kliewer
Ben has a definite "take" on the headlines of the week…. whether it's Star Trek, Star Girl, or the happiest place on earth (Disneyland!), he's definitely got a unique "take" on the headlines. So, check out his video, which is part of the CON GUY Comic-Con Show, where he gives the headlines… then read his full analysis below. And make sure to have your red solo cup, because is never caught without his! Watch Ben here below:
TOP STORY:
Taika Waititi, Earth's charming boyfriend we met during a semester abroad, is hosting a star-studded read-along of the Roald Dahl classic James and the Giant Peach.Teaming up with the likes of Meryl Streep, Cate Blanchett, Mindy Kaling, Lupita Nyong'o, Chris and Liam Hemsworth, Benedict Cumberbatch, Ryan Reynold's and some other actors not in the Marvel Cinematic Universe, the 10 episode performance called James and the Giant Peach with Taika and Friends started this week and will continue to be posted Mondays, Wednesdays and Fridays to the Roald Dahl YouTube channel.
Working with the Roald Dahl Story Company, the project is raising money for medical and social justice organization Partners in Health, of which Dahl's daughter Ophelia is a founder. The organization is fighting COVID-19 and supporting public health systems in vulnerable communities around the globe.
The Roald Dahl Story Company is fixing to match up to $1M in donations. Beyond $1 million, other partners are waiting in the wings. You can donate at the Partners in Health website, pih.org
HEADLINES!
First: Stars! Both Wars and Trek
21 years ago this week, fans lined up for the midnight premiere of Star Wars Episode I: The Phantom Menace. Little did we know the menace would be the prequels themselves.
Legendary Practical Effects VFX artist Phil Tippet is returning to the Star Wars franchise and could not sound more bored about it. Said Tippett "It's fine. I've been there, done that."
Female Lead of every nerd's fantasy Katee Sackhoff is reportedly reprising her Star Wars: The Clone Wars and Rebels role as Bo-Katan in season two of The Mandalorian. Sackhoff joins a growing list of actors allegedly appearing in sophomore season the Disney+ series, including Rosario Dawson, Temuera Morrison, MichaelBiehn and Timothy Olyphant for some reason.
Taking a page out of Disney's Star Wars playbook, CBS/Paramount has plenty of plans to boldly go back to the well with Star Trek. Recent announcements continue the existing series as well as introducing all new ones, including; Star Trek: Discovery Season 3, the Discovery spinoff Star Trek: Section 31, Picard Season 2, and Star Trek: Lower Decks, a post-Star Trek: Nemesis animated comedy following the support crew of Starfleet's least important ship, the USS Cerritos…. This is a real thing, set to debut on CBS All-Access this year. CBS is also working with Nickelodeon developing their own animated Trekv series.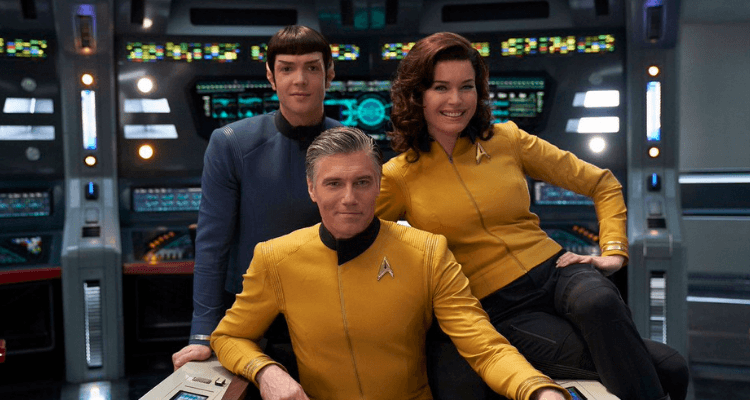 And finally, the hotly anticipated Star Trek: Strange New Worlds, another spinoff of Discovery. This is one people actually asked for.
Recent announcements regarding Star Trek: Picard acknowledge that production is, in fact, delayed due to the coronavirus pandemic. Though co-creator Akiva Goldsman recently stated that the series will go on to be three to five seasons, or basically whenever Sir Patrick Stewart gets tired of it.
The Quentin Tarantino and Noah Hawley movies (that's two separate projects) still percolate in limbo at Paramount, and CBS has one more unannounced Trek television series in the works.
CBS All-Access, proving the old adage, "why buy the Star Cow when you can just milk the f***ing sh*t out of it"
In "It's okay to like both" news:
DC's Stargirl, not to be confused with the Disney+ film of the same name, premiered on the DC Universe streaming service, and is the newest addition to the Arrowverse.
Season 2 of DOOM PATROL will hit HBO Max and DC Universe this summer.
Batwoman and Superman are set to do a CW/DC teamup in 2021. This announcement came across the wire before to the news that Batwoman star Ruby Rose is leaving the series. Though it seems the crossover with DC's newest onscreen Superman adaptation is still in the works as intel has come out that the CW series plans to recast the Batwoman/Kate Kane character with someone representing the LGBTQ+ community, in the spirit of the character.
Collin Farrell is excited about playing The Penguin in the upcoming Warner Bros. film The Batman, calling his scenes "tasty." Do with that what you will.
The CW has acquired the rights to Swamp Thing, prompting fans of the gooey series to hope for a season 2!
Patton Oswalt is returning for Marvel's Agents of S.H.I.E.L.D. Season 7 and it gives me LIFE! (Editors note: Catch the CON GIRL Katie Kawamoto on the soon-the-premiere AfterBuzz after show for Marvel's Agents of S.H.I.E.L.D. Season 7!)
Schrodinger's film The New Mutants is supposedly being released in theaters on August 28th, 2020 according to Disney and 20th Century Studios. Stay tuned to TheConGuy.com for its cancelation.
The Happiest News On Earth:
Parts of the Disney resort in Orlando are opening back up to the public with a warning that essentially amounts to an "Enter at your own risk." The official no-lifeguard-on duty statement in part reads "An inherent risk of exposure to COVID-19 exists in any public place where people are present. COVID-19 is an extremely contagious disease that can lead to severe illness and death" and wraps up with the uplifting "By visiting Walt Disney World Resort, you voluntarily assume all risks related to exposure to COVID-19." So, that's fun.
The recording of the Broadway production of Hamilton, which was supposed to be released in theaters October 2021 is now being released on Disney+, July 3, 2020. So, we can all get obsessed again.
Speaking of Disney+, head honcho of the streaming service Kevin Mayer is leaving to become chief executive at Tik-Tok.
Random headlines of Geeky interest:
Spyglass Media Group, the company relaunching the Scream franchise, has announced that David Arquette will reprise his role as Dewey Riley in the fifth installment of the franchise.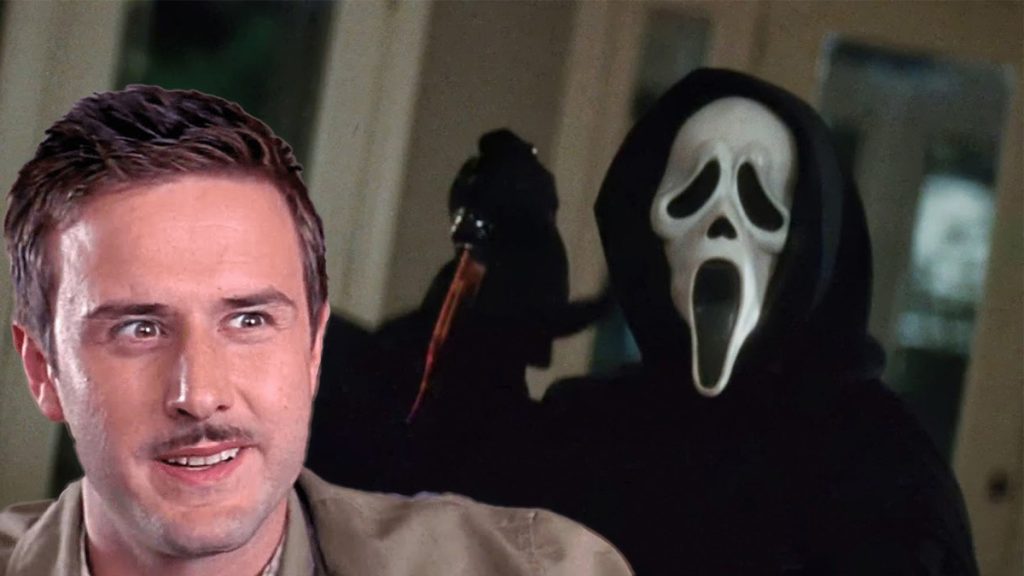 In more "we don't have any new ideas" news, Bad Boys for Life directors Adil El Arbi and Bilall Fallah have announced that Beverly Hills Cop 4 is moving forward as they're going to, and this is a real quote, "try to write a first draft, or a first treatment at least with the story."
John Krasinksi posted his final episode of Some Good News, because there is, in fact, no more good news.
Tiger King Joe Exotic is reportedly sending his legal team to Washington, DC with the intent of asking the president for a pardon. All this while actress Tara Reid is being eyed to play Carole Baskin in a film adaptation of the Netflix Docuseries.
The previous two sentences, believe it or not, contained no actual jokes.
Epic Games Maneater, a single player action RPG for windows is releasing May 22. There's not joke here, but look up the game. It's like Grand Theft Auto meets Jaws and it looks hecka good.
A video released this week featured the cast of Netflix's breakout hit The Umbrella Academy, at home recreating their dance to Tiffany'sI Think We're Alone Now from season one, along with the announcement that season 2 of the series will premiere on July 31.
The trailer for the second season of Jordan Peele's The Twilight Zone dropped. Watch it here: https://youtu.be/Hs1W2kVnZNA
And finally:
Remember Playmobil? I sure as heck do! Guess what? They're still around, and they made this dankass Back to the Future set, which I desperately need in my life! https://www.playmobil.us/shop-online/shop/back-to-the-future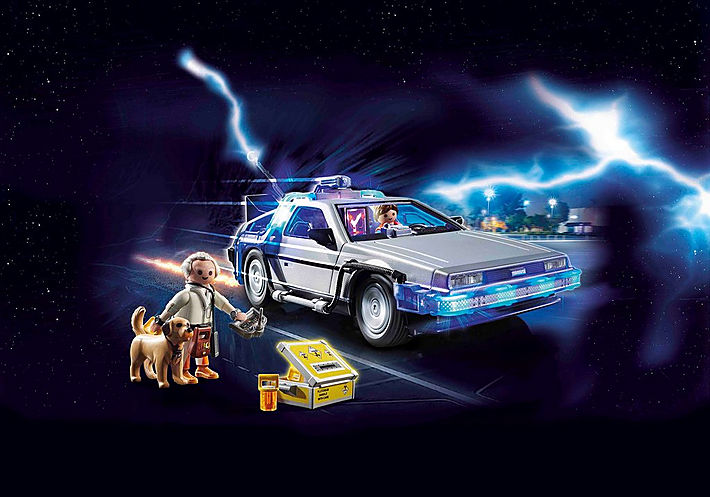 You know, people asking me "Ben, why you always drinking out of that red cup?" well, it's because whenever Ben Kliewer shows up, it's always a party!
See you next time folks!