Batman is 80 years old this year, so let's celebrate the Dark Knight's eight decades of fighting crime the only way that seems right–with a round-the-world Bat Signal light-up and tons of parties. Yup, let's do it up Bruce Wayne style.
According to the official Batman Day info, "Batman Day returns on September 21st for the annual celebration of the Dark Knight! Continuing the Batman Day tradition for the fan-favorite event, DC has combined forces with thousands of comic book retailers, bookstores, schools and libraries across the world to bring fans exciting festivities. There will be free comic book giveaways, exclusive deals, talent signings and more—all to honor Gotham City's Dark Knight!"
There are even special Batman Day comic books hitting shelves for the occasion. At participating retail locations, pick up a Batman Day Special Edition copy of BATMAN: NIGHTWALKER or THE BATMAN WHO LAUGHS #1 with a Batman Who Laughs cut-out mask! Besides those two titles, there's also a number of Batman Day books you can pick up.
Of course, if you're in the LA area, come join us, THE CON GUYS, at Black Cat Comics in Burbank, Ca, for an awesome party from 2 p.m. to 5 p.m. We'll be celebrating with Cosplay, SuperHero Bingo, Trivia from The Movie Guys, Live Podcasts with The Con Guy and Mt. Rushmore Podcast, and cool replica Batman props from Pat Evans! Retro Batman and Robin (April Cowgur) will be there! What's even better is we'll raise money for ComicBooksForKids.com! And everything in the store is 25% off! Come check us out!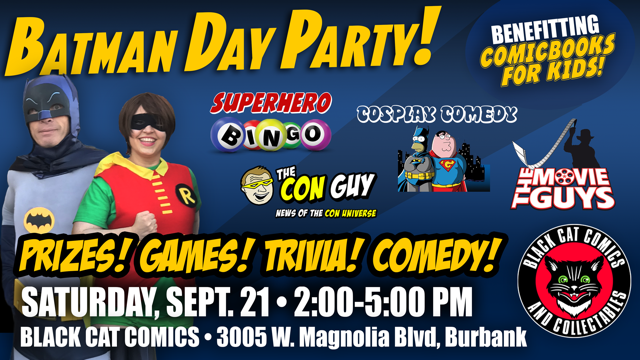 No matter where you are in the WORLD, there's sure to be a Batman Day event you can participate in. To celebrate the Dark Knight's 80 years as the World's Greatest Detective, DC and Warner Bros. are lighting up the night skies by projecting the iconic Bat-Signal, as well as producing fan celebrations, in major cities around the globe on Saturday, September 21.
The U.S. cities participating are New York City and Los Angeles. If you aren't able to see the signals in person, you can follow along on the new Batman Bat-Tracker app, which will show the projections in real time.
There will also be Batman activations at the Presented by Amazon Batman shops, FAO Schwarz, and LEGO stores.
For more information on all the events planned all across the world (and in your area!), go to the official Batman Day website. We hope to see you all out there!