This was one of the coolest moments for us at San Diego Comic-Con this year…. toward the end of the Wednesday night READY PARTY ONE, produced by our buddy Bernie Bregman (aka, The Geek Gatsby), Brad Young had some of his celeb friends meet us inside, including Jared Padalecki, aka SAM WINCHESTER from the long-running monster-of-the-week phenomenon SUPERNATURAL, now entering its 15th and final year. Katie Kawamoto, the "Con Girl" on our team and a self-admitted Supernatural SUPER-FAN, has always wanted to meet Jared, and in her seven years of attending Comic-Con has never been able to do that…. and guess what — she wasn't with us this night!!! Dang… but we couldn't let the moment pass, and we asked Jared to make this special greeting for Katie…yes, we're the best friends ever. Check it out.
Needless to say, Katie was over-the-moon excited when she saw the video. But actually, to make the video all that more cool, we waited until our Monday-night Comic-Con wrap-up show before sharing it with Katie, which we did live on the air. Check it out right here (toward the middle of the show) — we thought this "reveal" was pretty cool.
But even though the video from Jared was super cool, the Comic-Con gods saw fit to actually complete the weekend with a special gift for Katie…. the next night, at Bernie Bregman's STRANGER THINGS party, in partnership with NERDIST, guess what happened? YOU GUESSED IT — Jared showed back up and this time KATIE was with us. Talk about your epic Cherry on Top! We were once again able to score a spot with Jared's VIP table, and Katie was able to get her ultimate Comic-Con wish!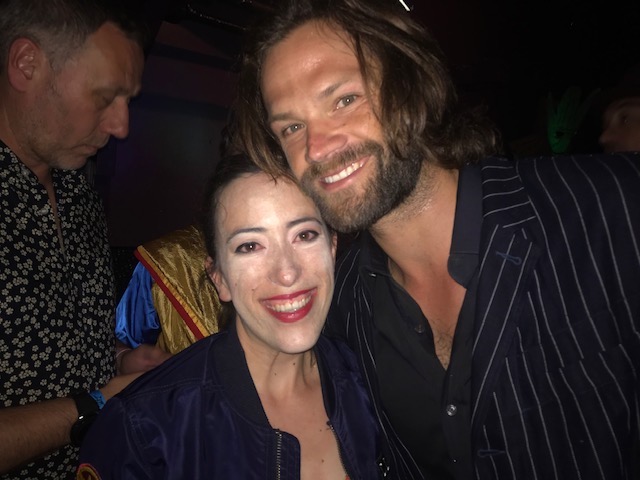 So this turned out to be Katie's BEST Comic-Con ever…. what about you guys? We'd love to hear what your best moments were.