Netflix is pulling out all the stops–AND SCOOPS–to make sure fans of their mega-hit STRANGER THINGS are reminded–and rewarded–to watch Season 3 beginning July 4. This latest promotional takeover transforms the Burbank Baskin Robbins into Scoops Ahoy, the mall-based ice cream shop where Steve Harrington, played by Joe Keery, has landed a job. For anyone who lived through the 80s, this is nostalgia-spun gold…. of course, the entire series has been nostalgia-spun gold since launching in 2016.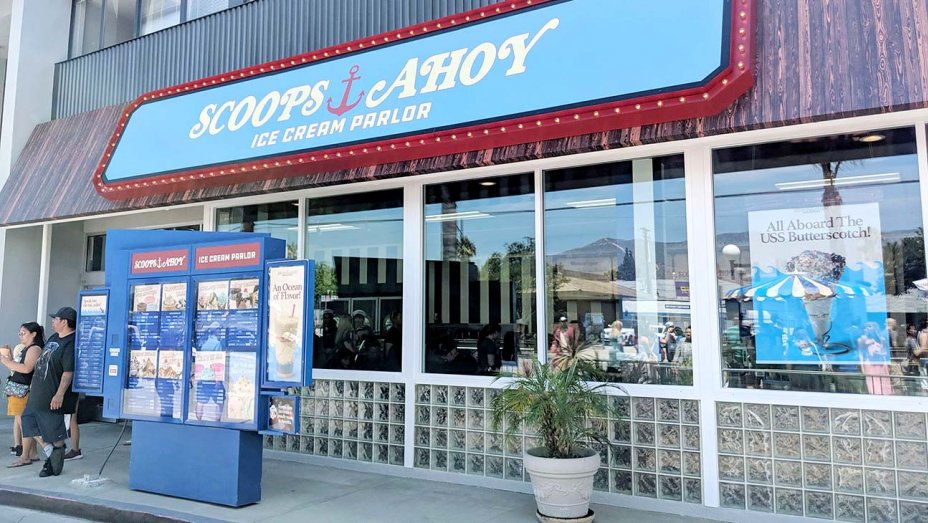 According to The Hollywood Reporter, "Naturally, the store houses an Instagram-worthy, ship-themed photo opp wall ("a set-like creation in itself," says Nagel) with wood paneling, brass portholes, and a working brass bell. The shop's floors and walls were covered in blue-and-white checkered and striped vinyl, freezer door handles were swapped out with nautical rope, and every visible Baskin-Robbins logo (even on napkin holders and the sliding glass doors) was replaced with the fictional dessert counter's anchor logo. Of course, there are plenty of Easter eggs for fans to discover."
If you're in the LA area, you can check it out at Baskin-Robbins, 1201 South Victory Blvd., Burbank; baskin-robbins.com.
Look what I found! Nabbed a vanilla shake at #scoopsahoy before the #StrangerThings3Premiere tonight! Best promo ever! ⁦@Stranger_Things⁩ #StrangerThings ⁦@netflix⁩ ⁦@BaskinRobbins⁩ #80s #BacktotheFuture #sciencefiction #scifi ⁦@WinonaRyderLive⁩ #31flavors pic.twitter.com/ad6PWQVRwt

— The Con Guy (@TheConGuyDotCom) July 4, 2019