I learned an important new term today: Hutt-Killer. That's what some woman cosplayers who wear the previously called "Slave Leia" cosplay are now calling it. And you know what–good for them. In an era when the cosplay seemed ready to fade away into oblivion because of #MeToo, Disney's apprehension to market the Slave Leia image, or the current anti-body-shaming movement, it's good to see that some women are taking the whole issue into their own hands. Of course, as we can see from or feature image, Deadpool wasn't going to sit idly by either. Regardless, if calling the "Golden Bikini" costume (as Carrie Fisher called it) a "Hutt Killer" costume saves it from disappearing altogether, then so be it…. I'm tired of aspects of our pop-culture history being scrubbed away because modern sensitivities deem it inappropriate. Long live the Hutt Killer. And for the record, I attended a RETURN OF THE JEDI screening tonight, and the moment that Princess Leia strangles Jabba, the audience goes wild STILL to this today. Maybe it was just the thrill of seeing it on the big screen again, but I can tell you that Leia is still as bad-ass as ever. Whether she's wearing the Hutt Killer costume, or if you wanna call it the Slave Leia Golden Bikini.
e
Day Three of Star Wars Celebration was anchored by the 11 a.m. GALAXY'S EDGE panel, which was–let's face it–a big promotional panel for Disney. Not that there's anything wrong with that, especially if fans are eating it up. But some complained that the panel felt a bit heavy on the "commercial' side than the other panels. For example, it began with a pre-taped video commercial from Mark Hamill touting Disney/Lucasfilm's FORCE FOR CHANGE charitable campaign. All for a good cause, of course, but still–it was a commercial. You can watch it here:
The middle part of the panel was a big commercial for Galaxy's Edge, albeit this part of the presentation contained quite a bit of content. Loved it! Here's part of it right here:
Then the end of the panel ended on another commercial–this time for Coke, advertising their brand new partnership with Disney in the new land. Here's that video: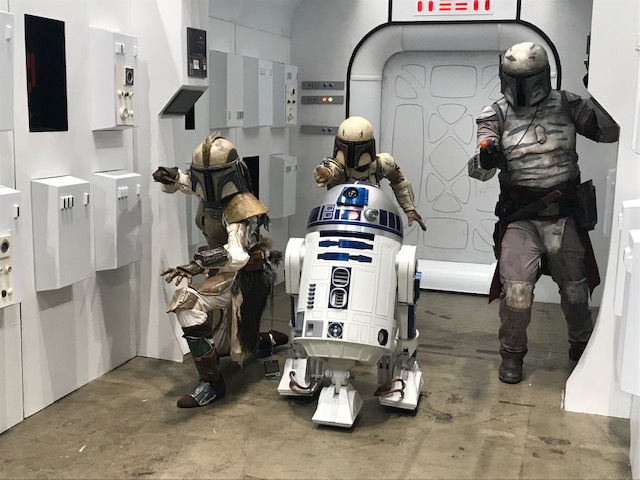 "SISTERS OF THE FORCE, A Celebration of Women and Star Wars," wasn't just for the girls–although, let's face it, it was definitely tilted in their favor. But who cares? We've had Princess Leia since the beginning, and Padme and Rey after her–Star Wars has ALWAYS been the domain of strong female characters. Fan-favorite Ashley Eckstein, the voice of Ahsoka Tano on Star Wars: The Clone Wars, Star Wars Rebels, and Star Wars Forces of Destiny, moderated the panel that also included Vanessa Marshall (voice of Hera in Star Wars Rebels and Star Wars Forces of Destiny), Catherine Taber (voice of Padme in The Clone Wars), Athena Portillo (producer, Star Wars Rebels), and Suzie McGrath, (voice of Tam in Star Wars Resistance), among others.
OH! And there was a parade! Let's not forget the parade — you can watch it right here: