Southern California is awash in fandom and Halloween riches – consider the fact that SoCal has one of the largest collections of major theme parks with Halloween events in the country with Universal's Halloween Horror Nights Hollywood, Knott's Berry Farm's annual "Knotts Scary Farm," the Queen Mary's Dark Harbor events, and—of course—Disneyland's Mickey's Not So Scary. Add to that the fact that LA is the center of the Horror Movie universe, producing the "blood" (so to speak) of the horror fandom phenomenon. And, as a personal favorite, South Pasadena (right outside LA) is the filming location for John Carpenter's original Halloween.
That said, SoCal is also the home to two of the largest Halloween Industry conventions in the country. And first up this year is Midsummer Scream, this year taking place in Long Beach, with a special "Circus" (masquerade) aboard the famous Queen Mary ship (reputed to be haunted!).
You'll get an insiders look at what's coming up for all the major theme park Halloween events, plus tons of nationally recognized Halloween industry specialists, costumers, and all around SCARY folks. BUY TICKETS HERE.
From their website:
This weekend-long celebration of everything Halloween, haunts and horror makes its debut July 30-31 at the Long Beach Convention Center in Long Beach, California. Midsummer Scream features more than 100,000 square feet of event space that will showcase vendors, makeup demonstrations, stage presentations, live entertainment, a screening room, haunted attraction experiences and more.
"We're combining all of our talents, production knowledge, and years of experience to create an amazing show that we know fans are going to love," said David Markland, Executive Director of Midsummer Scream. "Each week from now until our July debut, we will be announcing more participants and unveiling different aspects of the show that are going to have people counting down the days with great anticipation."
Here's some of what you'll find:
COOL PRESENTATIONS!
One of the marquee draws of this convention are the super-cool presentations. For example:
THE FILM FESTIVAL
The Screaming Room presented by HorrorBuzz is a horror film festival running throughout both days of Midsummer Scream. The hundreds of submissions have been narrowed down to a number of curated short film blocks covering all types of horror, from kid friendly and fantasy themed treats, to blood and gore drenched adult only fare. The Screaming Room also features a slate of clips from Trick R Treat handpicked and with video introductions by writer/director Michael Dougherty, as well as "best of" selections from Etheria Film Night and Scary Endings.
Read more about the selections at HorrorBuzz!

SPECIAL GUESTS
Joining Cassandra Peterson, LeeAnna Vamp, and Bela Lugosi, Jr. at Midsummer Scream are Sid Haig and Robert Mukes (Captain Spaulding and Rufus from House of 1000 Corpses), Barbara Magnolfi (Olga from Suspiria), and more horror and Halloween icons looking forward to meeting you! Check out our special guests page for our constantly updated list.

CLASSES AND WORKSHOPS
Summer Scream School is in session! Midsummer Scream's classes and workshops cover a full range of required Halloween learning, from how to properly use a Ouija board, to turning your home into a haunted house. For those looking to get their hands really dirty, there are crash courses on making your own escape room and having a Halloween themed wedding.
Check out the full class schedule here!
---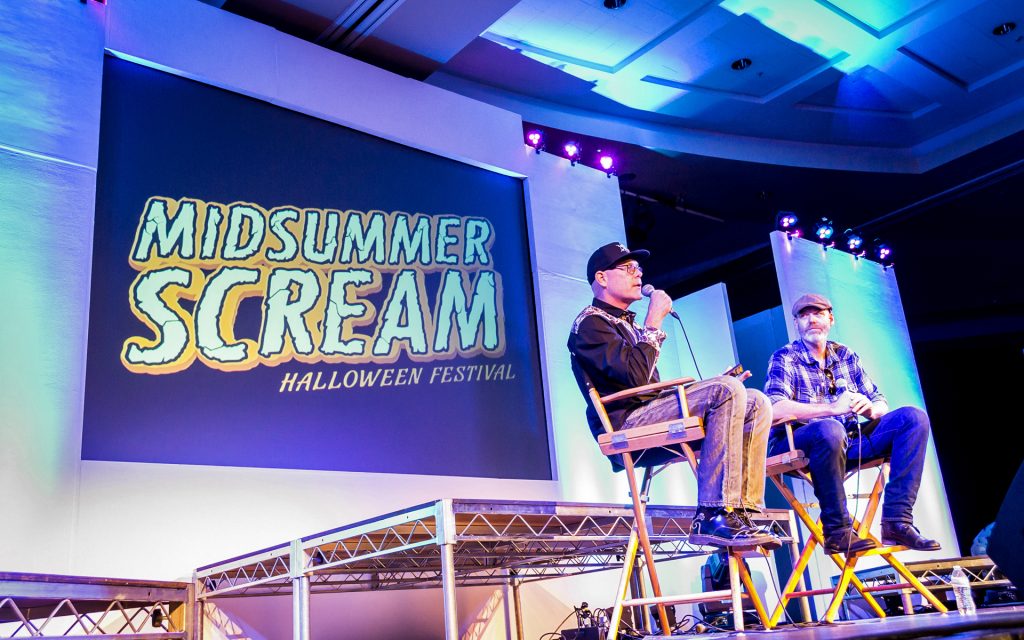 LOTS OF HAUNTED MAZES AND ATTRACTIONS
At the heart of Midsummer Scream lies the foreboding Hall of Shadows. Here, brave guests can venture into the dark, where they will find 14 "mini haunts" – previews of haunted attractions fans can experience this Halloween season here in Southern California. Ranging from home haunters to pro haunters, the Hall of Shadows is a spooky showcase of talent and skill that the Southland is known around the world for. Check out the lineup here.

DARK HARBOR'S SINISTER CIRCUS
Immediately after Midsummer Scream, Dark Harbor's first-ever haunted summer costume ball, the Sinister Circus, will feature appearances by some of the monsters and characters that inhabit the darkest regions of the ship, as well as a costume contest with cash prizes and "a sneak-peak of some of the terrifying new tricks that are being 'cooked' up for the 2017 season of Dark Harbor. "
For more details visit their page or buy tickets at our site here:

HOTEL DISCOUNTS
Midsummer Scream has been able to set aside a few blocks of rooms at discounted prices at hotels adjacent to or within a short walk to the Long Beach Convention Center. Visit our hotels and directions page for an update list of options, or check out our currently available hotel deals here:
Best Western Plus Hotel at the Convention Center
517 East First Street, Long Beach, California 90802
King rooms: $179/night
Double rooms: $189/night
Free wi-fi
Free breakfast bar
Parking: $10
Rooms at this rate can be booked online here or calling 562-285-0281 and mentioning Midsummer Scream Halloween Festival.
Courtyard Long Beach Downtown
500 East First Street, Long Beach, CA 90802
$169/night
Free wi-fi
Parking: $22/night
Rooms at this rate can be booked online here.