Don't miss what's sure to be the biggest comics and pop culture convention ever to hit Los Angeles — Stan Lee's L.A. Comic Con. Organizers this year anticipate well over 100,000 attendees, making this one of the biggest conventions in North America — and it's barely seven years old!
We love Stan Lee's LA Comic Con, and have gone the last few years (when it was called Comikaze). Although it's known as "L.A.'s Comic Con," it is quickly emerging as more than just a regional show. Check out our gallery from last year: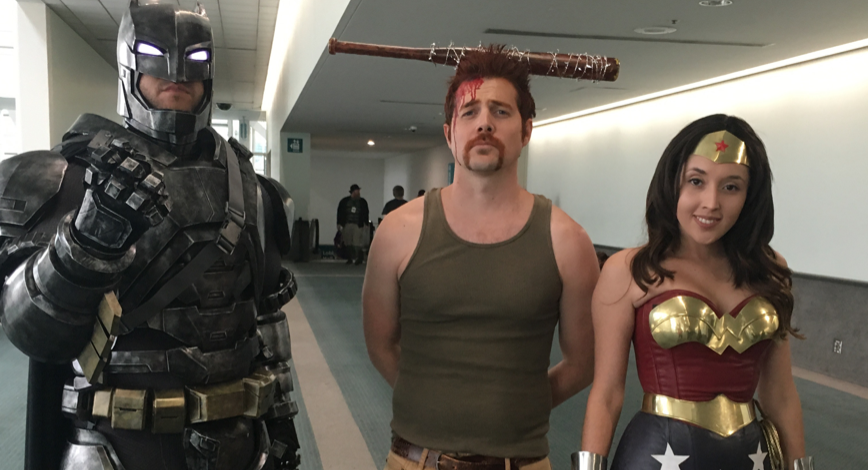 And this year, Entertainment Weekly has come onboard as the official media sponsor — that's a huge deal! Here's the info on that:
As the Official Media Partner, EW will collaborate with L.A. Comic Con to enhance and elevate talent participation and programming for the over 100,000 attendees expected for this year's 3-day mega-convention. Plus, EW will feature all the fun and excitement of the Convention in the magazine as well as on EW.com. And to top it all off, each and every badge holder will receive a one-year subscription to America's leading pop culture magazine, with a total combined audience of 26 million consumers. Attendees purchasing their 3-day badges during the limited pre-sale period can get the coveted passes at the pre-sale price of only $70 dollars, a savings of $10 dollars!
Badges are available now at http://StanLeesLAComicCon.com.
2017 marks the 7th year for Stan Lee's L.A. Comic Con, which has grown into one of the largest gatherings of stars and creative talent in comic book, publishing, gaming, film, broadcast, cable, and streaming entertainment.
"Thanks to fans throughout Southern California, Stan Lee's Los Angeles Comic Con has emerged as the largest celebration of our town's pop culture icons under one convention center roof. Now, joined by ENTERTAINMENT WEEKLY as the Official Media Partner, the 2017 convention promises to be a once-in-a-lifetime opportunity to rub elbows with today's most beloved stars in comics, sci-fi, fantasy and horror entertainment," said Stan Lee's L.A. Comic Con CEO Keith Tralins.
"It's our honor to partner with nothing less than pop-culture's paper of record," said Founder Regina Carpinelli. "And what better way to lead into your Halloween holiday?"
"We are thrilled for EW to be the Official Media Partner of Stan Lee's Los Angeles Comic Con, and excited to help make the 2017 Convention the biggest and best ever. We look forward to offering a one-year subscription to every attendee, where they'll find smart and funny coverage of their favorite franchises and stars," said Henry Goldblatt, Editor in Chief of ENTERTAINMENT WEEKLY.
Here, check out our video show about last year's Stan Lee's L.A. Comic Con:
About Stan Lee's Los Angeles Comic Con:
Stan Lee's Los Angeles Comic Con is Los Angeles' biggest and best large-scale, multi-media pop culture convention. Held annually at the Los Angeles Convention Center, Stan Lee's L.A. Comic Con assembles the most exciting and innovative in comics, video games, sci-fi, fantasy, horror and all things pop-culture. With a mission to provide celebrity, creator and talent access that is unequalled in comic conventions, Stan Lee's Los Angeles Comic Con features unique panels, autograph sessions and photo-ops that give fans once-in-a-lifetime opportunities to truly interact with their favorite creators and major players in the entertainment industry. Stan Lee's Los Angeles Comic Con is a partnership of Stan Lee's Pow! Entertainment, Cassandra Peterson, and Comikaze Entertainment, Inc. Visit http://www.stanleeslacomiccon.com/.
ABOUT ENTERTAINMENT WEEKLY
Entertainment Weekly is your all-access pass to Hollywood's most creative minds and most fascinating stars. The magazine was launched by Time Inc. in 1990 and is America's leading consumer publication in the entertainment category, with a guaranteed circulation rate base of 1.5 million and a combined audience of almost 28 million loyal, engaged fans. Each day, EW.com publishes a myriad of featured stories, blog posts, TV-recaps, original videos, film reviews and photo galleries. In April 2015, the PEOPLE/Entertainment Weekly Network reached #1 in its competitive set with 56.4 million unique visitors and during the same month, EW.com desktop, tablet and mobile growth hit an all-time high of 19.9 million combined unique visitors. Entertainment Weekly is the first to know about the best in entertainment. With sharp insight, unparalleled access and a trusted voice, EW keeps readers plugged into pop culture. This is where the buzz begins.
Entertainment Weekly is also available on the iPhone®, iPad®, Apple News App, NOOK Color™, HP Touchpad, Kindle Fire, Next Issue, and select Android™ devices. On social media, join the Entertainment Weekly community on Facebook, Twitter, Instagram, Pinterest, Tumblr and Google+.