Lots of crying, wailing and gnashing of teeth across the land–San Diego Comic-Con Registration has come and left many-a-distraught-fanboy/girl in its wake. The anxiety of getting a badge to SDCC is well-documented…. heck, there's not a one of us who has not faced it. The folks at the San Diego Comic-Con Unofficial Blog estimate that fewer than 7% of people successfully get badges during open registration. (We can't verify the number, but it sure does explain the frustration level). But there is some good news! Because of the ginormous expanse of activities AROUND the SDCC Convention Center, guests can now "GHOST" at all the outside events and (for the most part) have as much fun as if they'd gotten a badge.
What's it mean to "Ghost" SDCC? For our discussion here, it means hanging out around Comic-Con and enjoying everything outside the convention center without actually ever going inside. Some conventions frown on this, but with the sell-out crowds that SDCC enjoys, we don't think they mind. Of course, we're not encouraging "sneaking in" to the convention. This is all about having fun OUTSIDE.
In this week's episode, we discuss GHOSTING COMIC-CON, with our favorite things to do. Check it out right here!

Don't worry — we'll be back with a "Ghosting-specific" show before San Diego rolls around. The list of offsites and special events OUTSIDE Comic-Con is ridiculously (and gloriously) long. There's something for EVERY fandom, for every person, for every interest…. AS A MATTER OF FACT, if you really wanted to take advantage of everything outside the convention center and all over the Gaslamp District of Downtown San Diego during SDCC, you'd a have to chuck your badge and forget about the convention completely.
With less than 3 months left (THREE MONTHS!!!!!), here's our early preview of events and offsites you can plan for RIGHT NOW. And believe me — this list is going to grow like crazy. If you don't have a badge, no worries — you can still do these.
OUR FAVORITE WAYS TO GHOST COMIC-CON
NERD HQ
This is a no-brainer. Zachary Levi's super-popular Nerd HQ event is the largest offsite at San Diego Comic-Con. We had Nerd HQ's Josh Morris on this week's show, and although he couldn't give too much away, he did say that Zach and the gang would be back, and bigger than ever. Expect to see his buddy Stephen Amell too, since Nerd HQ and Amell have a new wine they're selling.
Joss Whedon and Zachary Levi tearing up the Nerd HQ dance floor @nerdhqllc @ZacharyLevi #JossWhedon #zacharylevi pic.twitter.com/k05uXreNO3

— The Con Guy (@TheConGuyDotCom) July 24, 2016

SYFY LIVE FROM COMIC-CON
Yo, Syfy, please bring shade! Last year, we were able to get front-row access to Syfy's daily show from Comic-Con. Hosted by Will Arnett from a stage the rooftop of the Marritt Marquis, the daily show featured interviews withZachary Levi, iZombie's Rose McIver, Alan Tudyk, The Walking Dead's Norman Reedus and Steven Yeung, Will Forte, and tons more. It was GREAT! But it was hot… and we're not talking a little sweat–we're talking excrutiatingly hot where our fake blood was gooping up melting off our face.
Abraham @ConGuyLuke at Syfy Live from Conic-Con @WalkingDead_AMC @Syfy #ComicCon2016 #abraham #michaelcudlitz pic.twitter.com/7SHWlM7zE4

— The Con Guy (@TheConGuyDotCom) July 22, 2016

NERDIST / GEEK & SUNDRY CAMP CONIVAL OFFSITE
I guess you could almost call them the Prom King and Queen of Comic-Con–Chris Hardwick and Felicia Day have made an entire industry out of geek and gaming culture, and they don't miss a chance to connect with fans. Last year, they threw their own carnival (called Camp Conival) at Petco Park (in the space formerly occupied by Nerd HQ). It's a great spot, and tons of scheduled events. Who needs a badge when you've got Hardwick and Day to entertain you?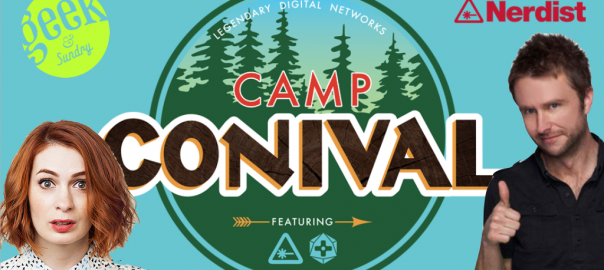 ADULT SWIM ON THE GREEN
And speaking of carnivals, each year Adult Swim throws the wackiest, zaniest, most irreverent shin-dig outside the convention center. I mean, where else are you going to slide down a slide out from between the legs of a giant inflatable woman? Or climb inside a giant meatball? Or any number of crazy things. There's tons to do, and if you have a badge, precious little time to do it…. so if you're badgeless, then just rejoice for the time you've been given to enjoy some of these other offsites. [UPDATE: We think that "officially," the Adult Swim Carnival says that it requires badges, but most folks never asked for them. Our take: Go ahead and show up — they'll probably let you in. Just register on their website ahead of time to secure an "entrance" time.]

HEROES BEER FEST
Do you like comics? Do you like beer? Well this is the event for you. According to Instagram:Saturday, July 22nd at Waterfront Park☀️! Come out for craft beer 🍻, great music 🎤🎶, and art infused with technology 😎✨💥

PARTIES PARTIES PARTIES
Yes, it's true — we love more than comic books, we geeks lover to party. And at San Diego Comic-Con, the party list is suuuuper long — ALTHOUGH, to be fair, many of the invites are hard to come by. But don't worry, there's always a party somewhere. Here are some tips for getting in: FIRST, read us! We'll try to pull together all the lists and blog posts about all the parties. Here's our list from last year: List of the Parties at San Diego Comic-Con 2016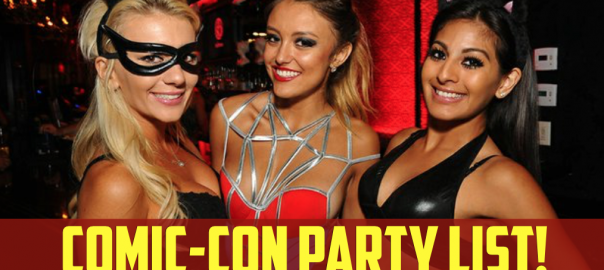 Secondly, start following your favorite shows, brands, or movies on twitter, instagram and Facebook to get updates about how to get invited to their party. Many of the parties are invite-only, and they're reserved for those in the industry. No worries. There are plenty that are open to the public, and usually you just have to find the tickets. If you're a party hound, then San Diego is your dream town during Comic-Con.
LATE-NIGHT NETWORKING AT HILTON BAYFRONT AND MARIOTT MARQUIS
And finally, on this super-short list (we'll have tons more later), if you can't get into the convention but you want to meet and network with the comics and entertainment industry, then make sure you head to either the Hilton Bayfront lobby bar or the Marriott Marquis. That's where the entire industry (it seems) gathers each night after the convention. Bring your business cards, or just bring yourself. Joss Whedon shows up. The writers from The Big Bang are usually there. And last year, BOOM! Studios hosted a free networking event inside the Hilton. The list is too long to compile, but rest assured… even without a badge, it's the place to be.
Here's a little blurb that our friend, screenwriter/artist/musician Leo Partible posted on social media last year: "A little tip for everyone coming to San Diego Comic-Con: Our Hollywood crowd hangs out late night on the 2nd Floor Bar of the Hilton Bayfront, the hotel across from Hall H. It's the place to go every night after all the parties, starting around 11:30pm. The place is packed with writers, directors, producers, execs, agents, and celebrities. I was there with friends at 2am and we were next to Joss Whedon and his friends and Stephen Amell (Arrow) and John Barrowman were hanging out with their group, If you go to that same 2nd floor during the day, near the Indigo Room is where they house all the talent (celebs, writes, director, etc.) before they go into their Hall H panels. You can't miss it cause there are usually screaming girls (who know this secret area) depending on the celebs."
CONAN O'BRIEN
Okay, we said 7 things…. but since the Adult Swim Carnival isn't "officially" badge-less, we thought we'd throw this one in…. CONAN! He's the late-night nerd we all love, and his show is heading back to San Diego this year to tape a weeks' worth of episodes featuring actors from some of geekdom's favorite TV and movies. It requires nearly all day, too, because you have to pick up your tickets early, arrive early, and basically miss a bunch of panels you were planning to attend — but if you're badgeless, this is perfect!

LESS THAN 3 MONTHS!!!! Even if you don't have a badge, come GHOST Comic-Con….
And if you have awesome ghosting stories, please let us know so we can share.