Wondercon! Not gonna lie — we are completely geeked out about Wondercon. Managed and produced by the same folks who produce the San Diego Comic-Con, this is one of the best fandom conventions around — and you can still buy tickets! Here's our picks for the panels we want to get into to. First our podcast, then an extended list below. ENJOY!
Expect between 60,000 and 80,000 fans to storm the Anaheim Convention Center this year, which is the PERFECT size! You can still get into the panels, get your autographs, do elaborate cosplay, and find the exclusives and comics you've been hunting. In other words, it's San Diego without the hassle. And please come say 'hi' this weekend at Wondercon! First, click below for the full schedule.
Here's out expanded list of the panels we want to see:
FRIDAY
SPACE GOAT PORTFOLIO REVIEW
Space Goat is the comic industry's premier talent agency and production studio, whose clients get jobs at Marvel, DC, Dark Horse, IDW, BOOM! Studios, and other top quality publishers. Space Goat wants to see professional-quality comic book story pages in pencil, pencil & ink, or color. They are not interested in a portfolio of pinup art. They want to see professionals and talented artists ready to be professionals.
Friday March 31, 2017 12:30pm – 2:00pm
INTRO TO WHOVIAN COSPLAY
Whether you're new to Doctor Who or new to cosplay entirely, this is a great place to start! The Order of Gallifrey will share tips for beginners and budget-conscious costumers on how to dress like your favorite Doctor Who characters. Panelists: Jennifer Bagosy, Dennis Patrick Hanon Jr., Danielle Beebe, James Johnson, Claire Berry Gardner, and Christina Silvoso.
Friday March 31, 2017 1:00pm – 2:00pm
STAR TREK: THE NEXT 50 YEARS
The authors of the critically acclaimed bestselling two-volume series from St. Martin's Press The Fifty-Year Mission, Mark A. Altman (Free Enterprise, The Librarians) and Edward Gross (Empire Magazine) along with Access Hollywood's Scott Mantz look back at 50 years of Star Trek and speculate on where the franchise will boldly go over the next 50 years including the latest news from the set of Star Trek: Discovery as well as why we need Trek today more than ever.
Friday March 31, 2017 1:00pm – 2:00pm
SPOTLIGHT ON MARK WAID
Award-winning writer and New York Times bestseller Mark Waid talks about his 33 years in the industry, giving insight as to how to craft stories, how to work within the confines of a 20-page comic, and almost certainly vent about something political! Come prepared for questions, preferably ones about Superman!
Friday March 31, 2017 1:30pm – 2:30pm
BOOM! STUDIOS: DISCOVER YOURS
Discover your new favorite comic book series in a panel designed for everyone, from new fans to long-time readers to anyone who loves comics. BOOM!'s top editors and creators explore the diverse imprints of BOOM! Studios, BOOM! Box, KaBOOM!, and Archaia, with exclusive previews, news, and the information you need to discover your next obsession.
Friday March 31, 2017 2:00pm – 3:00pm
RIVERDALE
2:45–3:45 p.m. Riverdale — Unlock the mystery of Riverdale and leave your innocence behind. Join stars KJ Apa, Lili Reinhart, Camila Mendes, Cole Sprouse, Ashleigh Murray, Luke Perry, Mädchen Amick and Marisol Nichols, along with executive producers Roberto Aguirre-Sacasa, Sarah Schechter and Jon Goldwater as they dive into the secrets that continue to loom over what may look like a quiet, sleepy town. While new details of Jason Blossom's death emerge, tension grows between the Riverdale High students, as Jughead's connection to the Southside Serpents is revealed. Based on the characters from Archie Comics and produced by Berlanti Productions in association with Warner Bros. Television, this one-hour drama is a bold, subversive take on the surreality of small-town life. Arena
Buffy the Vampire Slayer, Two Decades with Feeling: A 20th Anniversary Celebration
Edward Gross and Mark A. Altman (The Fifty-Year Mission), authors of the upcoming oral history Buffy The Vampire Slayer, Slayers & Vampires, re-open the Hellmouth and look back at the secret history of the slayer who saved the world a lot, Buffy the Vampire Slayer, for its 20th anniversary as well as what the future might hold for Slayage in the 21st century. Also, a look back at the underappreciated genius of Angel and the Buffy's that never were.
Friday March 31, 2017 4:00pm – 5:00pm
DC COLLECTIBLES
Action figures, statues, busts, and prop replicas inspired by DC's iconic characters and stories
Friday March 31, 2017 4:00pm – 5:00pm
THE GOLDBERGS
Sneak peek screening of "The Dynamic Duo" and Q&A with executive producers and stars, moderated by Kevin Smith. Join cast members of the 1980s VCR-loving, mixtape-making, spandex-wearing Goldberg family including Wendi McLendon-Covey (Bridesmaids), Jeff Garlin (Curb Your Enthusiasm), and executive producers Adam F. Goldberg (The Goldbergs, Breaking In), Doug Robinson (The Goldbergs, Rules of Engagement), and writer Andrew Secunda (Late Night with Conan O'Brien, The Goldbergs, Star Trek: The Next Conversation) for an exclusive sneak peek of the upcoming episode of The Goldbergs, "The Dynamic Duo," followed by a Q&A. Directed by Kevin Smith, "The Dynamic Duo" follows the geeky and movie obsessed Adam and his grandfather, Pops, who have drastically different reactions to the 1989 Batmanmovie when it's released in theaters. The Goldbergs is produced by Happy Madison and Adam F. Goldberg Productions, in association with Sony Pictures Television. Check out The Goldbergs on Wednesdays at 8:00pm on ABC.
Friday March 31, 2017 5:00pm – 6:00pm
Room 207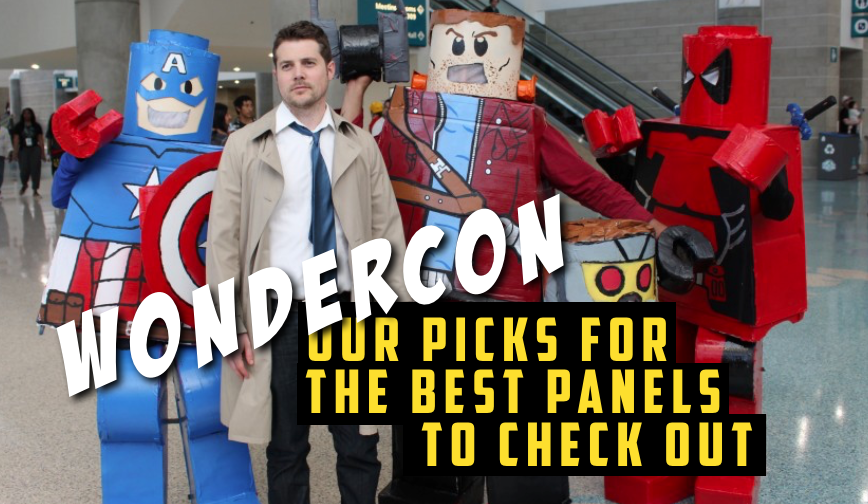 Everyone's a Critic: Being a Journalist in the Online Age
Bill Watters (Bleeding Cool), Mary Anne Butler (Aggressive Comix), Jeff Bond (Geek Monthly), Bill Hunt (The Digital Bits), Alexandra August (Comic Book Resources), and Thomas Parham (APU) discuss the expansion of journalism over the past decade, from the rise of citizen journalism to blogging to vloggers, podcasters, and online-only news sources. This panel of nationally known writers and hosts will talk about the roles new media play between their readers and the industries and communities they serve, varying levels of informality versus classic ideas of professionalism, show-specific outlets versus general news sites, moving from hobbyist to being a professional, and more.
Friday March 31, 2017 5:00pm – 6:00pm
1987: Geek's Greatest Year: The Revenge
An expert panel of geeksperts take a trip back in time 30 years to the great geek year of 1987. Expect untouchable analysis and lethal quips as they look back at Predator, The Princess Bride, Lethal Weapon, The Lost Boys, RoboCop, Near Dark, Spaceballs, Hellraiser, The Untouchables, The Running Man, and many more. Mark A. Altman (The Fifty-Year Mission), Scott Mantz (Access Hollywood), Charles de Lauzirika (the Alien Quadrilogy, The Martian: Extended Edition), Steve Melching (Star Wars Rebels, Star Wars: The Clone Wars), Jose Molina (The Tick, Agent Carter), Ashley E. Miller (Thor, X-Men: First Class), Daren Dochterman (Passengers, Real Steel), and Robert Meyer Burnett (Agent Cody Banks, The Hills Run Red) remind you that "if it bleeds, we can kill it" and that you should "never fight a land war in Asia." Thank you for your cooperation. Presented by Geek Magazine.
Friday March 31, 2017 6:00pm – 7:00pm
Room 300DE
2017: THE YEAR OF BLOCKBUSTER LARPs
2017 will be a banner year for LARP (Live Action Role Playing) in America due to the increased prevalence of "blockbuster" style events. A blockbuster LARP means high production values, high player count, and high cost to attend. These are usually a weekend long and at a remarkable location. After College of Wizardry ran a Harry Potter-inspired event at a medieval Polish castle, New World Magischola opened a western version based on original content at the University of Richmond in 2016 and the College of William and Mary in 2017. This year will also see Event Horizon, an original, richly detailed science fiction LARP near the Golden Gate Bridge in San Francisco; Battleship, a historical LARP taking place aboard the USS New Jersey;Edgeworld, a stylized western town of gunslinging and intrigue; Dragon Thrones, a fantasy epic in the style of A Song of Ice and Fire at Bryn Mawr college; and Starship Selket: Wave One, occurring aboard the SS Lane Victory in San Pedro. See previews and get sneak peeks of these exciting, immersive, and interactive events. Presented by Aaron Vanek (Starship Selket: Wave One).
Friday March 31, 2017 6:00pm – 7:00pm
WORLD PREMIERE: TEEN TITANS THE JUDAS CONTRACT
A WonderCon Anaheim tradition continues as Warner Bros. Home Entertainment, DC Entertainment, and Warner Bros. Animation invite you to attend the World Premiere of Teen Titans: The Judas Contract, the latest entry in the ongoing series of DC Universe Original Movies. Inspired by the 1984 DC story arc from Marv Wolfman and George Pérez
Friday March 31, 2017 6:00pm – 8:00pm
ARENA
There Are Those Who STILL Believe: Remembering the Original Battlestar Galactica and Richard Hatch
Mark A. Altman (The Fifty-Year Mission) and Edward Gross (Empire Magazine), authors of the upcoming oral history of Battlestar Galactica, Launch All Vipers from Tor Books, present a tribute to the legendary 1978 series and star Richard Hatch with this unprecedented look back at the creation and making of the original and groundbreaking lonely quest that changed science fiction television forever. Other panelists include Alan J. Levi (director, "Gun on Ice Planet Zero"), Herb Jefferson, Jr. (actor, Boomer), Terrence McDonnell (story editor, Battlestar Galactica), and Scott Mantz (film critic, Access Hollywood).
Friday March 31, 2017 7:00pm – 8:00pm
Room 207
SATURDAY
HOW TO GET PRESS COVERAGE
Small press publishers: What makes the difference between an item that will get news coverage, previews, and interviews and one that doesn't? A lot of publishers have no idea what to submit to the press, how to submit it, or why they are being overlooked for coverage. Comics journalist Rik Offenberger (First Comics News, Archie Comics) moderates this panel on just what it takes to get coverage, with the comics journalists themselves telling you what they are looking for in your submission. Panelists include Ed Catto (Captain Action, Bonfire Agency), Albert Ching (Comic Book Resources), Josh Henaman (Big Foot), Jez Ibelle (First Comics News, Geek-a-pedia), Alan Kistler (Polygon.com, Oodon.com), Francis Sky (First Comics News), and Josh Waldrop (Red Gorilla Comics).
Saturday April 1, 2017 10:00am – 11:00am
Room 209
MIDNIGHT, TEXAS PREMIERE
Universal Television presents NBC's new supernatural thriller Midnight, Texas. Welcome to a place where being normal is strange and only outsiders fit in. Based on the bestselling book series by Charlaine Harris (author of the novels that inspired True Blood), comes a journey into a remote Texas town where nothing is what it seems. Home to a vampire, a witch, an angel, and a hitwoman, Midnight is a mysterious safehaven for those who are different-a perfect place for anyone looking to hide from the outside world. That is, until the arrival of a powerful psychic and the murder of one of their own. As the town members fight off outside pressures from ever-suspicious cops, deadly biker gangs, and their own dangerous pasts, they band together and form an unlikely but strong family. Join your fellow "Midnighters" for an exclusive premiere of the pilot episode and a Q&A session with cast members François Arnaud (The Borgias), Dylan Bruce (Orphan Black), Parisa Fitz-Henley (Luke Cage), Arielle Kebbel (The Vampire Diaries), Jason Lewis (Sex and the City), and Sarah Ramos (Parenthood) and executive producers Monica Owusu-Breen (Marvel's Agents of S.H.I.E.L.D.) and David Janollari (Six Feet Under).
Saturday April 1, 2017 11:45am – 1:00pm
Room 300AB
LANDING YOUR CRETIVE CAREER!
How do you open the door that leads to a professional creative career? What about changing careers when you've already climbed the corporate ladder? And for students, how do you know where to focus your study? From world builder to professional author, gamer to game developer, audiophile to pro composer, and storyteller to screenwriter-all have common threads that weave a career path. Genese Davis (author, The Holder's Dominion), Chris Avellone (narrative designer), Adam G. Simon (screenwriter), Eric Kieron Davis (senior video game producer, Star Citizen), and Sean Pack (composer) divulge their secret tips and tricks for creative entrepreneurs and share how they became successful, professional creators!
Saturday April 1, 2017 1:00pm – 2:00pm
Avalon Room, Anaheim Hilton
SYFY'S THE MAGICIANS
How about a trip to Fillory (and Further)? Jason Ralph (Quentin Coldwater), Stella Maeve (Julia Wicker), and executive producers Sera Gamble and John McNamarapresent an inside look at The Magicians, Syfy's hit show based on Lev Grossman's bestselling novels. With only three episodes remaining this season, you might want to bring a batch of truth serum to uncover some secrets!
Saturday April 1, 2017 1:00pm – 2:00pm
Room 300AB
SCREEN JUNKIES LIVE! HONEST TRAILERS/MOVIE FIGHTS
Honest Trailers creator Andy Signore, writers Spencer Gilbert andJoe Starr, and editor/producer Dan Murrell present a special live Movie Fights and never-before-seen Honest Trailer with special guests.
Saturday April 1, 2017 2:00pm – 3:00pm
Room 207
MARVEL'S AGENTS OF SHIELD
Executive producer and head of Marvel Television Jeph Loeb, series stars, and producers of Marvel's Agents of S.H.I.E.L.D. talk all things season 4. Find out what's coming up with a Q&A and special screening of a never-before-seen episode. The action-packed series from Marvel Television returns this April, airing Tuesdays, 10/9c on ABC.
Saturday April 1, 2017 2:00pm – 3:15pm
Room 300AB
WRITING GREAT DIALOGUE
Short. Meaningful. Memorable. How do you write great dialogue? What works and what doesn't work? Harrison Ford once said to George Lucas, "You can type this sh*t but you can't say it." Writers from animation and comics, including Marv Wolfman(The New Teen Titans, Crisis on Infinite Earths), Craig Miller (Curious George, Beast Wars), Ernie Altbacker (Justice League Dark, Teen Titans: The Judas Contract), and Holly Huckins (Rugrats, Sheriff Callie's Wild West) talk about how to craft a great line.
Saturday April 1, 2017 3:00pm – 4:00pm
Room 211
IndieWire's Fan Favorites Showrunners
Moderated by IndieWire executive editor Michael Schneider, an all-star panel of showrunners behind some of the coolest TV out there will swap stories and insights about the behind-the-scenes inner workings of your favorite shows. Panelists include Marc Guggenheim (Arrow, DC's Legends of Tomorrow), Jessica Goldberg (The Path), Jonah Ray (Mystery Science Theater 3000, Hidden America with Jonah Ray), Sera Gamble (The Magicians), Raphael Bob-Waksberg (BoJack Horseman), and Aline Brosh McKenna (Crazy Ex-Girlfriend).
Saturday April 1, 2017 4:15pm – 5:15pm
Room 300AB
Warner Bros. Pictures 
Get a sneak peek at upcoming films from Warner Bros., New Line, and DC Entertainment Films, with special guests TBA.
Saturday April 1, 2017 4:30pm – 6:00pm
Arena
THE NERDIST PANEL
The Nerdist crew, including Jessica Chobot (host of Nerdist News), Kyle Hill (Because Science), Rachel Heine (Nerdist editor-in-chief), Andrew Bowser (Nerdist supervising creative producer), Mike Shaw (Nerdist head of video), Joan Ford (Nerdist writer), and Aristotle Acevedo (Nerdist podcast producer) talk sci-fi, superheroes and discuss what it's like to work at Nerdist. Dan Casey (The Dan Cave) moderates.
Saturday April 1, 2017 5:15pm – 6:15pm
Room 300AB
DreamWorks Voltron: Legendary Defender, A Netflix Original Series 
Executive producer Joaquim Dos Santos, co-executive producer Lauren Montgomery, story editor Tim Hedrick, and voice cast members offer an in-depth discussion of the epic second season of the critically acclaimed Netflix original series DreamWorks Voltron: Legendary Defender. They'll highlight their favorite moments and come ready for an extended fan Q&A. The conversation will be moderated by Kyle Anderson of Nerdist and panel attendees will receive a WonderCon Anaheim exclusive poster created by Dos Santos.
Saturday April 1, 2017 5:30pm – 6:30pm
Room 300DE
Make Up FX for Cosplayers on a Budget 
Makeup effects artist Jeff Barkley (Frost: Portrait of a Vampire, Monster Manor) will discuss and demonstrate FX makeup using items easily obtained from home and the grocery store. No need to spend a fortune on specialty materials. Jeff will be answering questions, along with cosplayers Trey Barkley (Sparrows Flight Cosplay, Joker) and DesiRee Preston (Enasi Volz, Harley), about makeup effects in conjunction with cosplay and film.
Saturday April 1, 2017 6:00pm – 7:00pm
Avalon Room, Anaheim Hilton
U.S. Premiere Screening of Doctor Who Spin-Off Class 
UPDATED: Fri, Mar 17, 07:47PM
End your day with BBCA and Nerdist for the exclusive U.S. premiere screening of Doctor Who spinoff, Class. From award-winning writer and Class creator Patrick Ness (novel and film A Monster Calls, novel Chaos Walking) and executive produced by the team behind Doctor Who, Steven Moffat and Brian Minchin, Class is set in London's Coal Hill School, where four students who have hidden secrets and desires navigate a life of friends, parents, schoolwork, sex, sorrow-and possibly the end of existence. Coal Hill School has been a part of the Doctor Who universe since the very beginning, but that has come at a price. Time traveling over the years has caused the very walls of space and time to become thin. There's something pressing in on the other side, something waiting for its chance to kill everyone and everything, to bring us all into Shadow. Class is a BBC America co-production and premieres Saturday, April 15, 10:10/9:10c following the season premiere of Doctor Who at 9/8c.
Saturday April 1, 2017 7:30pm – 8:30pm
Room 300DE
Masquerade
8:30pm
Arena
SUNDAY
Make a Nerdy Living! 
"Follow your passion and you will never work a day in your life." You hear many versions of that idea, but what does it really take to make a living following your passions? Is it about persistence, determination, talent, skill, or who you know? Dr. Travis Langley (Popular Culture Psychology series) asks a panel of experts how they brought together their passions and their professional pursuits to make a nerdy living: Jenna Busch (Legion of Leia, Wonder Woman Psychology), Kieran Dickson(MGM Studios), Bill Doran (Punished Props), Jeffrey Henderson (Planet Henderson), Alex Langley (Kill the Freshman, 100 Greatest Graphic Novels), Victoria Schmidt(Scruffy Rebel), and America Young (Halo 5, The Concessionaires Must Die!). Find out how doing the things you love can pay the bills.
Sunday April 2, 2017 11:00am – 12:00pm
Avalon Room, Anaheim Hilton
Princess Leia: A Special Star Wars Fan Tribute 
This will be a very special West Coast tribute in honor of the extraordinary actress Carrie Fisher, best known for her role as Princess Leia Organa in the Star Wars universe. With her larger-than-life personality, both on- and off-screen, and incredible sense of humor, Carrie Fisher was destined to have a special place in the hearts of Star Wars fans of all ages. Costumes are encouraged, and all are welcome as panelists share personal stories of how she touched fans' lives and will live in their hearts-always! Hosted by Star Wars fan clubs: Rebel Legion, Mandalorian Mercs, R2 Builders, and the 501st Legion.
Sunday April 2, 2017 11:30am – 12:30pm
Room 300DE
Lucifer Special Video Presentation and Q&A 
If you thought all hell broke loose when Lucifer arrived in the City of Angels, just imagine how things will heat up in his absence. Indulge your deepest desires and be among the first to see what's in store for Chloe Decker and the Devil himself after his mysterious departure in the midseason finale. Get a sizzling sneak peek at the second half of season 2, followed by a Q&A with series stars Tom Ellis, Lauren German, DB Woodside, and executive producers Joe Henderson (White Collar) and Ildy Modrovich (CSI: Miami). From Jerry Bruckheimer Television in association with Warner Bros. Television and based on characters created by Neil Gaiman, Sam Kieth, and Mike Dringenberg for Vertigo from DC Entertainment, Lucifer returns with all-new episodes in May airing Mondays at 9/8c on FOX.
Sunday April 2, 2017 12:30pm – 1:30pm
Arena
The Writer's Journey: Breaking in and Managing a Career in Hollywood 
This panel addresses what new writers need to do once they have material ready to go out to the masses. The shifting 21st century digital frontier means the age-old methods of building a career have been rendered irrelevant. This group of Hollywood screenwriters and graphic novel creators share insider information, publishing secrets, and the professional realities on how to develop your ideas into a viable property and market yourself accordingly. Moderated by 2015 Disney/ABC Writing Program winner and 2014 Eisner Award nominee Brandon Easton (Marvel's Agent Carter, IDW'sM.A.S.K.), the panel includes TV producer Geoffrey Thorne (The Librarians, Marvel Comics'sMosaic), writer Ubah Mohamed (Gang Related, ABC's The Whispers), actress/writer Erika Alexander (Concrete Park, Queen Sugar), and artist/writer Tony Puryear (the Schwarzenegger film Eraser, Concrete Park).
Sunday April 2, 2017 12:30pm – 1:30pm
Room 208
Collider Movie Trivia Schmoedown 
Ever wonder what movie trivia would be like with the theatrics of the WWE and the competitiveness of the UFC? Collider Video's popular game show "The Movie Trivia Schmoedown" comes to Wondercon Anaheim! Popular characters like The Outlaw John Rocha, Mark "Baby Carrots" Ellis, and "Little Evil" JTE among others will be on hand to discuss what makes the Schmoedown the Schmoedown. Kristian Harloff and John Campea will break down how the league came to be, what has happened in season 4 thus far, and what is to come for the rest of the year. There will be smack talk, there will be trivia, there will be a Schmoedown!
Sunday April 2, 2017 1:30pm – 2:30pm
Room 300DE
GOTHAM
1:45-2:45 p.m. Gotham Special Video Presentation and Q&A — As Gotham City descends into anarchy, join the hit show as it returns to WonderCon to give fans the scoop on all the shocking moments in store for the remainder of season three. With Penguin out of the picture, and a power grab taking place, who will become the new leader of the Gotham underworld? How will Nygma's embrace of his Riddler persona alter the balance of power, and will any of it matter when the Court of Owls reveals its plans for the city? All will be judged! Join us for a special video presentation followed by a Q&A with series stars and executive producers. The series hails from Warner Bros. Television. Arena
Film Threat's Mega-Movie War 2017 
Wonder Woman, Star Wars: Episode VIII-The Last Jedi, Guardians of the Galaxy Vol. 2, Spider-Man: Homecoming, Alien: Covenant, Justice League, and more will be debated at this gathering of a veritable "Justice League" of movie geeks. Join Anthony Ray Bench (Film Threat), Charles de Lauzirika (Blade Runner: The Final Cut), Cliff Stephenson (Hannibal), and Matt Keil (X-Play), among others for a raucous discussion moderated by Film Threat editor Chris Gore (Attack of the Show!). They'll choose the winners and losers of 2017's biggest movies. Plus, a special edition of DVDuesday on the 5th anniversary of Attack of the Show! going off the air. (Yes, it's been five years.)
Sunday April 2, 2017 2:30pm – 3:30pm
Room 300DE
Jack Kirby Tribute 
2017 marks an entire century since the birth of the man many call the most important creative talent ever in comics. This year more than ever, comic fans celebrate the legacy of Jack Kirby. On hand will be former Kirby assistant Steve Sherman, Scott Dunbier from IDW Publishing, Rand Hoppe from the Jack Kirby Museum & Research Center, and Paul S. Levine, attorney for the Rosalind Kirby Trust. Your moderator is another former Kirby assistant, Mark Evanier.
Sunday April 2, 2017 3:00pm – 4:00pm
Room 211
Full-Time Creative Work on a Part-Time Schedule 
Panelists will cover basic-though imperative-approaches and concepts for what you need to know to accomplish any project in any medium with any goal. They include Topher Davila (art director, GeekdomWear), Sean Glumace (Adobe education leader), Ron Coleman, Ph.D. (molecular geneticist, comic book writer), Stephen Burns (Photoshop digital artist, author, lecturer), Chris Dickens (writer/creator of Vigilante Project and The Ronin), James Frye (manager editor, The Con Guy), and Mario Martinez (co-creator, TomatoTV).
Sunday April 2, 2017 3:30pm – 4:30pm
Room 213
WonderCon Anaheim Talk Back 
Back in Anaheim for WonderCon 2017! How did we do? Bring your questions and experiences-good or bad! All are welcome!
Sunday April 2, 2017 4:00pm – 5:00pm
Room 211