Nearly 90,000 fans are stampeding up to Seattle's Emerald City Comicon (ECCC) March 2 – 5. Are you one of them? Because it's basically sold out, except for Thursday and an Outlander Saturday package upsell. In this episode of Con Guy Comic-Con Prep Show, we talk with Thomas Parham, frequent ECCC panelist and resident expert for an insider's perspective. Then after the video, check out out SURVIVAL GUIDE to ECCC.
In 2015, ECCC became part of the ReedPop family, essentially putting high-octane fuel into an engine that was already gunning it at full-speed ahead. In other words, this Northwestern gem of a convention is now one of the premiere events in the country. Expect tons of cool exclusives and announcements. We here at the Con Guy have put together a primer on what you need to know to survive (and get the most out of) ECCC.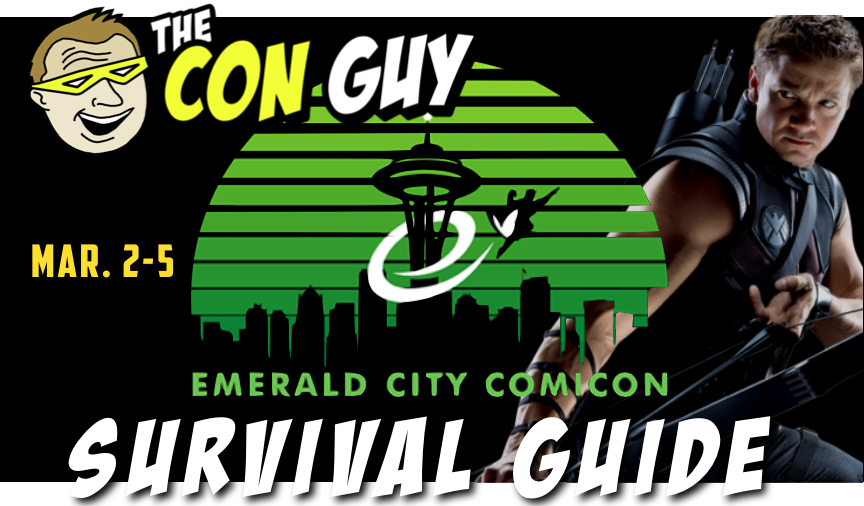 Mar 02, 2017, 3:00 PM – 4:00 PM
TCC 303
DC Rebirth has taken the industry by storm.  The universe has been restored with hope and optimism, engaging storylines and dynamic characters. Come discover more about your favorite DC heroes and heroines, plus hear from the talented teams bringing these stories to life!
Mar 02, 2017, 4:15 PM – 6:15 PM
TCC 304
Image Comics is bringing the Future of Comics to Emerald City Comicon in 2017 with this special two-hour presentation. Featuring a keynote speech by publisher Eric Stephenson about the past, present, and future of comics and a full slate of brand-new series to be announced, this panel is sure to set the tone for the year and give you plenty of great comics to look forward to reading.
Mar 03, 2017, 11:00 AM – 12:00 PM
TCC 305
Ben Blacker (Thrilling Adventure Hour; Dead Men; Star Wars: Resistance) and Heath Corson (Bizarro; Scream) host a rotating roundtable of comics professionals to discuss the process and business of writing comics. Hear the podcast HERE.
Mar 03, 2017, 12:15 PM – 1:15 PM
WSCC 310
Choosing materials when building cosplay can be stressful. Will it break at con if it gets bumped? Is it lightweight enough to carry around all day? Will I cry when looking at my bank account? These are all important questions when looking to invest time and money into your passion. With endless materials to choose from of varying properties, Angry Pixie Design will walk you through the pros and cons of the most popular and under appreciated materials.

 Mar 03, 2017, 1:00 PM – 2:30 PM
Main Stage – WSCC 4A
Twenty-five years ago, a group of comics artists looked at the difference between what they were capable of and what they were being given, and left the promise of steady work for new pastures. The result was Image Comics, which has grown from an upstart group to a comics publisher that has changed the course of the industry. Image's 25th anniversary year begins with this special event, a very rare gathering of original founders Todd McFarlane, Rob Liefeld, Erik Larsen, Jim Valentino, Marc Silvestri, and Whilce Portacio, moderated by Robert Kirkman – this Panel is not to be missed!

Mar 03, 2017, 3:00 PM – 4:00 PM
TCC 304
After eleven season of saving people and hunting things, you'd
think this hit CW show would have run out of places to take the Winchester Brothers. But as this 12th season has proven, the road these hunters are on stretches long and wide before them. Join us as we discuss the ups and downs of the past seasons and what may lie ahead for Sam and Dean.
Mar 03, 2017, 5:15 PM – 6:15 PM
Main Stage – WSCC 4A
What does the universe have in store for Emerald City Comicon Fans? Find out as Michael Rooker (Yondu Udonta) and Sean Gunn (Kraglin) take the ECCC Main Stage to discuss what it's like to be part the blockbuster hit Guardians of the Galaxy and the upcoming sequel Guardians of the Galaxy Vol. 2. This Panel is sure to get you hooked on a feeling!
Mar 04, 2017, 11:00 AM – 12:00 PM
Main Stage – WSCC 4A
Join the creator of The Walking Dead, Invincible & Outcast for a lively Q&A. Why lively? Because there will be no moderator, just Robert Kirkman and you, the fans, asking him questions directly. No holds barred!
Mar 04, 2017, 12:30 PM – 1:30 PM
TCC 304
Star Wars collecting is a vast hobby with collectors all over the world amassing memorabilia for the past 40 years. The sheer amount of items and information can be overwhelming to those getting started. Gus Lopez, author of five books on Star Wars collecting, will take you through his personal journey from beginner to advanced collector.
Mar 04, 2017, 2:45 PM – 3:00 PM
ECCC Live Stage – Level 4 Skybridge Lobby
Robert Englund (Freddy Krueger) interview, live. The horror legends comes to the Twitch stage to discuss his lengthy (and scary) career.
Mar 04, 2017, 4:30 PM – 5:30 PM
Main Stage – WSCC 4A
Join Millie Bobby Brown (Eleven) as she speaks about the monsters on Maple Street. She's sure to let you in on some of the secrets and stories behind the supernatural smash hit, Stanger Things. So grab your Eggos and get ready for a trip into the Upside Down!

 Mar 04, 2017, 5:45 PM – 6:45 PM
Main Stage – WSCC 4A
Amazing. Spectacular. Sensational. These adjectives describe not only Spider-Man, but also the two men who found fame with Peter Parker and his alter ego. Join Stan Lee and Todd McFarlane as they come together for a rare one-on-one discussion at Emerald City Comicon. Hear these two comic legends discuss everyone's friendly neighborhood wall crawler, and so much more!
Mar 04, 2017, 7:30 PM – 9:30 PM
Main Stage – WSCC 4A
ECCC is proud to present the return of the Western Championships of Cosplay to the Emerald City! This is the largest and most prestigious costume contest on the West Coast. Not only will competitors battle it out for over $5,000 in cash prizes, the Western Champion will win a trip to C2E2 2018 to compete in the Crown Championships of Cosplay, the final stop in ReedPOP's global cosplay competition circuit. Join us for what is sure to be a fun-filled competition celebrating the talent, skill and determination of the best cosplayers in the world. A portion of the prizes are brought to you by G Fuel.
Mar 05, 2017, 1:45 PM – 2:45 PM
WSCC 617 – Podcast Zone Stage
Join Ryan Beise and Jake Stevens, both hosts of local Star Wars collecting podcasts and experts on the Hasbro line of Star Wars figures as they go through some of the strange, unique, and obscure Star Wars toys that Hasbro has made of the years. We'll look at things like the Cruise Missile Trooper, "Attack" R5-D4, Whorm Loathsom, Wioslea, and more…
Mar 05, 2017, 3:45 PM – 4:45 PM
TCC 305
Do you want to build a career in the "nerdy" industry you love, but you're not sure where to begin? This panel of professional "Nerds for a Living" will share anecdotes and insights into a variety of careers that exist within comics and literature, gaming, illustration, and more. Learn how our guests got their start, and get advice on what it takes to create a path to the career you want.
Mar 05, 2017, 5:00 PM – 11:00 PM
Fountain Wine Bar, Sheraton Seattle Hotel – 1400 6th Ave.
The ECCC Show Floor closes at 7:00 PM – do you have plans after the Show? Swing by the Official ECCC Bar sponsored by FUNimation at the  Sheraton Seattle Hotel to hang out with the ECCC Staff, Exhibitors, Creators and Fans while enjoying specialty cocktails, wines and local brews, including the Official Beer of ECCC – the Dark Heron, created by Fremont Brewing.
ECCC's roster of entertainment celebrities and guests is pretty robust. Click the graphic above for the full list. Here are some of the standouts:

The 2017 Western Championships of Cosplay will be held at the 15th Edition of Emerald City Comicon on returns Saturday, March 4, as the largest and most prestigious costume contest on the West Coast. This is the first stop in ReedPOP's 2017 Global Championships of Cosplay. Thousands of ECCC Fans will watch in person while many more Fans from around the world will tune in via the Official ECCC Livestream to cheer on their favorite cosplayers. Competitors will not only battle it out for over $5,000 in prizes, but also to qualify for the final round of the 2018 C2E2 Crown Championships of Cosplay in Chicago, the final stop in the Global Championships of Cosplay. More info here >>>
If you can't make it to Seattle, no worries–Coast to Coast Comic Con will live stream interviews, announcements and Q&A panels from Emerald City Comicon on March 4 to participating comic stores across the country. ReedPop, which bills itself as the biggest organizers of pop culture events in the world, owns ECCC and is also the engine behind Coast to Coast Comic Con…. size has its advantages.  Read full article here >>>