BY JIM FRYE
The Long Beach Comic Expo (LBCE) lands this weekend, with two days of true-blue comics love and an extra day just for comics creators. It's a true comics-lovers paradise! (and the scenery ain't bad, either). First, watch our show, then enjoy the con!
As the convention giants muscle each other out of the way with their competing celebrity-packed panels, summer movie previews, and 130,000-plus attendance numbers, the LBCE (and it's sister convention in the fall, the Long Beach Comic Con) continues to deliver comics creators, TV shows, and true fandom — but with smaller numbers.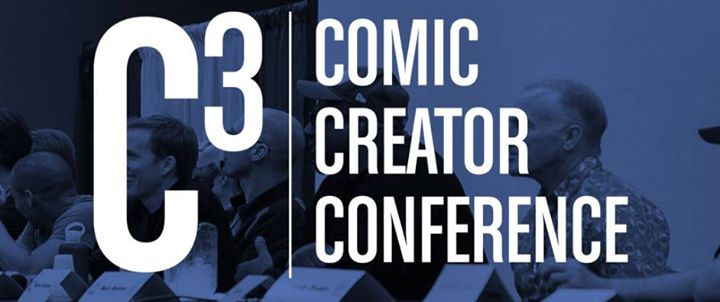 This rocks! We're stoked to be attending LBCE's first extra-day conference geared specifically toward those who are currently (or wish to) be involved with creating comics. What a great idea, right. Here's how they describe it:
C3 is an event designed to connect professional comics creatives with other high-level industry professionals to empower them with exclusive and personal insight, as well as directly connecting them with decision makers, peers, publishers, and other leaders within the industry.
The event will take place on February 17, 2017, just before the opening of this year's Long Beach Comic Expo. Set away from the hustle and bustle of the show floor, the event is designed as a series of informative sessions hosted by industry leaders in both publishing and entertainment in a professional setting.
The event will feature a keynote speech by a highly respected industry professional, speaking from direct experience on the ins and outs of developing your own property for other media. Learn how to make smart business decisions on the path to taking your creations into film, television, and interactive entertainment.
In addition, attendees will have the opportunity to network throughout the day and at a casual cocktail event with a hosted bar and small plate food items. For tickets, click here.
---
---
10:30a.m. – 11:30a.m.
#ConLife: How to Sell at Conventions
It's incredibly expensive to exhibit at a show. Not only are there table fees involved, but you have to pay for products and marketing materials among many other expenses. Most creators go into their first exhibiting experience blind and end up losing a lot of money. Don't let that happen to you. Join moderator Russell Nohelty (Ichabod Jones: Monster Hunter) as he talks with a panel of experienced con veterans including Mike Wellman (Guns A' Blazin'), Gwendolyn Dreyer (Monster Elementary), Madeleine Holly-Rosing (Boston Metaphysical Society) and Daniel De Sosa (Purrvana) as they give you their best tips to make money at conventions and make sure you are profitable from day one.
10:30a.m. – 11:30a.m.
Cosplay & Fan Films
Cosplay meets Fan Films in this panel with Actor/ Writer/Cosplayer Colin K. Bass and Editor/Director/ Cinematographer Sean C. Swanson. This Dynamic Duo has done everything from their own Original Web Series to Fan Films to Cosplay Music Videos. Join Colin and Sean as they show what they've created, find out what's next, and ask any questions you might have about making your own short films.


1:00p.m. – 2:00p.m.
Supernatural's Ghostfacers Reunion
Supernatural's Ghostfacers Harry, Ed, Kenny, Alan, Maggie and Ambyr are together again! Join AJ Buckley, Travis Wester, Austin Basis, Dustin Milligan, Brittany Ishibashi and Mircea Monroe for their first ever reunion panel as they discuss their cult-favorite characters from the CW's hit show Supernatural!
2:00p.m. – 3:00p.m.
Nerd Up or Shut Up Live!
Tune into Legion of Leia's own Nerd up or Shut up podcast. Join in on the conversation as you step into our next episode and chat and debate all things nerdy!
2:00p.m. – 3:00p.m.
Cosplay Comedy
Cosplay Comedy is a unique stand-up show where comedians perform IN COSTUME & IN-CHARACTER! See your favorite heroes and villains say all the things you wish they'd say in the comics and movies. Featuring a lineup of Avengers, Justice Leaguers, Wizards, Hobbits and more!
4:00p.m. – 5:00p.m.
BtS: Superhero Superstars
Tony Harris (Starman, Ex Machina), Frank Tieri (Catwoman, Convergence: Justice League, Convergence: Suicide Squad), Mike Zeck (Captain America, Secret Wars, Punisher, Kraven's Last Hunt, Spider-Man) and Mark Waid (Kingdome Come, Superman, Flash) discuss their behind-the-scenes experiences working on some of the highest profile comics that have come out of the Big Two! Q&A after!


7:00p.m. – 8:30p.m.
LBCE Official Cosplay Competition Hosted by Nerds Like Us
Join us for one of the most celebrated aspects of the Long Beach Comic Con! Awards will be given for: Best Hero, Best Villain, Best Youth, Best Group, Funniest, Best Tv/Movie, Best Sci-Fi/Fantasy, Judges' Choice, and of course, Best in Show. Judges will be scoring for overall difficulty, creativity, accuracy(for recreation), and showmanship/character.
SUNDAY
10:30a.m. – 11:30a.m.
The Podcast Advocates Present: the Podcast Gathering
Join our experienced podcasting panelists as they focus on the ins and outs of creating a podcast, growing your audience, and networking with other podcasters. This is a great opportunity for podcast fans and performers to interact. Independent podcasters in the audience will also have a chance to pitch their podcasts to the room!


10:30a.m. – 12:30p.m.
Screening of Feature documentary Screening of the award-winning feature documentary film COMIX: Beyond the Comic Book Pages.
COMIX is a film all about comic books and the phenomenon surrounding them that features not only some of the greatest talent in the industry like Stan Lee (Spiderman, X-Men, Fantastic Four), Frank Miller (Sin City, Batman, 300), Neal Adams (Batman), Mark Waid (Superman Birthrite), John Romita Jr. and Marc Silvestri (Image/Top Cow), but also tons of fans, many dressed in costumes talking about their love for the art form. Join Director Michael Valentine after the screening for a Q&A.
1:00p.m. – 2:00p.m.
#ConLife: develop Your Product Pitch
You've got your con table. You've got your products in hand. You've printed out your marketing materials. You're ready to rock and roll, right? Not so fast. Without a good pitch, nobody is going to buy your product. Join Russell Nohelty (Wannabe Press) as he helps you develop your product pitch step by step so that when you step behind that booth, you are ready to make money and find new fans immediately.
2:30p.m. – 3:30p.m.
Social Media and Fandom
What impact has the rapid explosion of social media outlets had on fandom? Are some forms of social media more effective than others? Blogger, animation writer and production person, and multiple-time guest of the LET'S VOLTRON podcast Shannon Muir shares her thoughts and experiences and also will have some audience Q&A.
3:00p.m. – 4:00p.m.
Nerd Event Madness: Club Comic Con, Nerds Like Us and more!
We will discuss the explosion of nerd-culture events; how to create a good one and how to market to your target audience for success. Audience will learn what it takes to execute a small or large scale event as well as what to look for when choosing what events to attend.
3:00p.m. – 4:00p.m.
Writer Seeking Artist: Finding and Maintaining Healthy Collaboration
As a comic book writer, you're forever seeking your better half… an amazing artist or art team! There's no one way to find great collaborators. Come hang out and listen to how we did it. Moderated by Rosie Knight (Cougar and Cub) with panelists Kelly Sue Milano
(Hex 11), James F Wright (Nutmeg, Lupina), Johnny Parker II (Black Fist and Brown Hand, Elvish), Joshua Henaman (Bigfoot: Sword of the Earthman), and Nick Marino (Cougar and Cub, Holy F*ck).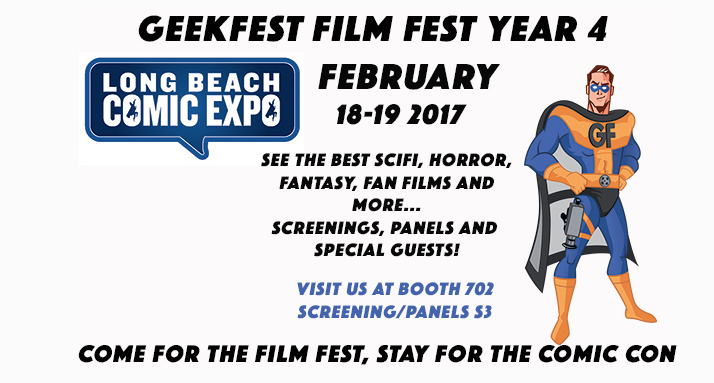 SATURDAY
Program 1- SciFi Block 1-4 PM
City of Imperium Trailer
The Island
Might
White Lily
ReWrite
Plug
Big Scares, Indie Budgets 5PM
Moderated by Ivonna Cadaver (Host of Macabre Theatre on YoutooAmerica)
Learn the tips and tricks on creating low budget horror effects for your indie films and web series and learn from professional indie film directors, actors and producers in the biz.
Panelists: Jessica Cameron (Director- Truth or Dare, Mania),  Amanda Wyss (Nightmare on Elm Street), Micheal G Kehoe (Director- The Hatred- Lionsgate)

Program 2- Rated HorroR (R Rated Content) 6 PM
Pioneers of Fear
Death Metal
Phoenix Run- Catch a Rat
Born Again
The Call of Charlie
SUNDAY
Program 3- Fantasy Block 11 AM
The Spell Tutor 2.2
As They Continue to Fall
Knights of New Jersey
Legend
Neil Stryker and the Tyrant of Time
Program 4- Fan Films 12 PM
The Rogue One: A Star Wars Toy Story
Where No Jedi Has Gone Before
One PM
Arkham's Journal
Committed
Injustice For All
Program 5- Action Packed 1 PM
The Adventures of Kentucky Jackson
The Hunted
Legend of the Mantamaji
Marauder
Moonshot
Program 6- SciFi Block 2 2PM
Heirloom: A Star Wars Story Trailer
IAmEve "Starman"
Steven Spielberg and the Return to Film School
Darkwave
Meet the GeekFest Filmmakers Panel 3PM
Moderated by Ivonna Cadaver (Host of Macabre Theatre on YoutooAmerica)
Get to know the GeekFest Filmmakers and their films touring as part of the GeekFest Film Fest Comic Con Tour Panelists Committed (Director-Terry Ziegelman), Phoenix Run and Imperium (Director- TJ Walker), The Rogue One (Director- Raymond Montemayor), Injustice For All (Director- Danny Mooney), Knights of New Jersey (Actress – Mary Malloy), Legend of the Mantamaji (Director- Eric Dean Seaton).
Best of GeekFest and Awards 4PM
Hosted by Ivonna Cadaver (Host of Macabre Theatre on YoutooAmerica)
See the Films Voted Best of by Long Beach Comic Expo Attendees and the Awards for Best of Fest Presented by GeekFest Film Fest Judge and Actress Gigi Edgley