So much stuff on this week's The Con Guy Comic-Con Prep Show on the Popcorntalk Network! Packed house this week: Jim Frye @conguyjim, Derek Samms @conguyderek, Luke Cheeseman @conguyluke, Emma Fyffe @EmmaFyffe, Alana Jordan @AlanaJordan, and special guest Lora Ivanova, Founder, Executive Producer ScareLA, @scarelosangeles.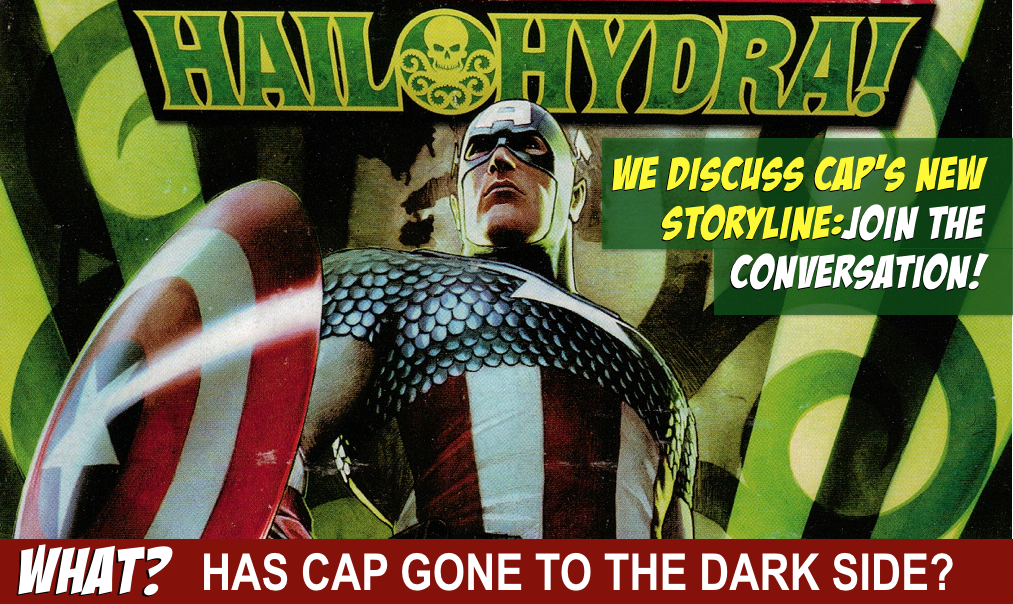 Is Captain America really a Nazi? (Or at least an agent of Hydra). Win one of eleven all-expenses-paid trips to Comic-Con by cosplaying your favorite character from Suicide Squad. Watch Mark Hamill on Comic-Con HQ. Get ready for Conan in San Diego. Get ready to be scared at ScareLA. And hear all about the Amazing Comic-Cons of Hawaii and Vegas. Whew! Let us know what you think!
Regarding the Captain America/Hydra controversy, Time Magazine did an interview with Marvel editor Tom Brevoort about the shocking twist.
Tom Brevoort: Nick Spencer, who is the writer of the series, pitched us the story as part and parcel of restoring Steve to his youth and vigor. In the comics, he's been old for awhile. The super soldier serum that was keeping him young had been broken down, so for the 75th anniversary, Nick had this notion that we were going to restore him. But then we went into this other story about Hydra, and this is only the tip of the iceberg.
What does this mean for the Marvel Universe?
It means on the most fundamental level that the most trusted hero in the Marvel universe is now secretly a deep-cover Hydra operative, a fact that's really only known to the readers and to him. That makes every interaction he has with anyone take on a second layer, a second meaning.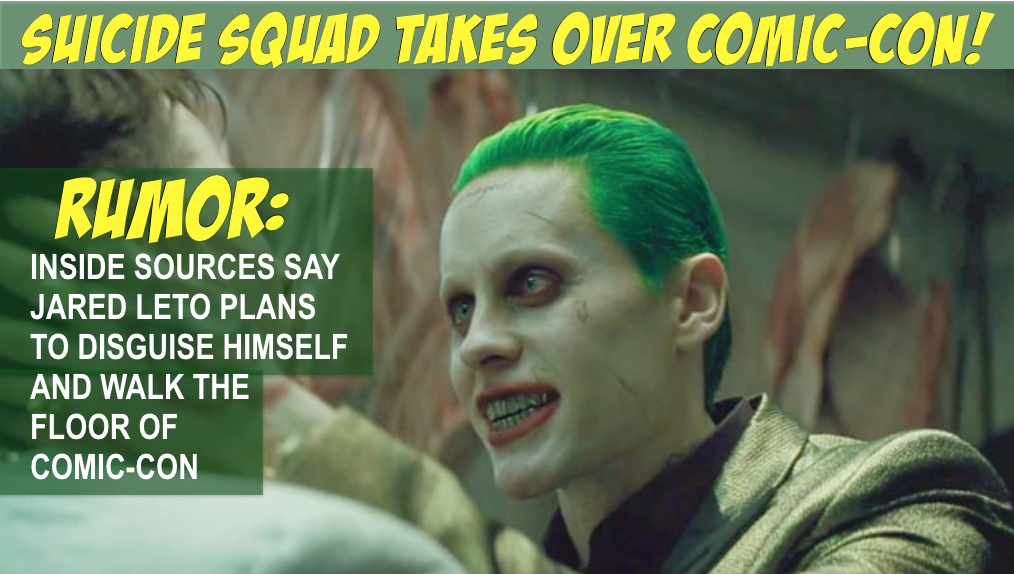 Not only will you be able to find Suicide Squad on the Hall H stage as part of the big WB panel, but they'll also signing posters at the DC booth, making a special appearance on Saturday, July 23 on Conan – and also holding a costume contest to give eleven lucky winners an all-expenses paid trip to San Diego Comic-Con 2016.
ALSO, we heard from "inside sources" (Warner Bros contacts) that Jared Leto has let it be known that he plans to dress up as a favorite cosplay character and walk the floor of San Diego Comic-con  in disguise. Good for him! Brian Cranston did it (dressed as Walter White). Elijah Wood did it….and many others have too. We always say that at Comic-Con, you can be whoever you wanna be.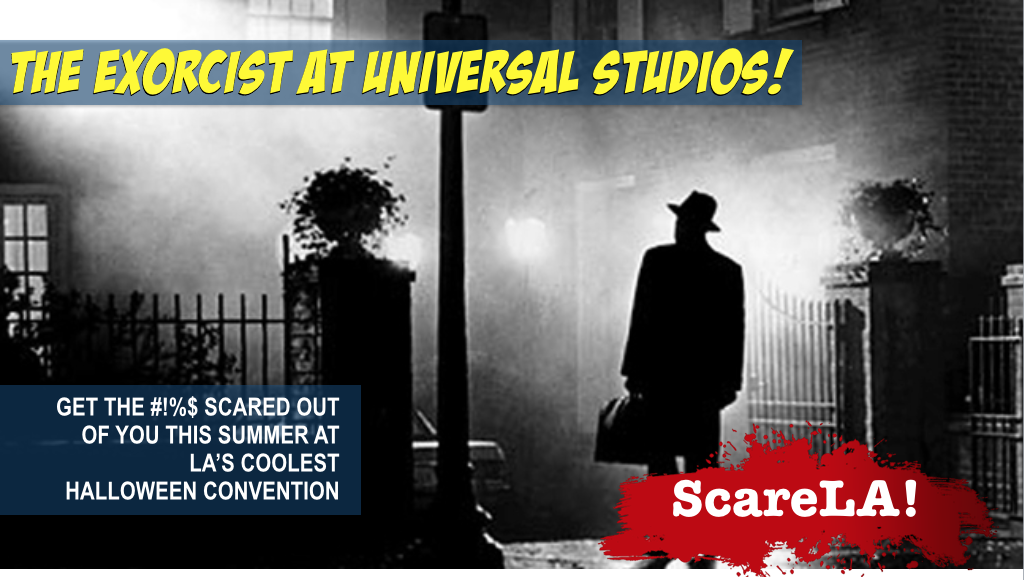 ScareLA returns on August 6 & 7, 2016. Founded in 2013, it was the first Los Angeles convention dedicated to celebrating Halloween. Situated in the entertainment capital of the world, it combines the city's top talent and unique cultural setting with a twist!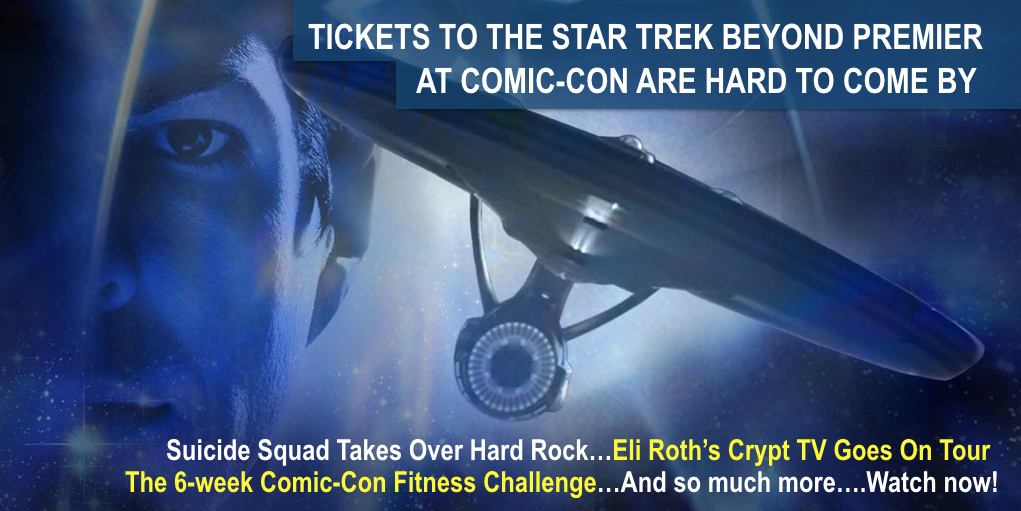 From The Hollywood Reporter>>>
The red carpet event and exclusive premiere will take place July 20 at the Embarcadero Marina Park South in San Diego and will feature appearances by the cast of Beyond, as well as a live performance of Michael Giacchino's film score by the San Diego Symphony Orchestra. Idris Elba, Chris Pine, Simon Pegg, Zach Quinto, Zoe Saldana, John Cho, Anton Yelchin and Karl Urban star in the latest Star Trek film.
---

Facebook/TheConGuyDotCom
Youtube channel
Instagram.com/theconguy/
On Twitter @TheConGuyDotCom
Behind the Scenes. The Con Guy Show @TheConGuyDotCom @ThePopcornTalk @ConGuyDerek @EmmaFyffe @AlanaJordan @ConGuyJim pic.twitter.com/aAyPi5WBP5

— Cheeseman (@ConGuyLuke) June 10, 2016