How did the writer of such micro-budget horror films as Hey, Stop Stabbing Me and Sledgehammers at Dawn land the high-profile job of scripting Sonic the Hedgehog, Paramount's $95 million big-screen adaptation of the wildly popular Sega video game character? "Like most things, it's the right place at the right time," said Chris Miller during an appearance on our THE CON GUY show Monday on the Popcorntalk Online Network. He co-wrote the film with this writing partner, Patrick Casey.
Hitting theaters on Valentine's Day, 2020, Sonic the Hedgehog stars Ben Schwartz, best known for his role on TV show Parks and Recreation, as the voice of the Sonic (Don't worry—they fixed those teeth!); James Marsden as Tom Wachowski; and Jim Carrey as Dr. Ivo Robotnik.
---
.


To watch our entire show with Josh Miller—which also included his list of favorite scary movies to watch at Christmas!—you can tune in right here:
---
.
In addition to indie horror films, Miller's writing credits include the TV shows Into the Dark, 12 Deadly Days, and the obscure 2013 Fox animated comedy series Golan the Insatiable, which he created. Lucky for him, Sonic's executive producer Toby Ascher is a fan of Golan so he helped set up a meeting for Miller to pitch to producer Neal Moritz, uber-producer of the Fast and the Furious films, in addition to Evan Almighty, I Am Legend, and too many more to list.
"To get Neal Moritz's sign-off, we had to pitch him our idea over the phone because he was on set of Fast and Furious, whichever one they were doing at the time in Cuba," says Miller. "We had 45 minutes, and then when he gets on the phone he's like, 'Sorry guys, I only have like 25 minutes now. I'm not gonna chime in at all, so just go!' And so we pitched it over the phone—normally you can see people…. So it ended and he went, 'Okay, great, great. I gotta go."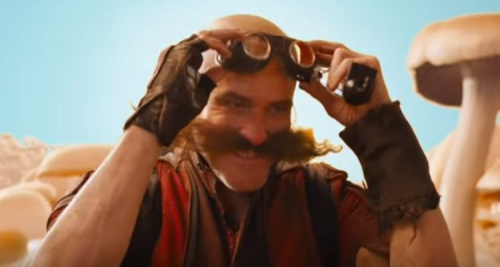 How's Jim Carrey on set? "He's intense," says Josh, "but very funny. The best thing about watching him was…. you kind of expect when someone's that famous—I always think about the stories of Marlon Brando on the set of The Island of Dr. Moreau, where he didn't read the script. He had an earpiece and he was having someone read him his lines, and he'd just repeat them. I kind of expect when you get that famous, you do the scene and maybe just mess up your lines and say 'We got enough.' But Carrey wanted to be able to get through every single scene without screwing up at all… I was really glad we got him, because he's the best part of the movie in many ways."
So grab your Valentine—and dust off that old Sega Genesis—and go see Sonic the Hedgehog February 14. And catch THE CON GUY show most Monday nights—or download anywhere podcasts are available—for all the latest insider news and opinions on comic-cons, fandoms and pop culture.