For years, people have complained that "Comic-Con isn't what it used to be," and for years, they've been right. It's not rocket science to realize that nothing stays the same for long, and the onetime comic book-centric basement convention is now the world's most influential pop culture and mass media behemoth. Gone are the days of chummy networking and rubbing elbows with comic book legend Jack Kirby, replaced by the spectacle of thousands of fans in overnight lines waiting to catch a glimpse of Tom Cruise or Angelina. It's the heartbreak of success.
Purists complain about too little comics focus, claiming that the big studios have displaced artists and comic book creators in favor of giant tent-pole film promotions and movie star parties. Those purists are not wrong, and this year San Diego Comic-Con celebrated its 50th anniversary as a completely different monster than when it first swung open its doors back in 1970. But even though there's still an avalanche of star power and tinsel-town influence, that Hollywood grip has shown signs of loosening, perhaps owing to the belt-tightening and consolidation reshaping the studios as we know them. The pendulum may finally be swinging back… at least a little.
Heidi MacDonald, the well-connected editor-in-chief of the comic book industry site The Beat (comicsbeat.com), called this year's San Diego Comic-Con, "The year things quieted down." And she has a point. "It was pretty obvious that SDCC 2019 was a year when things just held steady and had no intention of getting bigger and better," she says. "This was also a genuinely weird year because the comics industry is in a weird space… [Comic-Con] was, as always, a showcase of comics big, medium and small… But that leaves the elephant in the room: DC's massively changed presence at the show. The WB/DC are undoing huge changes at every level, and DC's booth is perhaps the most vivid and traumatic change of all." You can read her entire "State of the Industry" here.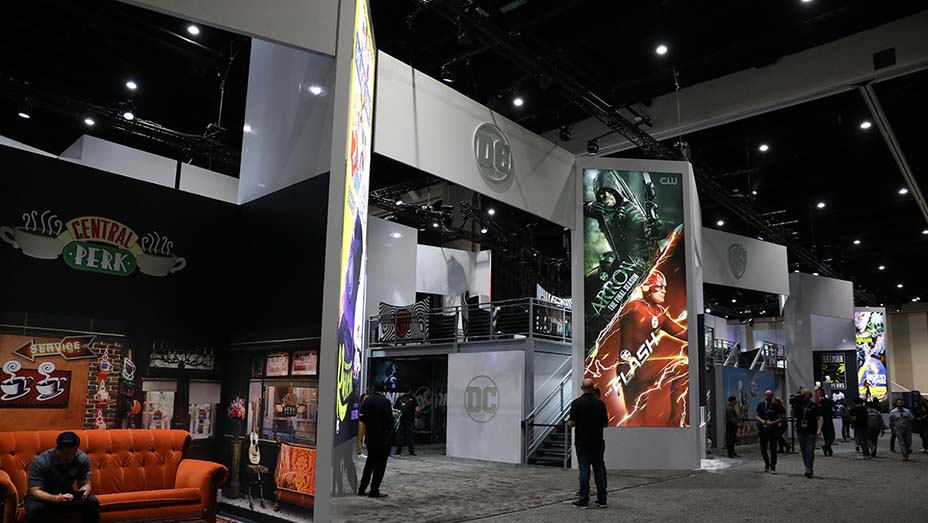 She's referring to the fact that DC Comics, one of the two biggest publishers of comic books, has been a perpetual mainstay on the convention show floor from the beginning. It's always had a booth that fans and industry insiders could stop by and chat with artists and writers alike. This year, however, DC did not return to its longtime anchor spot, instead grafting itself into the larger floor display of its corporate owner, Warner Bros. In other words, DC Comics as an independent presence is no more. Gone. Vamoosh. Don't get me wrong—the larger mega-Warner Bros installation was impressive (complete with Riverdale photo ops and the couch from Friends), but it was definitely a harbinger of things to come. Warner Bros' new AT&T overlords seem to be remaking the studio into something leaner, and DC Comics—along with its recently launched DC Universe streaming service—seems to be part of a larger, multi-franchise long-term plan. (HBO Max seems to be the streaming service most touted by Warner brass, and many observers believe that DC Universe will eventually fold into it).
The Hollywood Reporter had a very detailed look at the mega-booth: "The new DC Warner Bros. booth is nothing if not ambitious. Measuring more than 6,500 feet across two levels — a new record for SDCC's biggest booth — it includes recreations of sets from Friends and Riverdale as well as displays of costumes from Christopher Nolan's The Dark Knight trilogy, an activation to promote the DC Universe animated series Harley Quinn, and signing space for comic book, movie and television talent, as well as meeting space and giant digital screens to display everything from artwork to trailers for upcoming product." Lisa Gregorian, president and chief marketing officer of Warner Bros. Television Group, told the Hollywood Reporter, "Just within the world of DC, there's a lot of television product, movie product, comic books, gaming, home entertainment — it should be collectively together as a shared experience for the fans. Combine that with the power of Warner Bros, and we have Harry Potter, we have Friends, we have Riverdale — there's a mix… I think that our fans love Harry Potter, and some of those same fans will love Harley Quinn. Why shouldn't we celebrate that in a space that allows them to experience those things together?" Read the full Hollywood Reporter article here.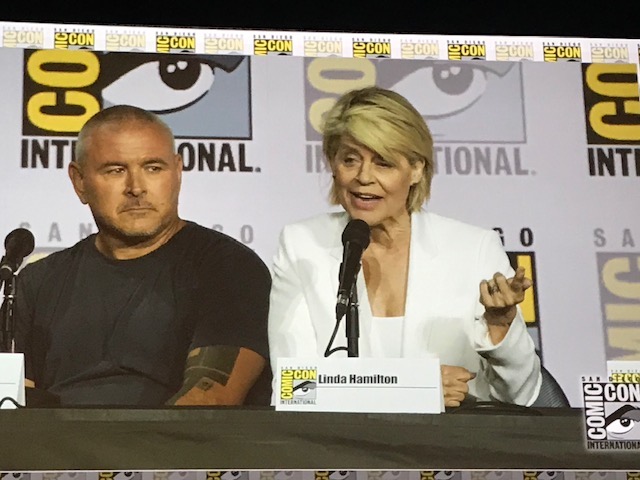 But other changes were felt this year as well. Except for Marvel and Paramount, the big studios decided to skip their normal Hall H presentations, leaving TV to take up the slack. The absence of Warner Bros Studios (more of that belt-tightening?) was the most obvious absence, especially since its future docket contains such Comic-Con-friendly fare as The Joker, from Todd Phillips, and the super-heroine tale Birds of Prey. Warners released a statement, though, assuring fans that they'd be back next year. 20th Century Fox, usually a reliable presence in Hall H, was also a no-show, maybe because of its new owner, Disney. The Mouse House isn't a regular at the Con, especially since launching its own competing fan convention, D23 Expo, back in 2009. Marvel and Lucasfilm still make appearances, although only Marvel showed up this year—but wow oh wow, what a show! Marvel president Kevin Feige knows how to stoke fan fervor for his studios' product perhaps better than anyone. The absence of Lucasfilm, though, was jarring—especially considering they are prepping the final film in the 42-plus-year long Skwalker saga.
According to MacDonald, the showbix presence has been declining every year since 2010, the year she calls the "Peak Year." But she's not the only one to notice this change. Over at VULTURE, Chris Lee writes, "According to one outspoken industry insider who works with several studios that have historically attended Comic-Con, the paucity of studio attendance this year can be attributed to a growing consciousness inside the C-suite that attempts at word-of-mouth marketing in and around SDCC don't necessarily translate into bigger box-office returns…. The more common refrain around Hollywood, though, is that 2019 is an off year for film at the con; that some years, due to vagaries of timing and production schedules, studios just don't have new trailers or sizzle reels ready for the convention's July deadline." Read the entire Vulture article here.
Of course, there's absolutely no reason yet to sound the alarm. An unprecedented uptick in TV production in recent years—spurred by the massive growth in online and streaming services—has meant that TV programming at the Con has increased, and increased big. Major players like Amazon, Netflix and Hulu dominate the spaces vacated by some studios, making sure that fans never noticed a dearth in programming at the Con.
To most fans and industry observers, the Con is still as packed as ever, with tickets a precious commodity. Its 135,000 attendees have no shortage of panels to attend, merchandise to buy, parties to crash, and hands to shake. But small changes have been happening, and the "cracks" are showing. Will the studios give up space so that more comic books can be featured? Not likely. And even though it's hard to compete against Hollywood star power, some small publishers are thriving even in the shadow of these giants. Perhaps a sort of equilibrium will eventually be reached. But for now, Hollywood is still making the annual trek down the 5 to San Diego, even though they're being more judicious with how often they attend, and how much they spend. What will the next 10 (much less 50) years hold for the Con? We'll see—but for writers, creators, artists and producers, there's still no more important—or fun!—place to be in July than San Diego Comic-Con.
---
.
For a fun and through review of this year's Comic-Con, check out our after-show, right here: