This weekend, the center of the comic-book and pop-culture universe will be downtown L.A. as as the Los Angeles Comic Con wraps its multi-tentacled self all over the Los Angeles Convention Center. Once called Stan Lee's Comikaze, the Los Angeles Comic Con now draws close to 100,000 attendees, making it one of the largest in the country. Its lineup of comic book talent and film and TV star power firmly plants it right up there with San Diego. Before you go, check out The Con Guy show, right here, where we break down everything you need to know, plus call out the can't-miss events.
Here's a rundown of the biggest events, talent, and panels you don't want to miss.
The Octopus is back!!  Los Angeles Comic Con returns to the L.A. Convention Center for its 8th edition – its #Octoversary – with the largest, most diverse group of celebrities, guests, panels and vendors in the convention's awesome history!
Highlights Friday October 26
Jack Black & Kyle Gass ARE Tenacious D, The Greatest Band in the World.  The D take over the L.A. Comic Con Main Stage on Friday night at 7pm for an adults-oriented exploration of their new animated feature, "Post-Apocalypto."  The first 3 Chapters of the 6-part story are now available on YouTube. "Post-Apocalypto" tells the story of how The D survive nuclear holocaust and work to return harmony and balance to the universe.  Presentation and Q&A to be followed by a free screening of the full film, go to www.comicconla.com to enter the screening lottery.  Tenacious D is preceded Friday by the Nerdfest geekdom variety show, and the Le Geek So Chic Fashion show.
Highlights Saturday, October 27
Marvel programming is a Saturday morning highlight of a diverse day, with three separate panels:  Marvel's "Agents of S.H.I.E.L.D." cast at 11am, Marvel's "The Runaways" cast at 11:30am (both followed by signings), and preceded by Stunts of Marvel: Daredevil Stunt Team at 10:30am.  Animation takes the Stage with "Jimmy Neutron 15th Anniversary Cast Reunion," and the "Steven Universe" cast panel, followed by a panel with the cast of "The 100," and then "Arrow" star Katie Cassidy.  Hip hop fans won't want to miss it as special guests Master P, son Romeo and daughter Cymphonique introduce us to their amazing new comic/movie property "Eyes of Esca."  Hard-core comic geeks can meet Comic Legend Skottie Young and "Deadpool" creator Rob Liefeld, who both have panels Saturday.  YouTube sensation
King Vader will re-create his famous "Hood Naruto" video (10MM YouTube views) live onstage at 3pm, with crowd participation.  Following an amazing retrospective of Four Decades of Fangoria, Spectrevision presents a spotlight on their runaway hit feature "Mandy," featuring producers Elijah Wood, Lisa Whalen, Daniel Noah and Josh C. Waller, and video game "Transcendence."  An exclusive screening of "Mandy" introduced by the producers will follow.
Saturday is capped off by the 4th Annual Cosplay National Championships on the Main Stage at 6pm, featuring some of the most amazing Cosplayers in the universe, and a prize pool of $20,000!
Highlights Sunday October 28
Sunday is Family Day at L.A. Comic Con!  Starting with a 25th Anniversary Salute to the Power Rangers, we present panels on world-beating game "Overwatch," and highlight new Prime Video hit "The Outpost" with rising star Jessica Green.  The WOW Superheroes of the Women of Wrestling will follow their Panel with a live match in the WOW Ring on the show floor, starring WOW Superheroes Beast Vs. Jungle Girl!  Comic nerds can get their fix meeting Greg Capullo, the Comic Book Men and Ryan Stegman & Chris Burnham after their panels.  And then the highlight of the day for Kids – at 12noon L.A. Comic Con hosts L.A.'s largest indoor Trick-or Treating, with all 350 of our booth vendors giving out candy to the Kids, followed at 2pm by our 8th Annual Kids Costume Contest, sponsored by Disney/Pixar's "Incredibles 2."  Get out those Halloween costumes a few days early, kids – make sure they work!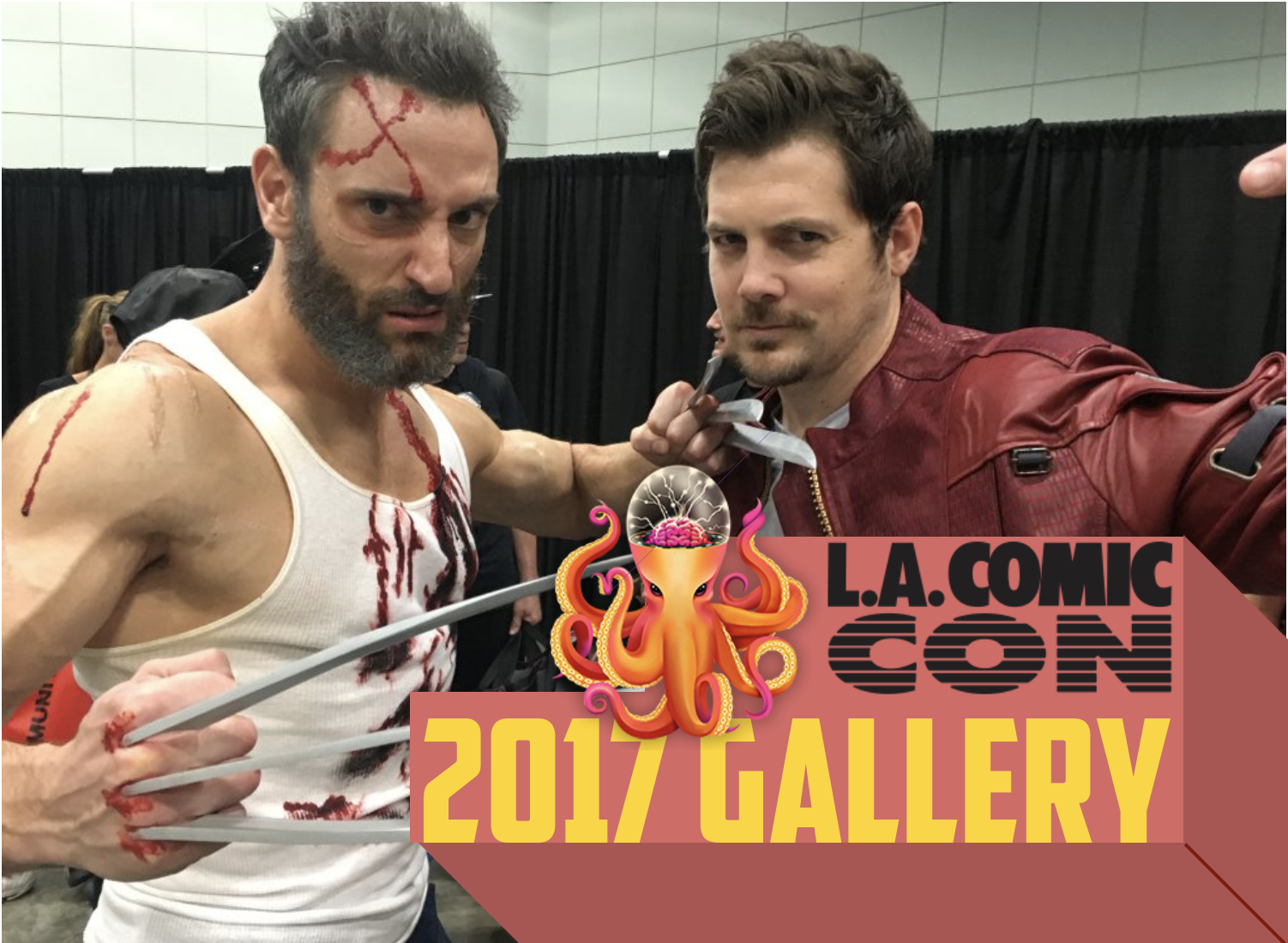 About Los Angeles Comic Con:
L.A. Comic Con is Los Angeles' biggest and best multimedia pop culture convention, held annually at the Los Angeles Convention Center. L.A. Comic Con assembles the most exciting, new and innovative in comics, movies, sci-fi, fantasy, horror, anime, gaming and all things pop-culture, making it Los Angeles' ultimate pop-culture destination.  With over 90,000 fans at last year's event, L.A. Comic Con expects the 2018 event will be their biggest ever.  The 2-time Fan-voted NerdHQ Con of the Year, L.A. Comic Con is one of the most diverse and celebrated geek and pop-culture events in the United States, giving fans once-in-a-lifetime opportunities to truly interact with their favorite creators and major players in the entertainment industry.  L.A. Comic Con team strives to make all your nerd fantasies come true!  For more info on L.A. Comic Con, please visit:  https://www.comicconla.com
Click below to download the floor map: