What are you up to Halloween Weekend? If you're anywhere in the Northern California area, make sure to check out Famous Monsters of Filmland's Halloween Convention at the San Jose Convention Center. Smack in the middle of Silicon Valley, it looks like the perfect way to rev up your Halloween.
We here at The Scare Guy (and The Con Guy) are suckers for the classic monster films. Heck, The Creature from the Black Lagoon is the culprit who started me down my demented path. Yup, he started me, and my buddy Michael Myers finished the job–he ruined me. And I'm glad he did, because now I'm a Horror Freak, a true Halloween Nerd who loves these things. And Famous Monsters of Filmland is like my crack — it celebrates all monsters, retro and current. You can bet their Halloween Weekend horror convention will be pretty sick, and I mean that in the best possible way.
From their website: "What better way to spend the most thrilling holiday of the year than with the name that started it all? FAMOUS MONSTERS is throwing a Halloween Bash and we're inviting all of our famous friends — including you! Mingle with cult film stars, moan around in monster gear, have a meeting of the minds with your favorite artist, or just sit back and take in the chaos. We're also planning a few surprises based on original material from American Gothic Press that should scare you witless! It's a Monster World out there, and you can find the best of it at FM's Halloween Bash."
Want to know more? Here's the "official" announcement from the Famous Monsters folks:
If Halloween means monsters and partying, then a Famous Monsters Party is the place to be.
San  Jose Convention Center will be hosting the FAMOUS MONSTERS HALLOWEEN BASH, Oct 27-29, 2017, and Cosmic Con has hit the ground running with the guest roster, announcing stars from HELLRAISER (Doug Bradley, aka Pinhead), GREMLINS (Zach Galligan), and RE-ANIMATOR (Jeffrey Combs), as well as Richard Brake from GAME OF THRONES and Jeff Daniel Phillips of HBO's WESTWORLD. Original Scream Queen Adrienne Barbeau (SWAMP THING) will be there, along with legendary stunt man Tom Morga, who has played three different slashers on screen (Jason Voorhees, Michael Myers, and Leatherface). More guest announcements are forthcoming.
"Halloween has become the holiday when people just kick back and have fun," says Cosmic Con Producer and Famous Monsters Publisher Philip Kim. "There's none of the stress of other traditional holidays. It's just one big masquerade ball, and that's exactly the vibe that Famous Monsters is going for in San Jose."
In addition to celebrity guests, vendors, and artists, Cosmic Con promises to bring virtual reality into the mix, debuting VR material based on comics from American Gothic Press, a publishing division of Famous Monsters. "Virtual reality is at the cutting edge of entertainment," says Kim, "and quality genre content is in high demand. AGP's original horror properties have enabled us to develop our own."
Clearly, there are all kinds of new ways to haunt a Halloween crowd.
To learn more about becoming a vendor, volunteering, or getting tickets for the Halloween Bash, visit the official website: https://famousmonstershalloween.com.

HIGHLIGHTS and SPECIAL GUESTS
Here are some of the marquee events and guests who will be there that weekend: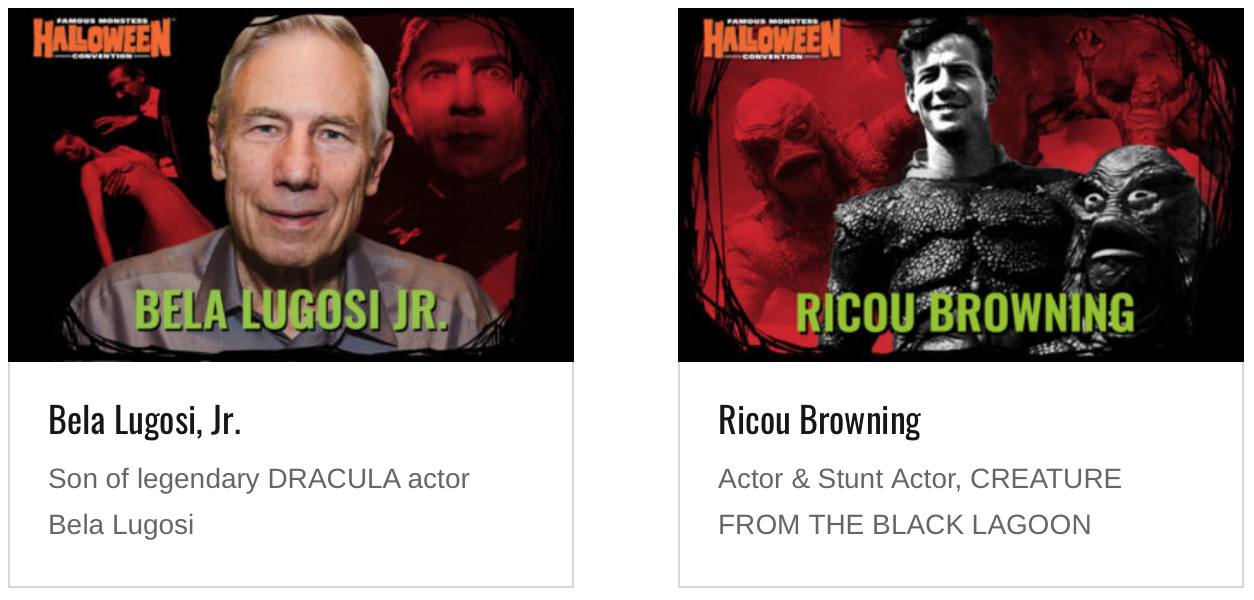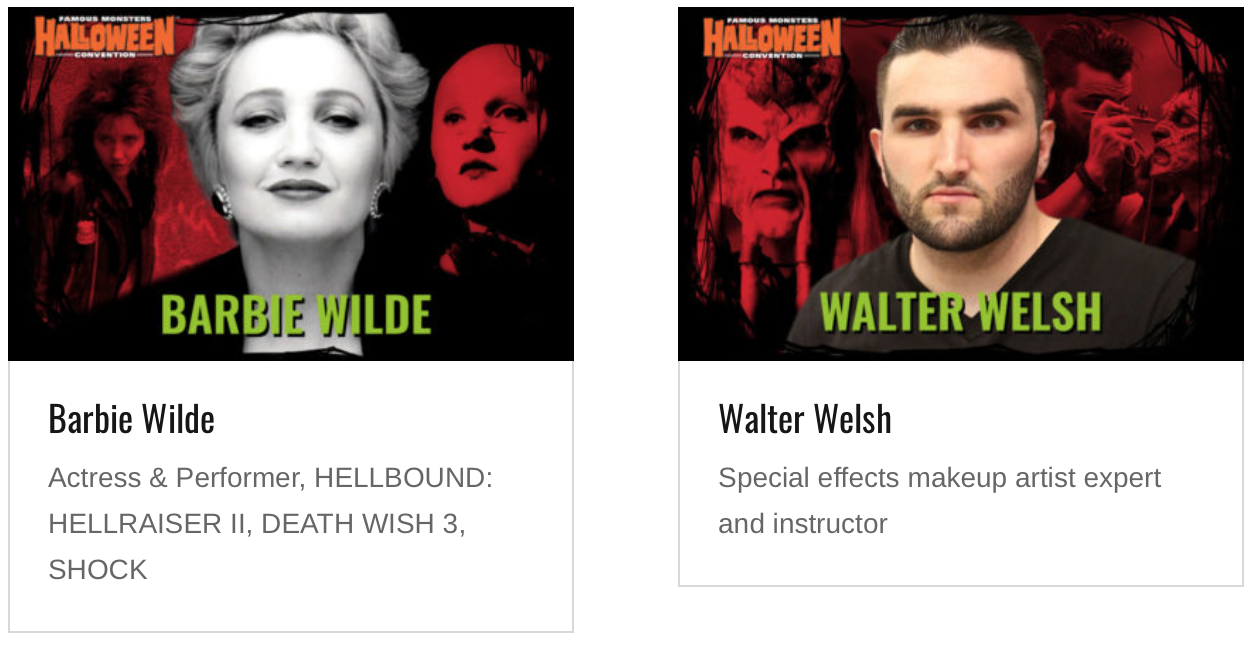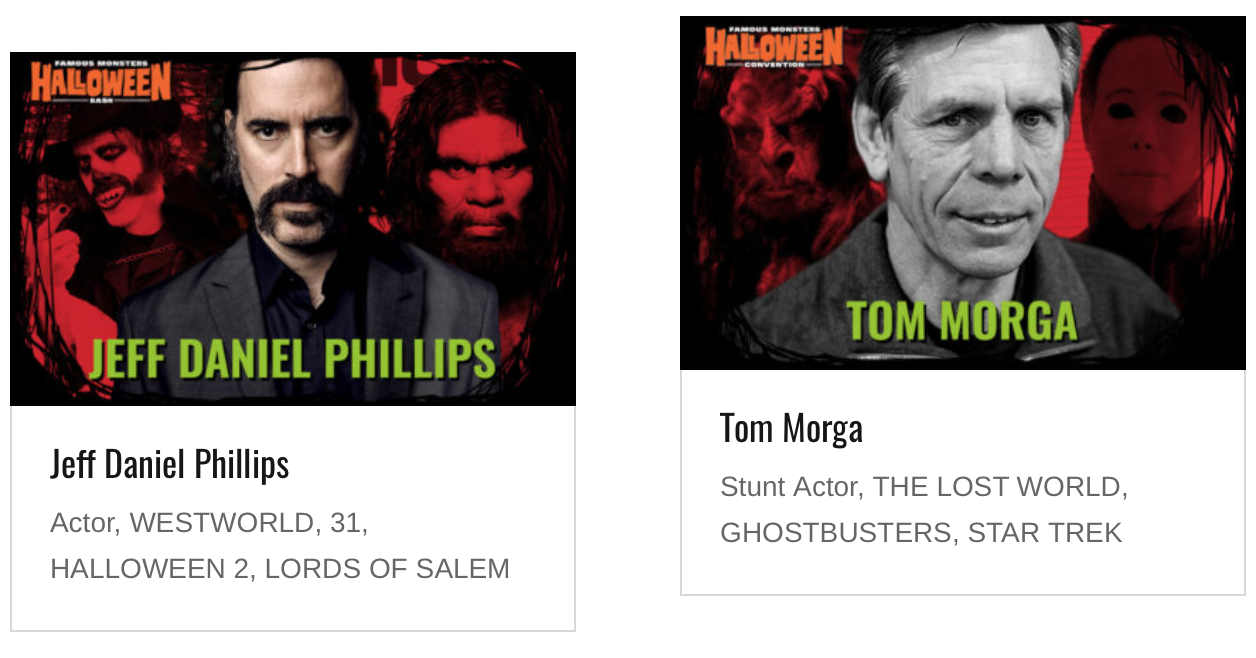 FEATURED GUEST APPEARANCE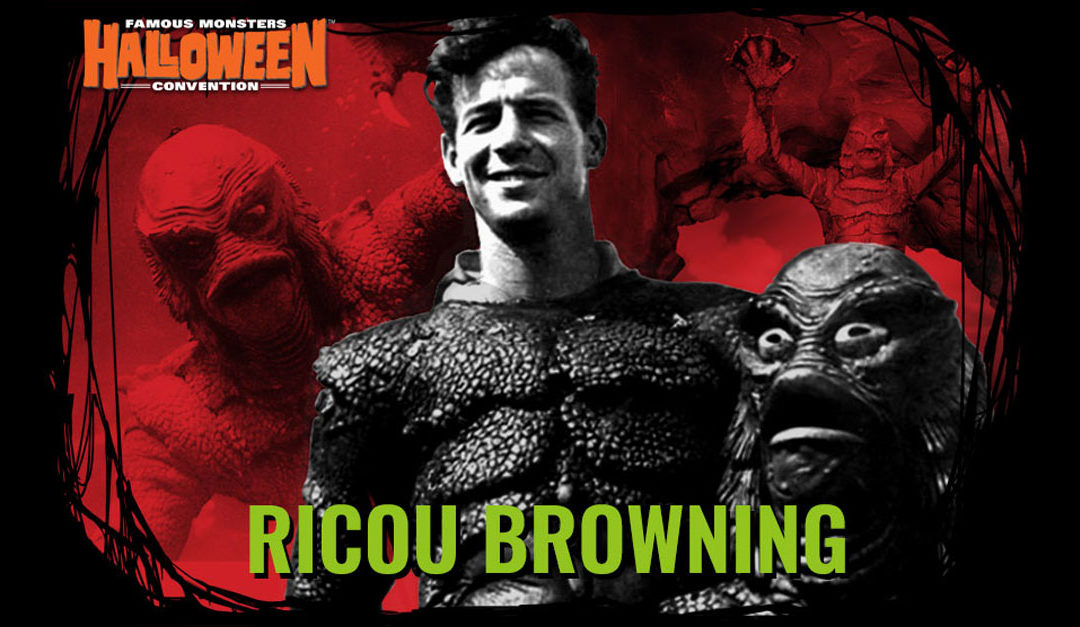 Ricou Browning played the underwater swimming CREATURE FROM THE BLACK LAGOON, and he's the last surviving actor to have played one of Universal's classic monsters. Like I said above, this is THE CREATURE that jump-started my love of monsters and horror films. My dad too! Browning continued to play the swimming gill man in both BLACK LAGOON sequels — REVENGE OF THE CREATURE and THE CREATURE WALKS AMONG US. And a little known fact–he also helped create the FLIPPER television series. But's the CREATURE that has cemented his place in cinematic history!
VIRTUAL REALITY
Get immersed in some of the industry's most innovative developers as Famous Monsters Halloween Bash brings you the latest in Virtual Reality Gaming and Film.
Now is the time to plan your Halloween!

🎃 Discounted Tickets: http://bit.ly/2khIMhu

🎃 Discounted Hotel Rooms: http://bit.ly/2hgzxjE

🎃 Amazing Guests: http://bit.ly/2ud7NO3

🎃 Remembering George A Romero, Dawn of the Dead Reunion, Hellraiser Anninversary & Reunion, Halloween Parties, and more!
All at the Famous Monsters Halloween Convention!

🎃  FamousMonstersHalloween.com 

---
The Famous Monsters crew has a TV show, too. If you're in the Bay area, you can catch it Saturday night at 10:00pm PST on KOFY. It's also on the Famous Monsters YouTube channel! If you want to see what the Famous Monster Squad was up to at San Diego Comic-Con, you can check out one of their TV shows here.
ABOUT FAMOUS MONSTERS®
Famous Monsters of Filmland (est. 1958) is the world's longest running entertainment fan magazine. Credited as the original authority in what we know as geek/nerd culture today, Famous Monsters influenced an entire generation of monster fans who grew up to become some of Hollywood's most recognized names: Steven Spielberg, Guillermo del Toro, Peter Jackson, Rick Baker, and so many more. Today, the magazine enjoys worldwide distribution, and has expanded beyond the pages to include licensed products, comic books, designer apparel, an e-commerce division, and a special events and conventions arm.