The Lost Boys turned 30 this week. But it never grows old. Never dies. And boy oh boy does it party. It's the best vampire movie ever made. In our debut THE SCARE GUY show, we pay a special tribute to this film. You can catch our Lost Boys discussion at around the 29:40 mark…OR watch the whole show, where we discuss the top new horror films this fall, upcoming horror conventions and haunted attractions (Halloween Horror Nights!), and all things Halloween.
It's not all horror and blood-soaked mayhem (although it does have that). It's something more. Something perfect. This low-budget film forever changed the way vampires were seen onscreen. It was the precursor to Buffy. The forerunner to Twilight (yuck). Mixing tons of laughs with cool music and very 80s-style clothes–and we can't forget those spandex and sax at the beach party!–The Lost Boys is the perfect summer horror thrill. Let's hope it never dies.
For a reminder of the greatness, check out this original trailer.
The DAILY DREAD website did a great 30th Anniversary article about the look and feel of the film, the groundbreaking makeup, and how some of the actors' lives changed. Here's an except:
"To celebrate the [30th Anniversary] milestone, author and filmmaker Paul Davis is embarking on his newest project, Lost in the Shadows: The Story of The Lost Boys, which is a book that chronicles every aspect that went into bringing the vampires of Santa Cruz, and those who fought against them, to life…Davis hosted a 30th anniversary panel at IMATS (International Make-Up Artist Trade Show) 2017 Los Angeles to celebrate the brilliant special effects of The Lost Boys, and he brought a few friends along with him, including co-stars Alex Winter, Jamison Newlander, and Billy Wirth, as well as legendary makeup artists Ve Neill, Greg Cannom, and Steve LaPorte."
Jamison Newlander said this:
"The one thing that really struck me about this project, especially as we're sitting here now talking about it, was how collaborative it was. I remember on one of the few times I interacted with Kiefer on set, it was when they were getting ready to shoot the bonfire scene. And Kiefer was actually part of deciding how his character was going to kill the bald guy, and he said to everyone, "I really wanna just bite his head like a melon, and that's what they ended up doing for the movie. And this team really made it happen, and made it look cool, too."
Read the full Daily Dead article here >>>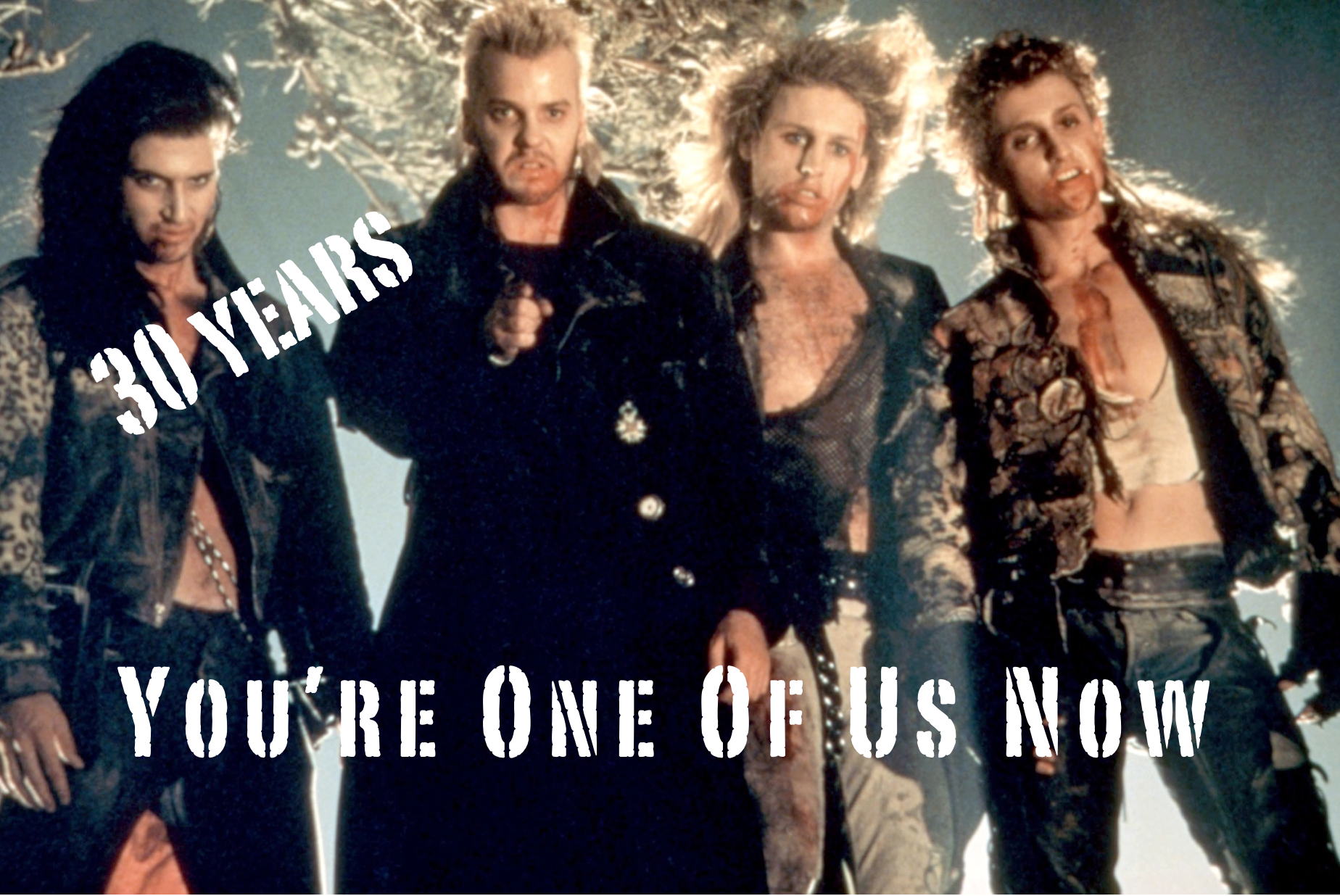 7 Things You (Probably) Didn't Know About the Lost Boys
This cool video shows some of the things we didn't know about the film, such as…. who the heck WAS that spandex muscle guy playing the sax? Here are all your answers:
Tour the Lost Boys filming sites
This is pretty cool…the town of Santa Cruz actually put together this website and map so that fans can take a self-guided tour of some of the main locations in the film. Calling all Lost Boys fans! 2017 marks the 30th anniversary of The Lost Boys, and Visit Santa Cruz County is celebrating!   A new locations map outlines where key scenes were filmed some three decades ago, enabling fans of the cult classic to relive their teenage vampire fantasies (in a family-friendly way) while experiencing Santa Cruz County with a new perspective. To access the site, just click below:
12 Things I Loved About The Lost Boys
To commemorate, Gizmodo put together this list of 12 things. Here's what they said: "To me, The Lost Boys speaks with a very specific, very cool brand of nostalgia. It's filled with the kind of subtle, yet impactful touches that have long been driven into my heart like a nice, sharp stake. So here, on its 30th anniversary, are 12 things I love about The Lost Boys that have nothing to do with vampires."
Read full Gizmodo article here>>>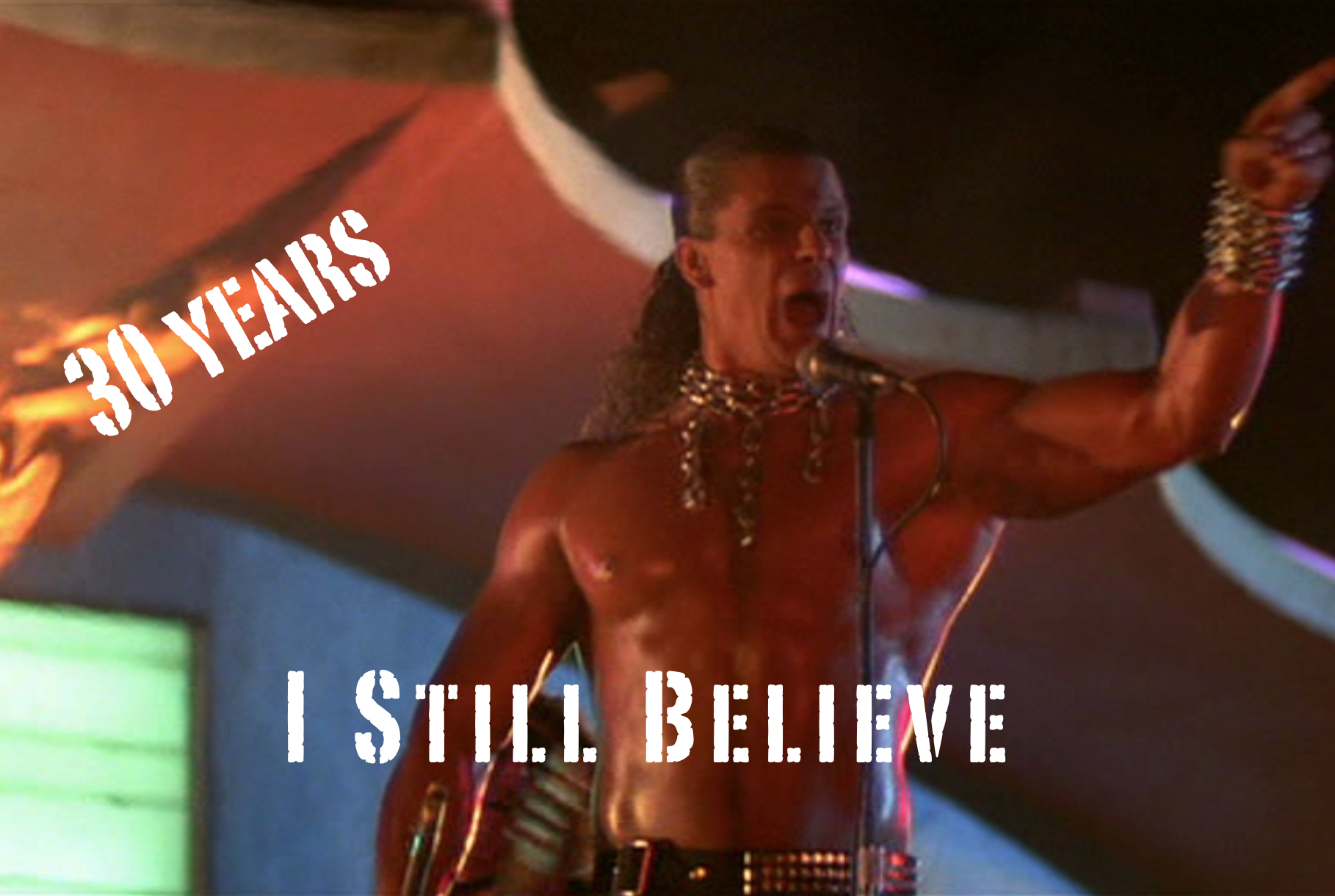 The Music of The Lost Boys
I bought the cassette tape of the Lost Boys soundtrack and wore it out. Years later, I got the CD…which I'm listening to right now. I loved the music. To this day, it makes you feel like you're there, in the middle of "Vampire Beach," running in the shadows, Crying for "little sister."
From Diffuser: "The memories of then-teens and tweens have turned out to be as misleading as a vampire's reflection. Instead of blood-sucking, goth-rocking '80s swagger, the reality is The Lost Boys soundtrack serves up hearty servings of meathead rock, along with Foreigner frontman Lou Gramm and lots of saxophone solos. Or maybe this album simply proves that 1987 was the last year a rocking sax solo could be considered cool."
Read full Diffuser article here >>>
Upcoming Screenings:
Sept. 30 – Street Food Cinema Camp Out
Some Of That Music
I can't GUSH enough about this film. It's schlocky, it's over-the-top, it's a fashion nightmare…and it's the coolest thing from 1987. Long live The Lost Boys…. may the party never stop. Here's THE DOORS singing People Are Strange with a great video montage from the film:
People Are Strange
Cry Little Sister
Tim Cappello – I Still Believe – Music Video