Kurt Russell joins the cast of Marvel's Guardians of the Galaxy Vol. 2 as Ego, father to Chris Pratt's Peter Quill (Star Lord). And playing the younger version of Ego is Aaron Schwartz, a hot young actor who made his name in a number of roles, including his stint as Vanya on Gossip Girl, as Dr. Mansfield on Guiding Light, Clem on The Adventures of Pete & Pete, a big part in the movie Heavy Weights, and, of course, his breakthrough performance as young hockey kid Dave Karp in the iconic Disney film The Mighty Ducks. 
Aaron Schwartz (Dave Karp) talks 'Karpisms', 'La Bamba', quitting/restarting actinghttps://t.co/OoGJI1oNZR pic.twitter.com/q02v1Jmht7

— Quack Attack Podcast (@QuackAttackPod) August 18, 2016
This year, however, he had a starring role with The Con Guy, helping us kick off the Holiday season by carving up our turkey, as he looks forward for the release of Guardians. "It was great playing young Kurt Russell," he says. "He was really a pleasure to work with. Same with Chris Pratt. He's really down to earth, a great guy."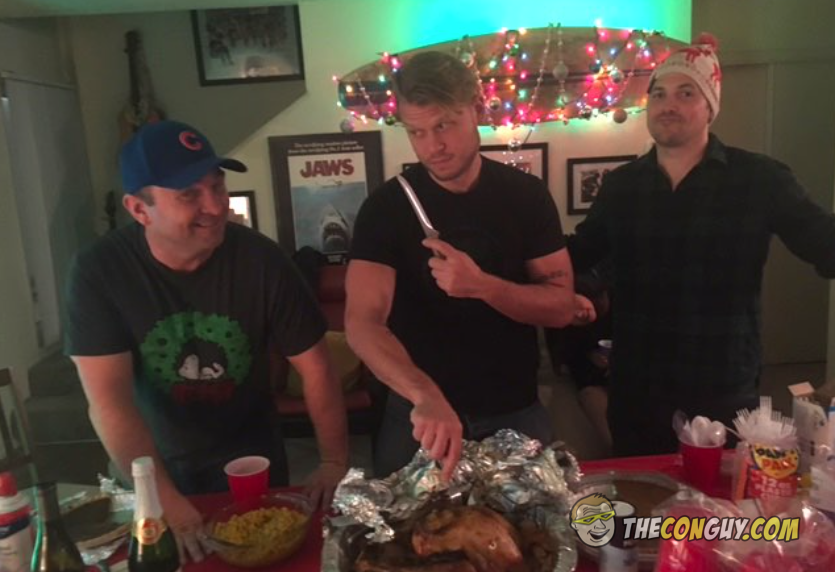 Recently, Aaron took part in Brad Young's DREAM OUT LOUD campaign to help raise awareness about the need to keep art in schools. With so many art programs being cut from both public and private institutions, Brad has enlisted the help of many of Hollywood's brightest stars to help spread the word that art is important, and everyone needs to DREAM OUT LOUD. See Aaron's photos from the shoot below, and check out Brad's gallery of stars, plus info on DREAM OUT LOUD on his website.
Time to grow the Beard out again #ColdInLA @BradEYoung #DreamLoudOfficial #sony @Sony #Heavyweights #beards #Guardiansofthegalaxy pic.twitter.com/0KcXasQwD6

— Aaron Schwartz (@AARONSCHWARTZ11) November 27, 2016
Don't miss Aaron this May when Guardians kicks off the 2017 summer movie season—but for now, he's kicking off the Holidays in style with The Con Guys.
---

For all your news, updates and opinions from the Comic-Con universe, including your favorite films, TV shows and comics, follow The Con Guy!
Facebook/TheConGuyDotCom
Youtube channel
Instagram.com/theconguy/
On Twitter @TheConGuyDotCom