Comic-Con pros, the deadline to apply is THIS FRIDAY! If you plan on attending San Diego Comic-Con next year as a professional, you'd better get crackin', because your time is running out. September 30 is the final day for professionals to apply for the 2017 convention – both in San Diego and also WonderCon in Anaheim this spring.



Determine your verification status. Professionals must apply (verify) every three years. Verify your status here by clicking on your member I.D. If you don't have a member I.D., then you must…


Make sure you have a MEMBER I.D….CLICK HERE to apply for one.

Apply if it's your first time OR if you are due to verify your status. CLICK HERE for complete application and instructions.

Submit your materials with your application – provide samples of creative content you have created in the last three years. Submit to pro_applications@comic-con.org
The Comic-Con International 2017 Professional Application Period is now OPEN! To apply as a professional for Comic-Con 2017, please download the "Comic-Con 2017 Information and Application for Professionals" PDF below.  All applications and verification materials are due by September 30, 2016.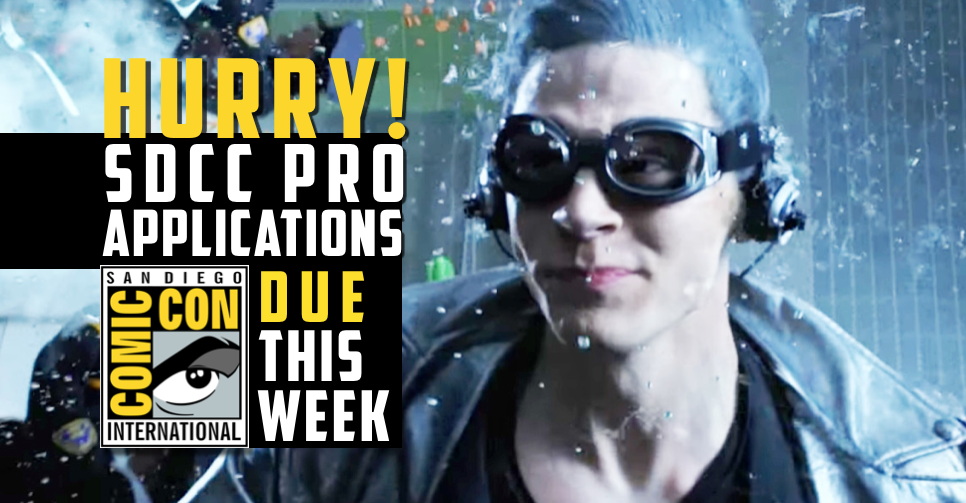 Comic-Con International requires that all professionals verify their status every three years with qualifying work. If you wish to register as a professional for Comic-Con, you must complete the professional application and submit verification materials. The application can be found in the "Information and Application for Professionals PDF" here. 
Your application and verification materials must be postmarked or emailed by September 30, 2016. Applications sent after this date will not be considered.  For information on qualifying verification materials, please see page 2 of the PDF.
Once you have submitted your application and verification materials, please allow 4–6 weeks for processing and review. You will be notified via email if you are approved.
For information and application to attend Comic-Con and WonderCon 2017 as a professional, go here >>> CCI 2017 Information and Application for Professionals.pdf
---

For all your news, updates and opinions from the Comic-Con universe, including your favorite films, TV shows and comics, follow The Con Guy!
Facebook/TheConGuyDotCom
Youtube channel
Instagram.com/theconguy/
On Twitter @TheConGuyDotCom