As we all know by now, Entertainment Weekly asked its readers to vote on who they wanted on the Fall TV Preview issue of the magazine. And Moose and Squirrel won! That's right, everyone's favorite monster-hunting siblings are still on top with the fans. Which might be surprising for some folks, considering the show is now heading into season 12 (!!!). But for those of us who really dig this weekly monster-hunt, we're not surprised. No matter how dark and gross the episodes get (and let's admit it—Supernatural REALLY gets dark and gross), there's always the love between brothers that holds the series together. And Cas. Yeah, we can't forget about Cas, the best angel on TV since….ever (please, Buffy fans, let's not start an argument here). I'd argue, though, that Cas is family now—he's not just some goofball friend that Sam and Dean occasionally turn to.
That said, the EW article let us in on a few things that are particularly interesting to those of us who love the show. Have you snagged your copy yet? EW editor says that if you're not a subscriber, you can pick up your copy in Barnes & Noble, which is the exclusive retailer with rights to the Supernatural Cover—everywhere else has the "montage" cover with all types of other shows featured.
Here are 5 things that we learned: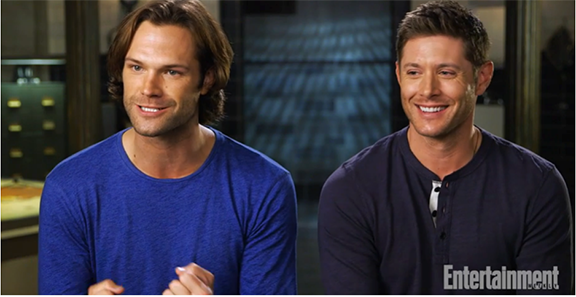 WHEN WILL IT END? Series stars Jared Padalecki and Jensen Ackles hope to reach episode 300! (In season 14). After that, it may be lights-out for the boys. According to Padalecki, "If we don't make it to 300, I think Ackles and I will both be truly bummed." Ackles agreed, saying, "The day that I don't feel that magic will be a very sad day…I'd like to get to 300 before that day comes."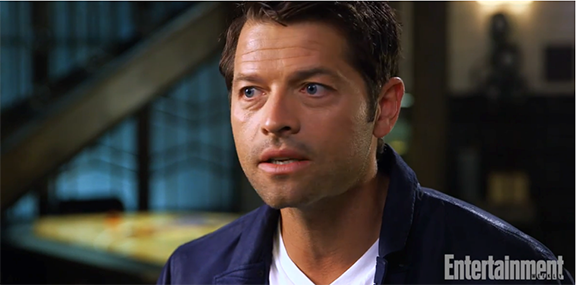 SCRIPTS THAT MADE JARED CRY. Padalecki says that certain scripts actually made him cry, such as "Heart," "Sacrifice," and this past season's "Baby," which was told from the perspective of the brother's beloved Impala.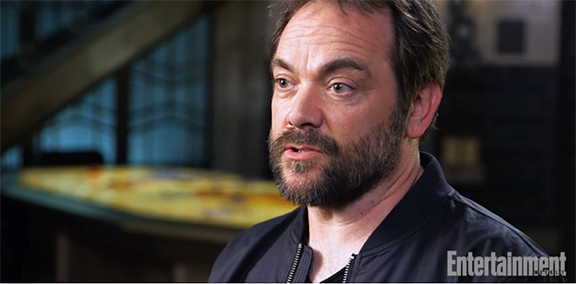 THE SURVIVAL STATS. How many time-slots has Supernatural been in? Four. How many network presidents? Three. And now they're beginning season 12 with their fourth showrunner. And how many actual episodes have been filmed so far? 241!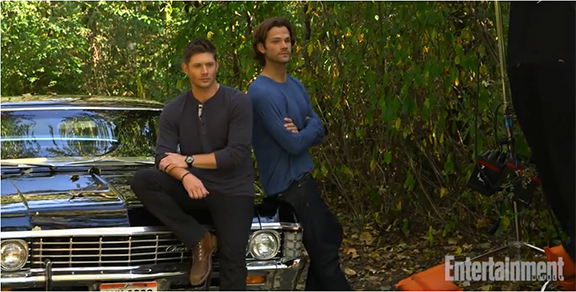 NEW DIRECTION THIS SEASON. New showrunner  Andrew Dabb plans to change things up this season. Instead of the gigantic, season-long stories about God (and his sister), this year Dabb wants to get back to basics: the brothers on the road killing monsters-of-the-week. Nice! According to Dabbs, "What our show was designed to be and I think functions best as is smaller personal stories with a genre twist."
WHO GETS TO TAKE THE CAR HOME? When the show is over, Ackles gets to take Baby home – referring to the Impala! Padalecki gets "Baby Two." Actually, no, that's not right. According to Ackles, Baby Two is the stunt car – "It's beat to sh—" he says. So Padalecki will get Baby Three.
To read the entire article, pick up your copy now at Barnes & Noble (for the Supernatural cover!) or anywhere magazines are sold. And check out more info — plus a video from the cover shoot — right here.
Note: All images above from EW online.
---

For all your news, updates and opinions from the Comic-Con universe, including your favorite films, TV shows and comics, follow The Con Guy!
Facebook/TheConGuyDotCom
Youtube channel
Instagram.com/theconguy/
On Twitter @TheConGuyDotCom