This is your friendly reminder that the Pro Registration period for San Diego Comic-Con 2016 is about to close. Check out our article below which explains all the ins and outs. If you're a pro, this is you best chance to score a SDCC badge. Open registration for the general population begins at a later date. BEST OF LUCK! Here's our earlier article….
---
DO NOT—I repeat—DO NOT miss out on your chance to apply for your Professional Badge to San Diego Comic-Con, and its sister convention, WonderCon. Let me rephrase that: If you are a PROFESSIONAL, then make sure you sign up. If you ARE NOT a professional, then IGNORE this message and go away, because we don't need any more hoodlums trying to game the system, making it impossible for professionals to actually attend Comic-Con.
Do I sound bitter? Maybe just a tad, because like everything else, the process for securing professional badges has actually contracted and intensified along with the general ticket crowds. Why? Because of folks trying to "get in" on something they have no right to "get in" on, thus complicating the process for those true professionals who just need to do their job.
What's a professional, you ask? It's actually broken into two categories: "Creative Professionals" and "Trade Professionals." Simply put, Creative Professionals make their living by producing all the great films, stories, TV, comic-books, and other things that make fans go nuts. Trade Professionals are in the business of marketing or promoting these things. For a more "official" explanation, here's what Comic-Con International says:
"THE CREATIVE PROFESSIONAL badge is a complimentary Comic-Con badge offered to professionals who take an active role in the creation, design, writing, editing, or production of comics, animation, films, books, video games, or toys. Job titles might include writer, artist, penciller, inker, colorist, letterer, animator, designer, sculptor, editor, publisher, producer, actor, etc. This category includes retired career professionals from comics and related popular arts field. The creative professional badge is also extended to those responsible for the content of websites that promote the historic or ongoing contribution of comics to art or society."
"THE TRADE PROFESSIONAL badge is offered to agents, publicists, managers, executives, marketing, sales, business development, advertising, legal representatives, and other industry professionals who need to attend the convention for business reasons."
Every three years, Professionals need to verify their status by supplying proof that they are who they say they are. How do they do that? Simple: They provide the comic-books they've published, or the scripts they've written, or the products they've created.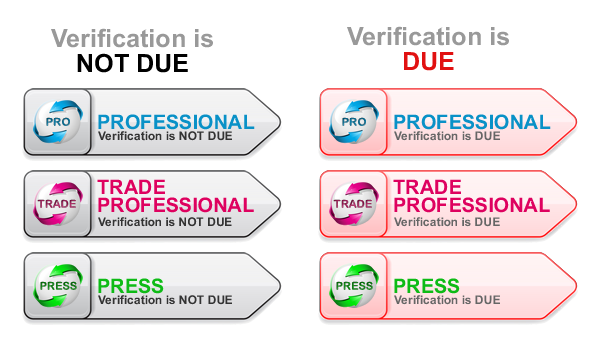 That said, I got my email notification from Comic-Con International saying that the Pro registration period is now open. Did you? Here is some important info form the email:
"We will email you in early 2016 with instructions on how to register for your Comic-Con 2016 professional badge. To receive this email notification, please be sure to sign in to your Member ID account and confirm that you did not 'opt-out' of email correspondence from Comic-Con International. This information is found under 'Opt-Outs' on the 'My Account' tab. We also encourage you to follow us on Facebook and Twitter for all the latest registration announcements.
"Professional badges are available until capacity is reached. We highly recommend that you check your email, the Comic-Con professional website, and Facebook frequently so you do not miss any important updates. Professional badges reach capacity very quickly, so we strongly encourage you to register for a professional badge as soon as online registration opens."
Make sure to read through all the following pages. If you're a professional and want to attend the convention, DO NOT miss this opportunity to actually get registered. For a more detailed explanation of the entire process, check out these resources (click image):