It's almost time for the Beast in the East—New York Comic Con! The east-coast rival to San Diego's long-time stalwart runs October 8-11, although as of right now, only Thursday tickets are available—unless you want to support all those sicko scalpers on Stub Hub, which we do not (screw 'em!).
Thursday Tickets available here.
Looing for a room? Check out the NYCC Rooms Facebook page here.
Here's the map of the show floor.
You can also find the current list of exhibitors here.
EVENTS AND PARTIES
Speaking of rivalries, San Diego could certainly learn a thing or two from NYCC, particularly the parties and events leading up to the actual October convention. Such as New York Super Week and the Heroes and Villains Parties. The Heroes party took place on August 9, and the Villains party is coming up. Click here for more info.

For photos of the Heroes party, check out Superfan's gallery.
Also, there's a cool gallery on twitter.
PANELS
Although the full panel list has not been released yet, there is a bit of info out there about some of the panels. Perhaps the biggest news has to do with the creator of Naruto making his first stateside appearance.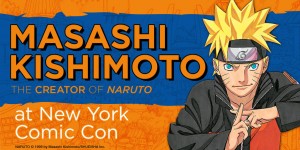 Misashi Kishimoto, the creator of Naruto, at NYCC.
You want to get Masashi's autograph? Here's how.
A little controversy? Why was this Cosplayer's panel rejected?
Here's your chance to see Danny Glover.
The JUSTICE LEAGUE animated series cast is reuniting at NYCC.
Also, check out the Cosplay for Justice calendar here.
You want to help out? You can give to the Kickstarter for Cosplay for Justice here.
SCREENINGS AND PREMIERES
We'll post more screenings once we get them, but for right now the big announcement is the screening of the first two episodes of Star Wars Rebels, season two.
---
NEW YORK COMIC CON GALLERY
---
Remember, please follow us @TheConGuyDotCom