Epic Registration or Epic Fail?! WHY is it that EVERY STINKIN' TIME we're supposed to log onto a Comic-Con-related website, IT CRASHES???? Not occasionally, but EVERY FREAKIN' TIME! I mean, honestly, how hard is it to build a website that can handle huge loads of traffic? Amazon can do it. Google does it. Apple. Microsoft. eBay. Craigslist.
I'm asking, because this is not my area of expertise. But you'd think that after years of CRASHING every freakin', stinkin', frakkin time, SOMEBODY would try to fix it. Or they'd bring in someone who could. For those who are unaware, the Epic Registration site freezes up every time badge registration is happening, causing giant delays and thousands of unhappy people who are unable to get their badges. Comic-Con International even plans on the site crashing, using the following language to explain: "Please be advised that Comic-Con badges sell out very quickly. Not all persons eligible to purchase a badge will be able to purchase a badge. Additionally, Comic-Con makes no guarantee, warranty, or representation that the Web site will function properly throughout the badge sales process. In the event that the Web site malfunctions, Comic-Con will try to rectify the problem in a timely fashion."

But it doesn't end there. No, not by a long shot. After the chaos of registration errors, a few weeks later we have to deal with what has become known as "Hotel apocalypse," that dreaded morning when all Hotels go on sale through Travel Planners. And without a doubt, your screen will freeze, your info will be lost, you'll lose your place in line, and the site crashes.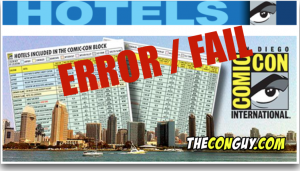 A few weeks after that, there's the mad scramble for parking–which means that the Ace Parking system will fail. This year, they instituted a lottery system, but as expected, the website froze and stammered and buckled under the weight of the Comic-Con masses.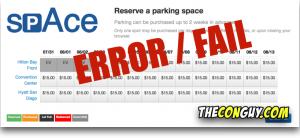 And then, finally, on this list of epic failures, comes the 1iota reservation site for the Conan O-Brien tickets. For some, it worked. But for the vast majority of us, the site froze and sputtered, delivering nothing but !$#%! As with all Comic-Con websites, CRASH! Which is odd, because I've used 1iota before in Los Angeles, and it works fine.
This is just spouting off, I realize that. But can't something be done? SDCC exists very near the most advanced high-tech corridor in the world (Silicon Valley). Why is it that seemingly well-adjusted, smoothly flowing websites seem to fall into a black hole of death once they're confronted with the throngs of Comic-Con goers? Does the technology just not exist? I'd love to hear from you guys who are experts in this stuff. This post IS NOT throwing hate toward Comic-Con. Not at all. We just think they can do better. LOTS better with their websites. Same thing goes for Ace. And even 1iota. Heck — if anyone is planning on getting into the Comic-Con arena, make sure you can handle the crowds. Because these sites are quickly becoming the barrier to entry for thousands of would-be-fans.
---
Other articles about the web sites crashing:
SDCCblog
The Day the Member ID Site Crashed
SDCCblog
Hotel sale failed on every level
REDDIT, on parking
REDDIT, on hotels
---
And remember, follow us @TheConGuyDotCom