As of this writing, TEXAS FRIGHTMARE WEEKEND, the Southwest's premiere horror convention, has moved to September 11-13. By that time, let's hope this damn virus has run its course (at least for now). And although September might seem like forever away, the folks at Frightmare are launching a cool new live-stream event to help fill the void. Frightmare HQ is a brand new LIVESTREAM show that aims to bring the convention experience and more to your living rooms and devices.
Join them on Saturday, April 18th at 2 PM CST. Use your favorite video platform on Facebook, their YouTube channel, Periscope or Twitch. Subscribe now to get updates!
Check out the launch of this new horror-themed show! You can subscribe RIGHT HERE.
Checkout for more info on Texas Frighmare Weekend:
.
ADDITIONAL INFORMATION ABOUT TEXAS FRIGHTMARE WEEKEND:
DUE TO COVID-19 TFW 2020 HAS BEEN POSTPONED TO SEPTEMBER 11-13, 2020. The decision to protect our attendees, guests, hotel employees, staff and everyone's family was easy. The difficult part was putting together all of the info as soon as possible and as accurately as possible. Behind the scenes we have also been working to reschedule our May guests to the new date. We wanted to make 100% sure that all arrangements were as perfect as possible before making any type of final announcement.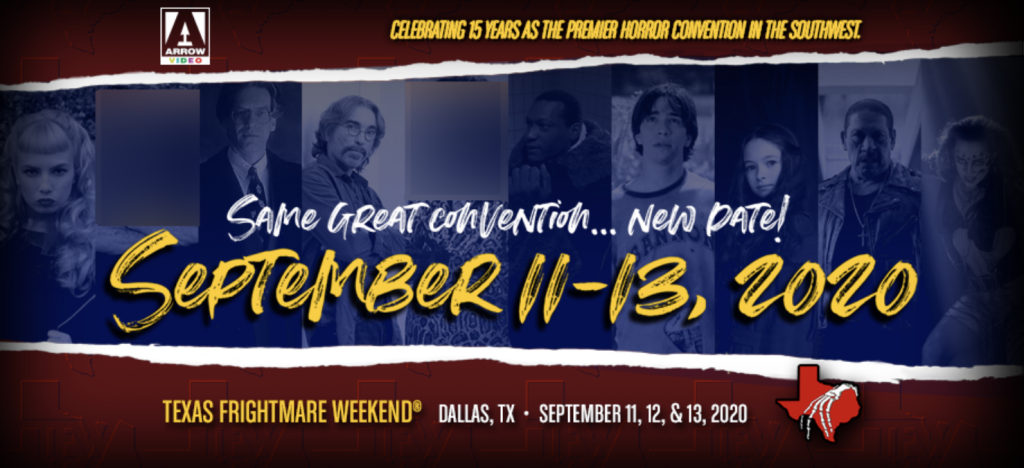 We're pleased to announce that a large majority of our guests have been confirmed as available and that we have had only one cancellation at this time. There are a few guests that we have not yet been able to confirm their availability. When we have confirmation of availability we will update them on our website. Please see our
GUESTS
page to see the current status of each guest. Photo ops for any cancelled guests will be refunded automatically. You do not need to do anything. If a guest that is currently listed as PENDING CONFIRMATION cancels then the photo op will be refunded at that time. Please direct any photo op questions to
Wolf Studios Photography
.