BY JAKE JARELE
Is horror having a comeback? Have the brainless torture-porn idiots finally given way to smart, skilled horror directors and writers who know what they're doing? Have the glory days of 70s/early 80s horror come back to cinema?

TUNE IN! For complete IT coverage, check out THE SCARE GUY Show… we go on the red carpet with the cast, discuss which version of Pennywise is scarier (1990 vs. 2017), and give our reviews of the film … and we discuss the BEST movie monsters of all time… tune in, download… you'll have a blast.
This past weekend, Warner Bros and New Line Cinema let a monster out of the gate — and that monster single-handedly re-energized the movie season by raking in $123 million dollars on its opening weekend. To put that in perspective, consider these stats:
It was the largest debut EVER for September, beating out Hotel Transylvania, which held the previous record with $48.5 million. In other words, it more than doubled the previous record. Add to that the fact that it's the biggest opening EVER for an R-rated horror film. The biggest opening for ANY horror film, in fact. The biggest Fall opening ever. And the second-best opening overall for an R-rated film, falling behind the giant $132.4 million opening of Deadpool. This is incredible, especially considering a sizable number of theaters are currently closed in Texas, Louisiana and Florida because of hurricane damage.
So, what happened? How the heck did a killer-clown remake churn up so much interest? The first trailer for "It" debuted in March to a record-breaking 197 million views in just one day and the studio's marketing campaign has also included a haunted house-style re-creation of Pennywise's lair on Hollywood Boulevard and Vine Street. We scared up a crew of friends and went to the IT house in Hollywood before seeing the Thursday night preview screening of IT. You can see our night here >>>
Variety, the entertainment industry's insider source, has some theories about how IT reached this milestone, and what this means for horror.
From Variety: "For a film that cost an estimated $35 million to produce, 'It's' domestic launch is already more than three times that. But it's not just 'It.' Horror films — which often require less special effect, and don't lean on well-known actors — are known for reaping major returns. Earlier this year, Blumhouse made a major statement with two low-budget films, 'Split' and 'Get Out,' that did just that."
The article points out that both Split and Get Out were made on minimal budgets, but reaped huge rewards. Director M. Night Shyamalan's reputation has been salvaged, in part, because of the success of Split, which he directed, and his earlier thriller, 'The Visit.' (the image the grandmother running like a dog under that house still gets me!). It's been a not-so-secret fact in Hollywood that horror films are a favorite for studio execs. Why? Because they're cheap to make but they can reap huge returns. Take these recent films as an example: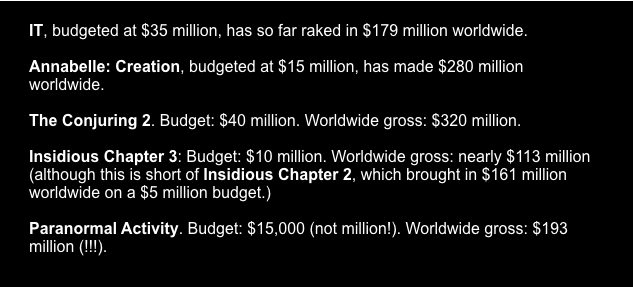 Variety goes on to say: "After a disastrous summer at the domestic box office, superhero movies came away looking like the most reliable subgenre the industry has. But even as some of the year's highest-grossing movies, 'Wonder Woman,' 'Spider-Man: Homecoming,' and 'Guardians of the Galaxy Vol. 2' all have to balance massive budgets. They all made up for the price tags handily, but horror still presents a much lower risk." Read full Variety article here >>>
THE HORROR MOVIE RENAISSANCE
Are horror movies having a renaissance? The Guardian seems to think so. Here's what they say: "Horror, it seems, is having a moment. After a lean period in the first decade of this century, when the genre was saturated with gratuitous and largely brainless torture-porn flicks, the past few years have seen a resurgence in imaginative, brainy and – most importantly – frightening fare; take your pick from terrifying supernatural STD parable It Follows, the wonderfully claustrophobic chiller The Babadook, gleefully nasty punks v neo-Nazis gorefest Green Room and the deliciously dark work of Ben Wheatley, to name but a few." Read full Guardian article here >>>
Perhaps no company is more to blame for this horror revival than Blumhouse Productions, which has been turning out scary, audience-pleasing horror films on shoestring budgets for the better part of this decade. They are the people behind the enormously successful Paranormal Activity, The Purge and Insidious franchises, not to mention Shyamalan's Split and The Visit. In other words, they helped to revive an entire genre of film–not to mention save the career of one of Hollywood's once-most-promising directors, M. Night.
Jason Blum, CEO of Blumhouse Productions, has a 6-point plan for creating great horror.
Make It Feel Fresh
Make it Relevant
Use Diverse Voices
Remember, It's Art
More Money, More Problems (make it on a budget!)
Don't Forget the Scares
Jason has a point! (duh). In my opinion, most of the greatest horror films of all time have been low-buget, high concept tales that rely more on GREAT STORY than they do on GREAT BUDGETS. Want proof?
John Carpenter's original HALLOWEEN (my favorite horror of all time). On a relatively modest budget of $325,000, it managed to rake in nearly $50 million domestically. It was so tight on budget, that the blood was in short supply, as was the money for costumes or fake leaves. Thus, the white-painted William Shatner mask was used, and the rest is history. As you notice, the subsequent Halloween films have gotten worse and worse as the budgets got bigger and bigger. Halloween 2 (original), H20, and maybe Halloween 4 are worthy of the franchise. The rest are just "guilty pleasures."
THE AMITYVILLE HORROR (original). Okay, this isn't necessarily a "great" horror film. Its Rotten Tomatoes score hovers around a dismal 30%, but the film was the second-highest grossing film of the year (1979), bringing in $86 million on a budget under $5 million. Lalo Schifrin's chilling musical score for the film was nominated for an Academy Award. And to this day, anytime Schifrin's music starts playing, I can't help but get chills up my spine, owing to the fact this film (and the book it was based on) scared the heck out of the entire country.

THE BLAIR WITCH PROJECT. The movie that really jump-started the found-footage horror genre (which went dormant, it seems, until Paranormal Activity sparked it back up), was shot on a reported $60,000 budget but went on to make $248 million worldwide. It took a simple story–our primal fear of being lost alone in the woods at night–and turned it into an unforgettable film. Yeah, the girl screams too much, the camera shakes too much, and I got REAL tired of looking up her snot-soaked nostrils, but it was original. And it still sets the bar pretty high.
THE FUTURE OF HORROR
So what are we trying to say? We're saying that we like the way things seem to be going in the horror genre. During the 70s, serious film-makers put serious effort into creating seriously scary stuff. They weren't just cheesy gore-fests, but rather, high-quality films that were carefully crafted for maximum scare effect.
With the passing of horror legends Tobe Hooper and George Romero, we have to wonder who do we have in that field today? Who are the new John Carpenters, the new William Friedkins? (The Exorcist). I'll tell ya who? M. Night Shyamalan is back with a vengeance, and he's finally accepted the fact that HORROR is what he owns. Then there's Jason Blum, who has almost single-handedly made horror respectable again. And there's one director who is front-and-center and gladly stepping into these blood-soaked shoes–Scott Derrickson. He stormed onto the scene with The Exorcism of Emily Rose, earning more than $140 million worldwide, and followed up with Sinister and Deliver Us From Evil (before gaining blockbuster status with Marvel's Doctor Strange).
Some would argue that Rob Zombie should be on this list. I'm not a fan. He's just a splatter-enthusiast who likes to create over-indulgent gore-fests in "white trash" settings. Blah. Instead, let's give credit to one of the brightest talents in this new field: James Wan, who directed Insidious and The Conjuring, two of the best new low-budget films to date. This guy is redefining horror, and bringing it back to its story-driven greatness. Of course, he also directed Saw, creating a franchise that–in my opinion–is responsible for horror's ugly descent into torture-porn. Wan's first Saw was perhaps the most clever of the franchise, but it still left me with an overall feeling of "ick" instead of horror. But I can forgive him for that, especially since everything since has been so much better.
Here's what THE GUARDIAN newspaper has to say:
"This year, horrors Annabelle: Creationand the fantastic Get Out have thrived while other genres struggled to draw in the crowds. The Stephen King adaptation about the evil Pennywise has made nearly $180m (£134m) worldwide in its opening weekend, the biggest-ever opening for a horror. It's official: horror films are firmly part of the mainstream – for good or bad….All in all, horror looks on the way to becoming cinema's most reliable profit-generator. But surely not everyone likes scary movies? Perhaps the typical traits of a horror fan are more common than we think these days. Berry says: "There is a significant correlation between people who accept rule-breaking behaviour and have an interest in horror movies. People who watch horror films want to be frightened, excited and scared, yet psychologically distance themselves from the reality." Read full Guardian article here >>>
Of course, like the saying goes, opinions are like a-holes…we all have them…. I'd love to hear yours (opinions). I think horror is currently taking a turn for the better. It's a good time to be a horror freak.
---
YOU'LL FLOAT TOO
Just for laughs! Haters gonna hate, whatever. But here's another SCARE JIM video, based on this past weekend's IT. See… horror can be funny.