The biggest news about the upcoming San Diego Comic-Con is that NETFLIX is coming to the convention in a BIG way! They tested the waters at Wondercon with Luke Cage, but other than that, they've been obviously absent for years. But that all changes next week when STRANGER THINGS and the rest of the Netflix shows hits Comic-Con. Here's our show where we pick the BEST PANELS of Comic-Con 2017. Check us out — you'll have a blast!
---
These panels are our top picks! Let us know what panels you're most wanting to see. To see the entire schedule, click below:
WEDNESDAY
Screenings
Comic-Con and Warner Bros. Television proudly continue the annual Preview Night tradition with an exclusive pilot screening of Deception, plus exclusive video presentations of some of the most highly anticipated series of the 2017-18 television season—Krypton and Black Lightning—as well as a brand-new hour-long episode of Teen Titans Go! and special surprises.
HIT THE FLOOR.
We're hitting the Game of Bloggers party!
THURSDAY
11 a.m.
Masters of the Web: Current State of Comic Book Movies
Some of the leading voices in the online film journalism/punditry world discuss the state of the comic book movie genre, from DC to Fox to Sony to Marvel: John Campea (Movie Talk), Trisha Hershberger (popular online personality), Kristian Harloff (Collider, Fandango), Grae Drake (senior editor, Rotten Tomatoes), Jeremy Jahns (YouTube film critic), and Jon Schnepp (Collider Heroes).
Thursday July 20, 2017 11:00am – 12:00pm
Room 7AB
11:30 a.m.
20th Century Fox, stupid TBA
We hear it will include a lot of Kingsmen Part 2, and maaaaybe some X-Men Dark Phoenix? Fingers crossed!
Hall H
Noon
Breaking into comics and staying there
Everyone wants to know how to break into comics, but once you do, how do you stay there? Matt Gagnon (editor-in-chief, BOOM! Studios) and Bryce Carlson (managing editor, BOOM! Studios) lead a discussion with some of the biggest personalities from every corner of the comic book industry to discuss their paths into comics, describe how they overcame roadblocks, and offer tips and advice on how to get your foot in the door and, later, enjoy an enduring career.
Thursday July 20, 2017 12:00pm – 1:00pm
Room 28DE
Noon
WALTER SIMONSON
Living legend Walter Simonson is joined by the person most qualified to interview him on a spotlight panel-his wife, the noted comics writer and editor Louise Simonson. If you've never heard Simonson on a panel before, this will be a true treat because Walter is not only a master of sequential stories but also a brilliant raconteur who will enthrall you with stories spanning his nearly 50-year career!
Thursday July 20, 2017 12:00pm – 1:00pm
Room 9
2:30
BATTLESTAR GALACTICA REUNION
A superfan's dream come true! The cast and creators of the Emmy Award-winning Battlestar Galactica will come together for an exclusive Comic-Con reunion. They'll provide insight into this critically acclaimed hit and look back on some of the show's most hotly debated moments-the Pegasus arrival, New Caprica, the finale, and the truth about the Cylons.
Thursday July 20, 2017 2:30pm – 3:30pm
Ballroom 20
3pm
1987: The Best Movie Year Ever
The "We're Getting Too Old for This S@#t" edition! This expert panel of geeksperts takes a trip 30 years back in time to that great geek year of 1987. Expect untouchable analysis and lethal quips as they look back at Predator, The Princess Bride, Lethal Weapon, The Lost Boys, RoboCop, Near Dark, Spaceballs, Hellraiser, The Untouchables, The Running Man, and many more.
Thursday July 20, 2017 3:00pm – 4:00pm
Room 5AB
4:45
NERDIST 
It's that time of year again-time to enjoy your burrito with Chris Hardwick (Comedy Central's @midnight, AMC's Talking Dead) and talk all things Nerdist! Joining Chris will be an all-star panel of your favorite Nerdist personalities, including Jessica Chobot(Nerdist News), Kyle Hill (Because Science, MythBusters: The Search), Dan Casey (The Dan Cave), Rachel Heine (editor-in-chief), Alicia Lutes (Fangirling), and a surprise guest or two.
Thursday July 20, 2017 4:45pm – 5:45pm
Hall H
5pm
LEGION screening and cast Q&A
Creator/executive producer/writer/director Noah Hawley is joined by fellow executive producers John Cameron, Lauren Shuler Donner, and Jeph Loeband series stars Dan Stevens, Rachel Keller, Aubrey Plaza, Jean Smart, Bill Irwin,Jeremie Harris, and Amber Midthunder for a conversation on what to look forward to from season 2 of Legion .
Thursday July 20, 2017 5:00pm – 6:00pm
Ballroom 20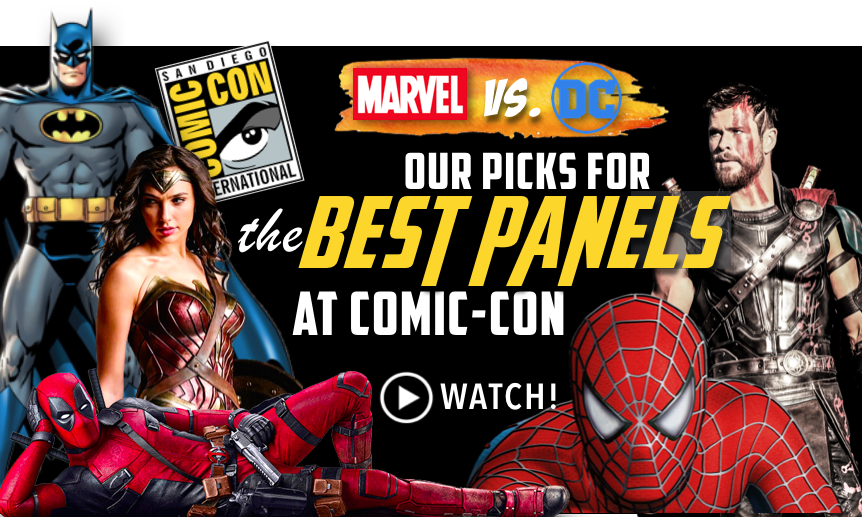 6:15
Marvel's Inhumans
The Inhumans have landed in San Diego! Special guests of the highly anticipated Marvel's Inhumans unveil an explosive panel moderated by executive producer Jeph Loeb. This event series will premiere a version of the first two episodes exclusively in IMAX theatres for a two-week window prior to the debut of the full series on ABC.
Thursday July 20, 2017 6:15pm – 7:15pm
Ballroom 20
6:30

Comics PR and Marketing 101
Need tips on how to market your comic or have questions about building relationships in the comics industry? This is the panel for you! ComiXology marketing maven Ivan Salazar hosts a panel of comics PR and marketing titans including Chip Mosher (comiXology head of content/senior director of communications), Jen Vaughn (writer, artist, game designer), and David Hyde (founder, Superfan Promotions) for a wide-ranging discussion of how you can make a big splash in comics through marketing and PR.
Thursday July 20, 2017 6:30pm – 7:30pm
Room 8
7 pm
Adam West Celebration
Please join director/writer/actor Kevin Smith (Clerks, Comic Book Men), actor/radio personality Ralph Garman (Family Guy, Starring Adam West), producer James Tucker (Batman: Return of the Caped Crusaders), moderator Gary Miereanu and an ever-growing list of special guests in this salute to the legendary "Bright Knight."
Thursday July 20, 2017 7:00pm – 8:00pm
Room 6DE
10pm
Netflix Surprise Screening at Horton Theater
Netflix will have a surprise screening of an upcoming original movie before its premiere. Stay tuned and visit the Netflix booth on the convention floor to learn more!
Thursday July 20, 2017 10:00pm – 12:00am
Horton Grand Theatre
FRIDAY
11am
Steampunk Invades a Galaxy Far, Far Away
Star Wars and Steampunk are two fandoms that have become one with the Force to create a bounty of fan-favorite art and cosplays. From Admiral Ackbar to Yoda, Boba Fett to Wicket, all your favorite Star Wars characters have been reimaged into a variety of fantastic steamy mashups.
Friday July 21, 2017 11:00am – 12:00pm
Room 7AB
11 am
Writing about comics: from fan to pro
This annual panel about comics journalism will look at the how-tos: how to break in, how to act professionally, how to make money (against all odds), and whether or not writing about comics and pop culture is a stepping stone to making comics or accessing other professional gigs.
Friday July 21, 2017 11:00am – 12:00pm
Room 28DE
12:15
Walking Dead
Cast
Hall H
12:30
Stan Lee and Friends (this may change, considering the fact that Stan Lee's wife passed away last week. Our prayers and thoughts with him.)
Hot off immortalizing his hand and footprints in cement at the TCL Chinese Theatre in Hollywood, 95-year-old comics legend Stan Lee heads to San Diego Comic-Con for an intimate Q&A with Felicia Day, Mythbuster Adam Savage, and Stan's longtime manager Max Anderson.
Friday July 21, 2017 12:30pm – 1:30pm
Room 6DE
1:15pm
Rick and Morty
Executive producers and co-creators Dan Harmon (Community) and Justin Roiland(Adventure Time), writer/producer Ryan Ridley (Community), and voice talent Sarah Chalke (Scrubs) and Chris Parnell (Archer), invite fans to an inside look at the highly anticipated third season of Rick and Morty, premiering this summer on Adult Swim. Moderated by Brian "Q" Quinn (Impractical Jokers).
Friday July 21, 2017 1:15pm – 2:00pm
Indigo Ballroom, Hilton San Diego Bayfront
2:15
Robot Chicken
Co-creator/executive producer Matthew Senreich,executive producer/co-head writer Tom Root, executive producer/co-head writer Doug Goldstein, actor/writer Breckin Meyer (Franklin & Bash), writer/director Tom Sheppard, creator/writer/executive producer Robert Kirkman (The Walking Dead), and showrunner Scott M. Gimple (The Walking Dead) will be on hand for the fun, and who knows which surprise guests might "walker" onstage?
Friday July 21, 2017 2:15pm – 3:00pm
Indigo Ballroom, Hilton San Diego Bayfront
3:30
DuckTales
Life is like a hurricane on the new DuckTales series for Disney XD. Series stars David Tennant (Doctor Who, Jessica Jones), Ben Schwartz (House of Lies, Parks and Recreation), Kate Micucci (Garfunkel and Oates, Don't Think Twice), Danny Pudi(Community, Powerless), and Beck Bennett (Saturday Night Live, Sing) join creative team Matt Youngberg (executive producer), Frank Angones (co-producer/story editor), and Sean Jimenez (art director) to share exclusive sneak peeks and talk about what it's like bringing this classic family of adventuring ducks to a new generation of fans.
Friday July 21, 2017 3:30pm – 4:30pm
Room 6A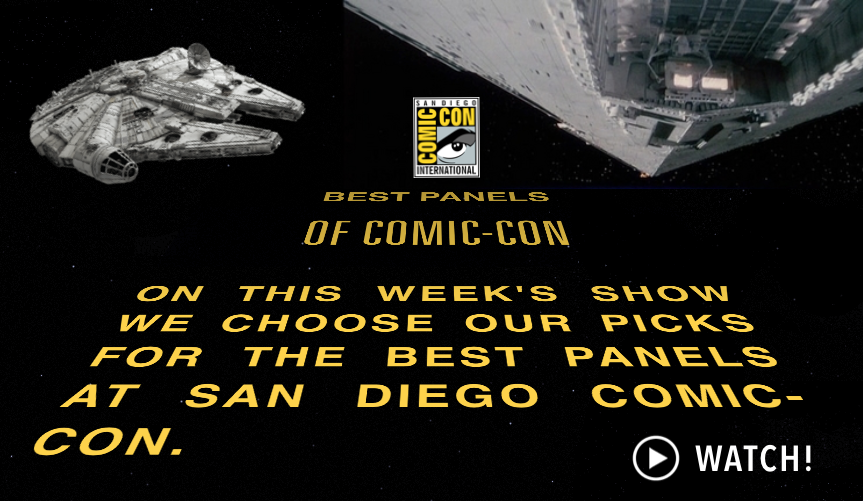 4pm
Star Wars and Fandom: The Early Years
In honor of Star Wars's 40th anniversary and its long association with Comic-Con, Craig Miller, Lucasfilm's original director of fan relations, gives a slide show on the early association between Star Wars and fandom, including photos from Comic-Con in the 1970s and stories about how fans got involved and were kept involved from even before the film came out.
Friday July 21, 2017 4:00pm – 5:00pm
Room 7AB
4:15
Bob's Burgers
Creator and executive producer Loren Bouchard, executive producer Jim Dauterive,and the hilarious cast from the Emmy Award-winning animated FOX series Bob's Burgers—including H. Jon Benjamin, Dan Mintz, Eugene Mirman, John Roberts, Kristen Schaal and Larry Murphy—will have you howling with laughter with never-before-seen footage, followed by a Q&A panel discussion.
Friday July 21, 2017 4:15pm – 5:05pm
Indigo Ballroom, Hilton San Diego Bayfront
5:15
Marvel's the Defenders
Cast and creators
Hall H
7pm
World Premiere of Batman and Harley Quinn animated film
Animation legend Bruce Timm returns to his Batman: The Animated Series roots with an original tale to mark the 30th entry in the popular DC Universe Original Movies series. Batman and Harley Quinn finds the Dark Knight and Nightwing having their patience tested to the limit when they take a road trip with Harley Quinn to track down her old pal, Poison Ivy—who has some interesting ideas about saving the planet, with or without humanity.
Friday July 21, 2017 7:00pm – 9:00pm
Ballroom 20
9:15
Screenjunkies Live
The entire ScreenJunkies team will bring their biggest Movie Fights yet, featuring your favorite fighters and some surprise celebrity guests.
Friday July 21, 2017 9:15pm – 10:45pm
Room 6DE
SATURDAY
11:30
Warner Archives' Monsters from Hell
Warner Archive Collection (WAC), Trailers From Hell & Famous Monsters of Filmlandjoin forces to spotlight some of the most beloved (and sometimes overlooked) monster/dinosaur films of the past 70 years. Revel in WAC's high-definition remastering of cult classics ranging from When Dinosaurs Ruled the Earth, The Valley of Gwangi, Demon Seed and From Hell It Came to some soon-to-be-released on Blu-ray surprises. Trailers From Hell film gurus Mike Mendez (Big Ass Spider, Tales of Halloween), Darren Bousman (Saw II, Saw II, Saw IV), and Academy Award nominated screenwriter Josh Olson (A History of Violence) join WAC podcasters Matthew Patterson & DW Ferranti to delve deep into insights, stories and glimpses behind the scenes of these fan favorites. Gary Miereanu moderates the proceedings.
Saturday July 22, 2017 11:30am – 12:30pm
Room 5AB
11:30
Warner Bros. Studios: Justice League, Aquaman, more…
Hall H
12:30
BOOM! Studios
BOOM! Studios editors and creators explore the diverse imprints of BOOM! Studios, BOOM! Box, KaBOOM!, and Archaia with the exclusive previews, news, and the information you need to discover your next obsession. Featuring Matt Gagnon (BOOM! Studios editor-in-chief), John Allison (Giant Days), Ryan Parrott (Saban's Go Go Power Rangers), Carly Usdin (Hi-Fi Fight Club), David F. Walker (War for the Planet of the Apes), and more. Moderated by Filip Sablik (BOOM! Studios president of publishing and marketing).
Saturday July 22, 2017 12:30pm – 1:30pm
Room 24ABC
1pm
Jack Kirby's 100th b'day celebration
IDW is showcasing an impressive library of eight(!) Artist's Editions featuring Kirby's original Marvel and DC art in full size. IDW president Greg Goldstein hosts this stellar birthday tribute with superstar creators Walter Simonson and Kevin Eastman, who will share their Kirby remembrances and influences, along with senior editor Scott Dunbier, creative director at IDW PDX Dirk Wood, and perhaps even a surprise guest or two.
Saturday July 22, 2017 1:00pm – 2:00pm
Room 25ABC
1pm
The Kaiju Kingdom Podcast: the Resurgence of the Kaiju Film Genre
With the success of Kong: Skull Island, the buzz around Legendary's MonsterVerse grew over night. Film buffs and kaiju fans have both Pacific Rim, and Godzilla sequels, along with the grand finale of King Kong vs. Godzilla to look forward to.
Saturday July 22, 2017 1:00pm – 2:00pm
Neil Morgan Auditorium, San Diego Central Library
3pm
Mystery Science Theater 3000: The Return
Following a record-breaking Kickstarter campaign, the new season of MST3K is now a Netflix Original Series. What was it like to bring the show back, and what's next for MST3K? Creator Joel Hodgson and cast members Felicia Day, Jonah Ray, Hampton Yount, and Rebecca Hanson take you behind the scenes.
Saturday July 22, 2017 3:00pm – 4:00pm
Horton Grand Theatre
3pm
Stranger Things
Cast and creators
Hall H
3:30
Robert Kirkman and Todd McFarlance
Todd McFarlane, the creator of Spawn, and Robert Kirkman, the creator of The Walking Dead, sit down for an intimate one-on-one chat.
Saturday July 22, 2017 3:30pm – 4:30pm
Room 6DE
5pm
Everyone's a critic: Being a Journalist in the age of Online Age
Bill Watters (Bleeding Cool), Mary Anne Butler (Aggressive Comix), Dana Han-Klein(Mohawk Movie Review), Bill Hunt (The Digital Bits), Alexandra August (Geek Magazine, CBR), and Thomas Parham (APU) discuss the expansion of journalism over the past decade, from the rise of citizen journalism to blogging to vloggers, podcasters, and online-only news sources. Panelists will talk about the roles new media play between their readers and the industries and communities they serve, varying levels of informality versus classic ideas of professionalism, show-specific outlets versus general news sites, moving from hobbyist to being a professional, and more.
Saturday July 22, 2017 5:00pm – 6:00pm
Room 9
5:30
Ghostwars from SYFY
Catch an exclusive first glimpse of the highly anticipated new psychological horror series coming this fall to SYFY and Netflix. Meet stars Vincent D'Onofrio (Full Metal Jacket, Daredevil), Kim Coates (Sons of Anarchy), Avan Jogia (Tut), Kandyse McClure(Battlestar Galactica, Hemlock Grove), and Meat Loaf Aday (Fight Club) along with creator/showrunner Simon Barry (Continuum), writer/executive producer Dennis Heaton (Motive), and executive producer Chad Oakes (Fargo, Van Helsing) in a Q&A moderated by executive producer Michael Frislev (Fargo, Van Helsing).
Saturday July 22, 2017 5:30pm – 6:30pm
Room 6A
5:30 pm
Marvel Studios
Marvel Studios president and producer Kevin Feige and special guests provide an inside look at the ever-expanding Marvel Cinematic Universe.
Hall H
6pm
Bold Voice of Contemporary Horror
Love The Witch? The Invitation? The Babadook? It Follows? You're Next? The Greasy Strangler? The Autopsy of Jane Doe? Some of the most knowledgeable and influential voices in horror today discuss the state of indie horror film and give a sneak peek at the best to come this year, with exclusive footage from Sundance, SXSW, and Tribeca standouts. This is the place to come to find out which upcoming horror flicks should be on your must-see list. Panelists include Elijah Wood (Spectrevision), Mette Marie Kongsved (XYZ Films), Aaron Moorhead and Justin Benson (The Endless—Tribeca 2017 premiere, Spring), Mickey Keataing (Psychopaths—Tribeca 2017 premiere, Darling), Marianna Palka (Bitch—Sundance 2017 premiere), and more. Moderated by Jen Yamato of the LA Times.
Saturday July 22, 2017 6:00pm – 7:00pm
Room 23ABC
6:30
Hulu and Seth Rogan's Future Man
Get an exclusive sneak peek at Hulu's upcoming outrageous and visually bold action comedy Future Man about a janitor by day/gamer by night who is recruited by mysterious visitors to travel through time and prevent the extinction of humanity. Director and executive producer Seth Rogen (This Is the End), creators Kyle Hunterand Ariel Shaffir (Sausage Party), showrunner Ben Karlin (The Daily Show), and stars Josh Hutcherson (The Hunger Games), Eliza Coupe (Happy Endings), and Derek Wilson (Preacher) will participate in a panel moderated by Paul Scheer (The League) to discuss the series, time travel, and the global threat of oral herpes.
Saturday July 22, 2017 6:30pm – 7:30pm
Room 6BCF
6:45
X-Files: A Conversation between David Duchovny and Dirk Maggs
Liquefying aliens. Hissing creatures. Humming spacecraft. This is the otherworldly soundscape of The X-Files: Cold Cases -an Audible original drama that reunites David Duchovny, Gillian Anderson, and a cast of familiar voices from the iconic series. Duchovny and Cold Cases producer Dirk Maggs talk about revisiting the rich, sonic tapestry of the X-Files universe, what it means to tell more of Mulder and Scully's story, and how fans can join the duo's investigations and experience them like never before by putting on a pair of headphones. Fans may even find out what's canon and what's not.
Saturday July 22, 2017 6:45pm – 7:45pm
Room 6A
9:30pm
SYFY's Blooddrive
Lube up for an exclusive look at the next episode before it's unleashed onto the public. SYFY's Blood Drive is a twisted, grindhouse-infected series that features the maximum amount of carnage allowed on cable television. In this race to the death, the drivers are fueled by mayhem and the cars are fueled by . . . human blood!
Saturday July 22, 2017 9:30pm – 10:30pm
Horton Grand Theatre
SUNDAY
10 am
Princess Leia and Carrie Fisher Tribute
Join your fellow Star Wars fans for a special tribute in honor of the extraordinary actress Carrie Fisher. Best known for her role as Princess Leia Organa in the Star Wars universe, Carrie's larger-than-life personality both on and off screen was destined to carve a special place in the hearts of Star Wars fans of all ages. Hear from fellow fans as they share personal stories of how Carrie Fisher inspired them, touched their lives, and will live in everyone's hearts-always! Hosted by the Star Wars Fan Clubs: Rebel Legion, Mandalorian Mercs, R2 Builders, and 501st Legion.
Sunday July 23, 2017 10:00am – 11:00am
Room 6DE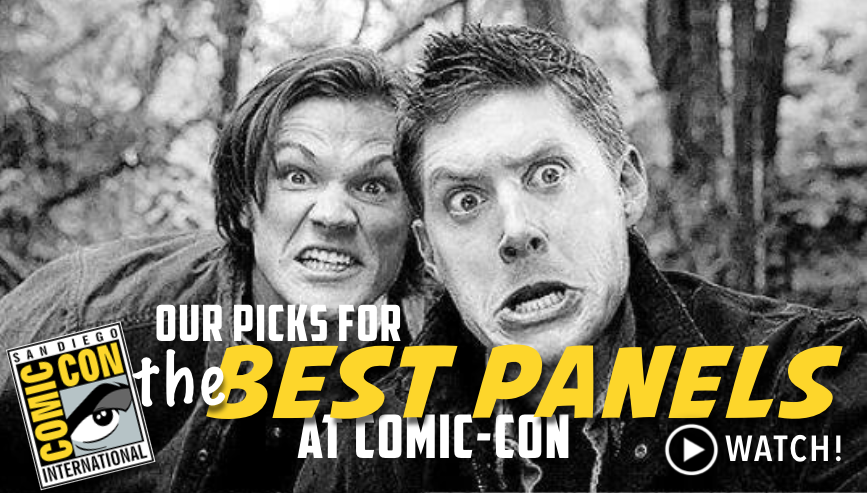 10:30 am
Supernatural
Series stars and executive producers answer questions about the shocking events in last season's intense two-part finale and preview what's in store for lucky season 13. Fans will also be treated to an exclusive video presentation featuring series highlights of your favorite guys from Kansas and maybe a surprise or two! The 13th season of Supernatural will return to Thursdays this fall in its new 8/7c time slot on The CW. The series is produced by Kripke Enterprises Inc. in association with Warner Bros. Television.
Hall H
Noon
Buffy 20 years
The authors of the upcoming oral history Slayers & Vampires from Tor Books about Buffy the Vampire Slayer, Edward Gross and Mark A. Altman (co-authors of The Fifty-Year Mission) reopen the Hellmouth and look back at the secret history of the slayer who saved the world a lot, in honor of the show's 20th anniversary. They will also look at what the future might hold for slayage in the 21st century and revisit the underappreciated genius of Angel and the Buffys that never were, featuring some surprise guests.
Sunday July 23, 2017 12:00pm – 1:00pm
Room 7AB
2pm
Dr. Who
BBC America's Doctor Who returns to San Diego Comic-Con for the final Hall H panel with star Peter Capaldi.
Hall H
4pm
Full Time Creative Career on a Part-time schedule
These panelists will tackle group management and working dynamics, networking, time management, exposure, and pitfalls. They include Topher Davila(art director, GeekdomWear.com), Sean Glumace (Adobe Education Leader), James Frye (managing editor, TheConGuy.com), Gene Turnbow (general manager, KryptonRadio.com), Javier Soto (senior dimensional artist at Garner Holt Productions, freelance artist for Disney Theme Parks), Ron Coleman, Ph.D. (molecular geneticist and comic book writer), and Mario Martinez (co-creator, TomatoTV).
Sunday July 23, 2017 4:00pm – 5:00pm
Room 24ABC