With all the offsites and events crashing into San Diego Comic-Con, there are a few that "carve out" a place among the crowd, and this might be just that event. The Seven Kingdoms of Westeros might never be the same after "Game of the Thrones: The Musical" dances and sings its way into your nerdy Comic-Con crazed heart July 20 – 23 at the Tenth Avenue Arts Center.
Audiences flocked to see the now highly acclaimed Game of Thrones: The Musical – A Song of Nice Satire at the historic Macha Theatre in West(eros) Hollywood when it debuted in February 2017.
"Crowds went 'Stark' raving mad at our hilarious interpretation of George R.R. Martin's iconic fantasy epic…" says Steven Brandon, the show's producer. "The response was overwhelming, and we look forward to letting our dragons fly and taking the show to the magical kingdom of San Diego."
As the fandom for HBO's tentpole drama has grown to a fever pitch, fans at Comic-Con will have an opportunity to relive the most iconic moments from their favorite show – this time as an absurd, laugh out loud musical comedy.
Game of Thrones: The Musical! is also a proud supporter of The Wayne Foundation, a charity committed to spreading awareness of CSEC (Commercial Sex Exploitation of Children) and DMST (Domestic Minor Sexual Trafficking) occurring within the United States. 5% of all ticket sales will be donated to support this amazing charity.
From the creators of Lost: The Musical and the critically acclaimed Once Upon a Time: The Rock Opera, Game of Thrones: The Musical! features 12 original songs which will have audiences on their feet with toes tapping and hands clapping… provided they still have both of their hands.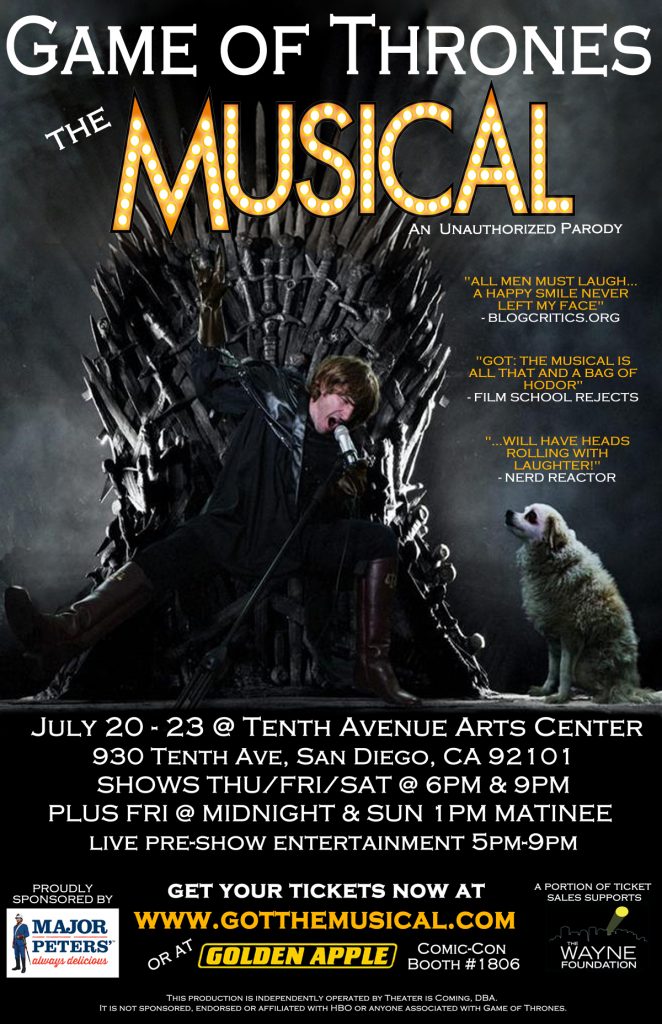 ---
From Tony Kim over at Crazy4ComicCon.com:
A: There isn't a ton of information on the website. What can you tell me about your show?
 SB: Game of Thrones: The Musical is a musical parody romp through season one, book one, of Game of Thrones. We actually have two casts of fourteen people. We have what we call House Lannister and House Targaryen, and one does the 6:00 show and one does the 9:00 show. We basically kind of follow the Ned Stark story, his rise and fall. We also follow the Lannister storyline…incest and fun stuff like that. And then, of course, the Khal Drogo/Daenerys story, our C plot. It's a great reintroduction to the show, and it's also great for people who have never seen Game of Thrones, because season one is very heavy. A lot of people haven't seen Game of Thrones watch our show and go, "It's funny, I kind of understand it now. I think I'll watch the show now."
Click here to read Tony's entire interview>>>
REVIEWS:

Here's what the writers at NERD REACTOR had to say about it:
Do you love musicals? Do you love HBO's Game of Thrones? Have you ever
watched Game
of Thrones and thought 'This is pretty f*cked up stuff?' If you said
yes to all three, then you're in luck! From the minds behind 'Lost: The Musical' and 'Once Upon A Time: The Rock Opera', Game of Thrones: The Musical is here for your enjoyment! …. Game of Thrones: The Musical was a fun show to watch for any Game of Thrones fan who just needs a laugh. It'd be hard for a non-fan to understand the references, but if you know the major plot lines, then you'd be fine. The music is fun. The songs are original. And, honestly, it's a really funny show.