Tune in here all day for some of the biggest panels and guests appearing at Star Wars Celebration Orlando 2017, especially the BIGGIE of the day, The Last Jedi Panel. That's where we'll probably get or first glimpse at the brand-new trailer. If you don't feel like camping out all night (like us), then just watch the live feed, or watch the replay anytime, right here!
---
THE LAST JEDI TRAILER! WATCH HERE
---
New Poster!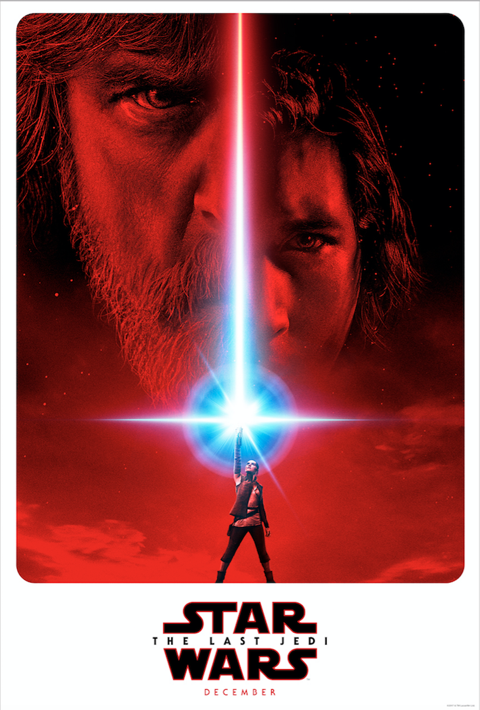 ---
SOME OF FRIDAY'S MAJOR EVENTS
The Last Jedi: Friday, April 14, 11 AM ET
Streamed from the Galaxy Stage. Lucasfilm President Kathleen Kennedy and Star Wars: The Last Jedi director Rian Johnson will appear on stage. There will be plenty of surprises and special guests on the panel to keep the excitement brewing and speculation spinning throughout the rest of the weekend.
---

Small Talk with Warwick Davis: Friday, April 14, 1:30 PM ET
Few actors in the Star Wars family have such a varied career on the big and small screens as Warwick Davis. Debuting in Return of the Jedi as Wicket the Ewok, Davis has played a number of roles in the Star Wars movies since, including an upcoming part in Star Wars: The Last Jedi. Come and maybe have a chance to interview Warwick too, as fans will be chosen from the audience to put our Celebration Celebrity Host on the spot.
---
Mark Hamill's Carrie Fisher Tribute: Friday, April 14, 5:30 PM ET
Fans remember her not only as their princess or general, but as part of the Star Wars Celebration family. Join Mark Hamill as he remembers the talent, humor and enduring legacy of one of the Star Wars galaxy's most luminous beings, Carrie Fisher.
---
Screening: A New Hope AND Rogue One: 7:30 PM ET
In addition, watch our CON GUY SHOW to get you ready for the incredible Star Wars Celebration Weekend in Orlando…. right here!